ARRIVAL IN NIMES, FRANCE
Frank and Joanne started their spring trip to France on Wednesday March 22, 2023 to stay in our apartment in L'Isle sur la Sorgue with a visit to Portugal on our way home.  However, what seemed to be a carefully planned journey from St. Thomas, Virgin Islands through JFK New York and Madrid, Spain arriving in Marseille on March 25, 2023, suddenly changed into an adventure trip necessitating cunning and innovation. While finishing our packing before leaving for the airport Joanne received a message from Google that our flight from Madrid to Marseille was canceled.  Fortunately, and with a call to American Airlines, we now had a flight from JFK to Barcelona Spain and then on to Marseille.  Relaxing at JFK we received a new notice that our flight from Barcelona had been canceled.  Searching on our cell phones for alternatives we were able to make train reservations from Barcelona to Marseille. It appeared that all flights in France were canceled because of a general strike.  At Barcelona airport we found out only to learn that the train station we needed was a taxi ride away. So off we went in a taxi to meet our train which would take us to Nîmes, France and then change trains after a two-hour layover to Marseille a total of 7.5 hours.  After passing halfway to Nîmes we received yet another cancellation where we would need to disembark in Nîmes.  Back on our cell phones we searched to see if there was a train that would take us to our village, L'Isle sur la Sorgue on Saturday and when that checked out we found a hotel in Nîmes for two nights.  Apparently, it was more than just an airline strike but also affected trains and taxis, buses and disgustingly, the garbage pickups.  By the time we got off the train our cell phone batteries were used up.  Joanne suggested we stop at Hotel Ibis, next to the stain station, and ask for directions to the hotel we had booked from our now dead phones.  The girl at the reception desk was pleasant and printed out a map with a walking route of 15 minutes.  Phew, we needed a glass of rosé and there just happened to be a Tabac across the street where we knew we could order a cold glassful. Two Rose's…. We gave her 10 euros and got 5+ euros change back! Our last food and drink had been on the airplane from JFK to Barcelona! That gave us the energy to walk up a beautiful tree-lined avenue.  The weather was delightful, and we passed a lovely park and then a Roman Amphitheatre (Arena) where concerts and bullfights are still held.  Built in the first century shortly after the building of the Colosseum of Rome, it is one of the best amphitheaters in the world.  Our hotel was located meters from the Arena, combining two 17th and 18th century mansions. Hotel L'Amphitheatre is a charming boutique hotel, and our room had a balcony overlooking a town square.  From there we were able to cancel our hotel In Marseille and they were very understanding because of the strikes.  It was exactly 24 hours from the hour when we left our home to the time, we checked in at the hotel in Nîmes!!
The next day we spent exploring the sites, first passing by the Clock Tower, built in 1470, which replaced the bell ringer.  This city is well known for its monuments from the Roman Empire, such as the Amphitheatre and Maison Carrée.  Maison Carrée is an ancient Roman Temple over 2,000 years old, and probably the best-preserved Roman temple in the world.  The immense majestic temple is made of limestone with 30 Corinthian columns standing 9 meters (30feet) tall.
We then walked to the Jardins de la Fontaine.  The gardens cover 15 hectares (37 acres) and are some of the first public gardens in Europe.  We strolled along the symmetrical paths, rows of trees of a variety of species, stopping at the Temple of Diana, a 1st century building, and followed paved paths up to the top to the Tour Magne.  This Tour is an 18-meter watch tower, part of the Roman City wall from the Augustinian era.  We opted out of climbing up 140 stairs to the top where we would have been awed by the panoramic view of the city and surroundings.  It was used as a sanctuary and to protect the town by monitoring travelers.  There is a lot more history of the city that can be learned by visiting Musée du Vieux Nîmes, maybe when we return.  Also, visit the nearby Pont du Gard is recommended.


Jardin de la Fontaine                                                        Tour Magne
Frank and Joanne finally arrived at L'Isle sur la Sorgue the next day!!
As always we enjoyed our stay in Isle making new friends and exploring the island.  This time we also visited Brun de Vian-Tiran. Since 1808, this factory, has been creating wool fabrics.  Included in the factory are workshops, a museum and a boutique. There is a self-guided tour through the museum where you discover the wools: Merino, Mohair and Cashmere and the fabric creations of weaving them  through the displays following the steps of spinning, weaving and finishing.
ARRIVAL IN PORTUGAL
PORTO
We left L'Isle sur la Sorgue by train to Marseille and had enjoyable flights from Marseille through Madrid and on to Porto, Portugal.  While waiting in line to board our flight from Madrid to Porto one of the passengers next to us opened up his guitar case and started playing songs he sang in French.  He was on his way from Morocco to Paris.  The couple in front of us spoke Spanish and a little French, of course we spoke neither, but we all joined him and had a lot of laughs.
We rented a lovely one-bedroom apartment in Porto on Avenue Gustav Eiffel overlooking the Douro River and the Pont Dom Luis I (bridge) connecting Porto and the town of Vila Nova de Gaia.  The bridge was designed by a protégé of Gustav Eiffel, known for the Eiffel Tower in Paris. It rises 150 feet above the river spanning across the 500-foot Douro.  Because of its age the top level is now restricted to only trams and foot traffic.  Not thrilled with looking down at the height to the river we chose to traverse on the lower level for vehicles and pedestrians.
Our first night we got acquainted with the city by meandering along the river past the bridge to an area known as Ribeira.  It was once a working port where riverboats off-loaded their wine barrels.  You can still see some of these boats in the harbor. You can also take one of the many tour boats for a trip on the river.  Lining the riverfront are restaurants and souvenir shops.
The next day was a self-guided leisurely walk from Lower to Upper Porto.  We passed Henry the Navigator's house.  Even though he wasn't a navigator he sponsored sea voyages for Portugal's exploration of the north of Africa, the Canary Islands and Madeira.  He started a school of navigation in the southwestern tip of Portugal.  Passing the Stock Exchange Palace, a huge building for commerce, we reached the Sao Bento train station and were in awe of the hand-painted blue tiles in the main hall.  The tiles show historical facts of wars and battles, and others related to the folk scenes of marriage and the arrival of trains which are seen in the multi-colored tiles across the top of the walls. Continuing our tour we stopped at the Clérigos Tower.  This was built on the highest ground of Porto and can be seen from everywhere in Porto and from across the Douro River in Gaia.  It was time to rest now that we had reached the top of the Upper city. A glass of wine with a couple bacalao cakes, salted codfish cakes, we were ready to continue on our journey.  We wandered through the Jardim of Cordoaria and around the university through the Praca de Lisboa which is actually a park built over a parking garage.  Across from here is the Lello Bookstore, built in 1906 with an interior design that inspired J.K. Rowling who had lived In Porto for a year.  Because of the Harry Potter connection there are long lines awaiting entrance, so we continued on our way to Lower Porto.  From the Cathedral Square at the Porto Cathedral we took in the vista of the old town below.  Hiking down the twisting roads and stairs our feet needed a rest and there was a lovely small restaurant (4 tables) and one was empty.  It was now time to taste some Port wines.  Across the Douro River in the city of Gaia there are Port Wine Lodges (houses) for tasting with tours or the warehouses, and museums showing the process of making Port wine.  Today, however, we stopped at a small Port wine store which offered a tasting of 6 varieties or Port.  That was quite an enjoyable learning experience.  As we were purchasing a bottle of Rosé Port Joanne picked up a business card with the name of the restaurant À Bolina Bar, which is next door to our apartment.  Last night we ate there and were served a tasty variety of  Portuguese cold appetizers (pesticos).  The restaurant was charming and so were the helpful and pleasant wait staff. When Joanne mentioned that to the owner of this store she told us that it is her husband's restaurant!  We still had some time to cross the bridge to Gaia and stopped for a tapas dinner and of course a glass of wine. On our return to our apartment we passed a square where a group of musicians were setting up and started playing some good oldies rock music.  Being well Port fortified we "oldies" showed them how to dance to great applause!!!
We still had one last day and chose to explore Vila Nova de Gaia.  Every morning before setting our we ate breakfast at a small local restaurant next door.  And every morning we ordered Pastel de Nata, a custard filled flaky pastry, 2 cups of Portuguese strong coffee and fresh squeezed orange juice.  Off we went crossing the lower level of the bridge and the plan was to go straight up the hill and cross over to Taylor's Port Wine Lodge, or so we thought.  After almost an hour we realized our mistake and started back down through winding streets.  That effort required a refreshment break.  Then we continued our mission crisscrossing streets until we found Taylor's Fladgate Port Wine, one of the oldest of the Port lodges (houses).  We first stepped into the lovely garden to sample and compare a 10-year-old Tawny Port with a 20-year-old Tawny Port.  It was also served with some cheese and crackers and entertained by a roving peacock.
Then it started to rain so went inside and took a one-hour self-audio-guided tour of the warehouse through the 300-year-old cellars, where the wines are aging in barrels then through the innovative museum.  The tour included a tasting of 2 Ports of your choice.  Fortunately, the rain was just ending when we left.  Back down on the waterfront we browsed the merchandise being sold, and bought  a leather belt, sized and ready to wear.
Our last day we crossed back over the bridge and walked along the Douro under the monastery and away from the touristy part of the city.  It was lazy day with no agenda, so we just meandered between Gaia and Porto.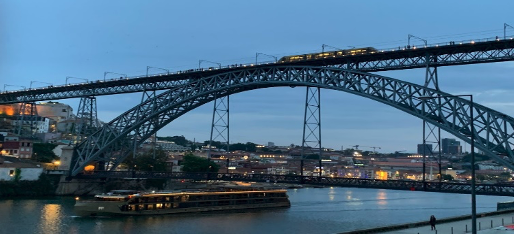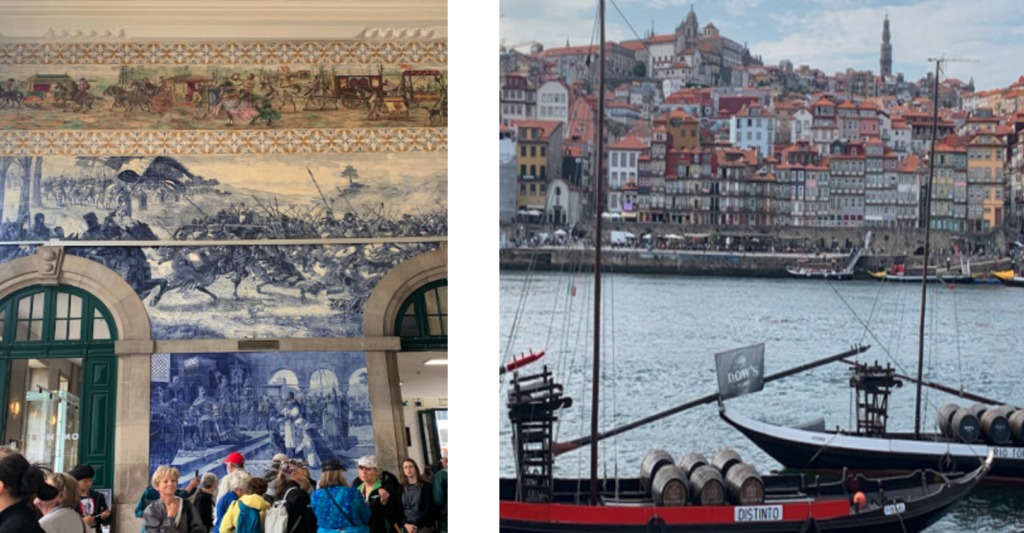 Hand painted tiles inside Sao Bento train station,
Porto view with Clérigos Tower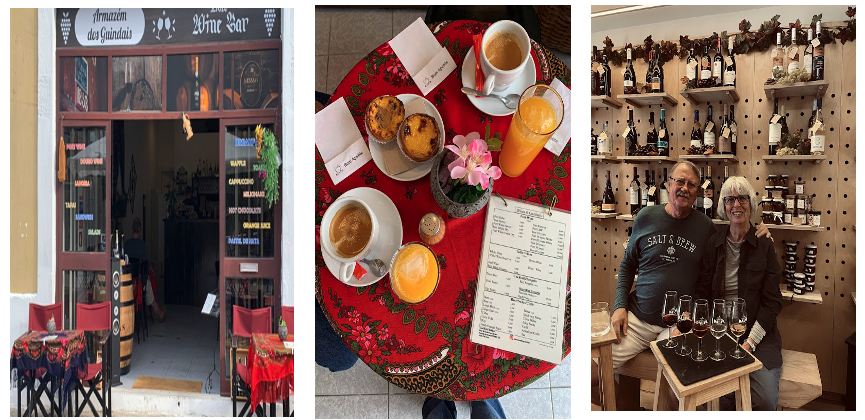 Breakfast restaurant, breakfast with pastel de nata and Port wine tasting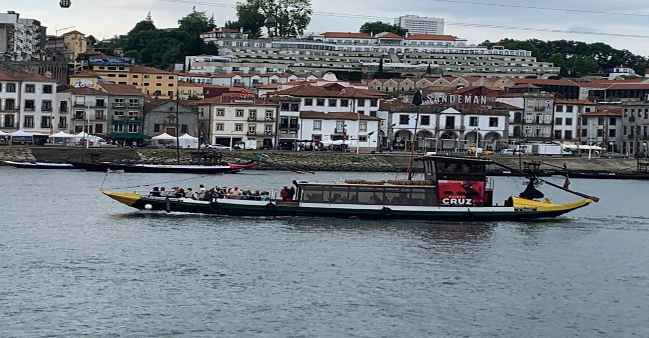 View of Vila Nova de Gaia where the wine lodges are while on a tour cruise.
ARGANIL
Arganil is a lovely town inland from Coimbra.  We left Porto by train to Coimbra and from there a taxi east to Arganil to visit some friends, hadn't seen in 40 years. They have been living here in this town in Portugal for 30 years.  We had a lovely three days catching up on old times together and our lives since that time.  Our friends drove us around pointing out the pine forests, eucalyptus copses, rivers and other physical features.  It was a drizzling three days, but we enjoyed our time visiting and tasting some delicious meals. Then they drove us back to Coimbra where we had one more lunch together and then on to our hotel.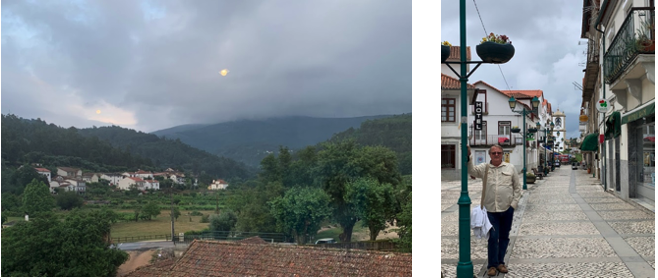 COIMBRA
Hotel Vitoria is in an excellent location between the Mondego River and the center of the city, and near the train station.  Like Porto there is a lower city and  the upper city which is mainly where the Coimbra University is located.  To get oriented we strolled along our street to the main square called Largo de Portagem on the river.  In the square is a statue of the prime minister who  in 1834 closed the monasteries and ended the ruling by the church. It is a lovely square with many open cafés.  This is the start of the main shopping district of lower town.       The next day we walked the length of the main shopping district stopping at a pastry café for a pastel de nata and coffee.  The street's surface is made up of small black and small white squares, sometimes in a special design.  We took photos of the interesting buildings along the street which led to the Church of Santa Cruz, facing a large open square.  This monastery is a National Monument in Coimbra because the first two kings of Portugal are buried inside. Their tombs are located on either side of the alter in the main chapel.  The organ with 4,000 pipes is awesome with attached horizontal trumpets.   Around the rear of the church is the Jardim de Manga (Garden of the Sleeve).  It is arranged so that the center fountain symbolizes the source of life and four small chapels surrounded by small rectangular pools symbolizes the facets of life.
Our next stop was a walk through the Mercado Municipal, selling fresh fruits, vegetables, fish, cheeses and small restaurants.  Next to this market was a funicular that would take us up to the upper town and the University.  Instead, we decided to walk up the hill along a tree lined boulevard.  We came to the entrance gate to the Jardim Botanica (Botanical Garden) dating back to 1772 and covering 50 acres, the largest in Portugal.  Meandering the pathways we enjoyed the green cool spaces, various rare and exotic plants (some 1,200), an ornate stone fountain, the greenhouse, birds and squirrels, a bamboo forest and variety of trees.  Slowly this led us down to lower town.  Hot and tired we were ready for a frosty beer and a cool white wine, Vinho Verde, a green, actually white, wine with a few bubbles made in the north of Portugal.
A day would not be complete without listening to some Fado music. This is Portugal's traditional music.  In Lisbon it is sung by females, in Coimbra it is mostly sung by University male students performed with the traditional guitar of Coimbra.  The lyrics have themes of loss, longing and sadness, hardships of life and remembrances of better times.  The music is based more on the structure than on the lyrics.  But in Coimbra the music is more of optimism and hope.  We stopped in at Pelisqueira Portuguesa Restaurante Casa de Fados nearby to our hotel. We were welcomed and invited in by Eva to enjoy the music even though we were only going to order some wine, not dinner.  The musician (who was blind) played and sang and then Eva sang a song, followed by a female diner who sang another one.  It felt like being with a family and we were included.  The staff and warm environment were so wonderful we went back the next night for dinner and to listen to other Fado musicians.
Our last day in Coimbra we decided to just stroll along the lower town enjoying the atmosphere of the city and also the friendliness of the residents.  We took photos of places of interest we had passed by such as the gate to the upper level to the University, the colorful buildings, the musicians and one little dog in particular.  The dog was sitting on a small chair in front of his master who was playing an instrument.  There was a plastic cup with a string attached and the dog was holding onto the cup's string with his mouth accepting donations.  Of course, we donated.  We then decided to cross the Mondego River for a view of the boats and also to capture a memory of the sight of Coimbra.  It was a relaxing day.  And to take home some special memories Joanne purchased a purse made from cork trees, a Portuguese specialty, and a cashmere scarf which will be useful when we will be back in France during November and December.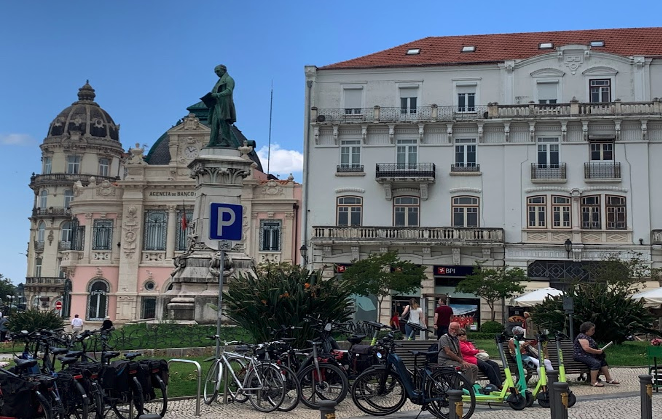 Largo de Portagem, Coimbra Main Square, Prime Minister Statue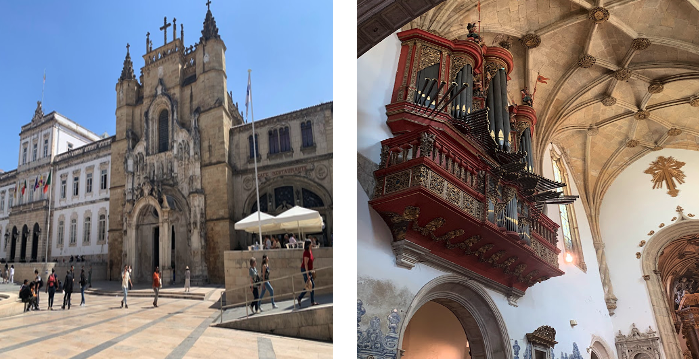 Church of Santa Cruz and Organ with 4,000 pipes and horizontal trumpets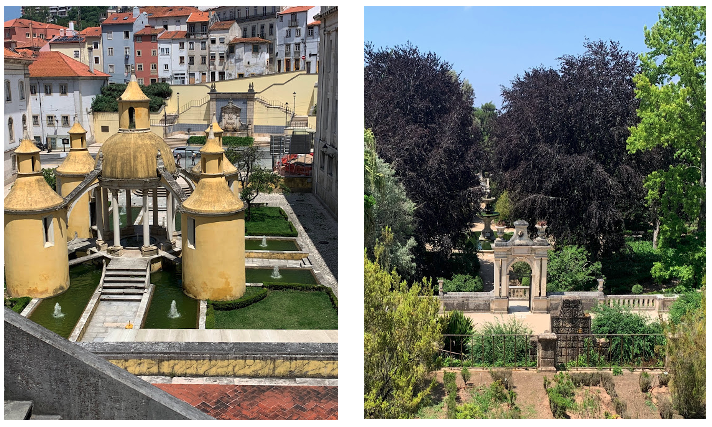 Jardim de Manga Chapels                                   Botanical Garden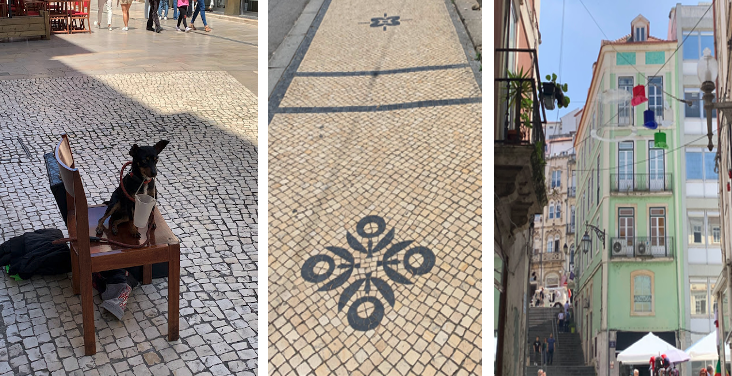 Donations for Me?                         Street Design                            Street View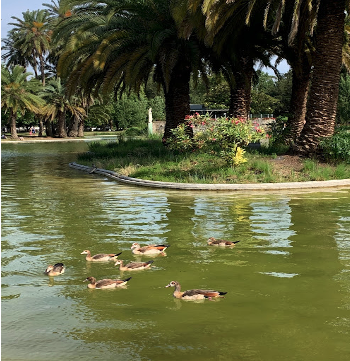 Park by Lisbon Airport Hotel
Our last day in Portugal was spent at an airport hotel in Lisbon before our departure back to the United States. We were pleasantly surprised by a beautiful garden park bordering the hotel.  The day was spent walking through the park watching boaters rowing on the small lake with an island in the center, watching paddle ball in the many courts, and enjoying a relaxing lunch at a Tapas restaurant overlooking the lake.  Another time it would be nice to plan a visit to Lisbon and other areas of Portugal.  We are glad to have such wonderful memories of Porto, Arginal and Coimbra.
We will never forget listening to Fado music and the musicians!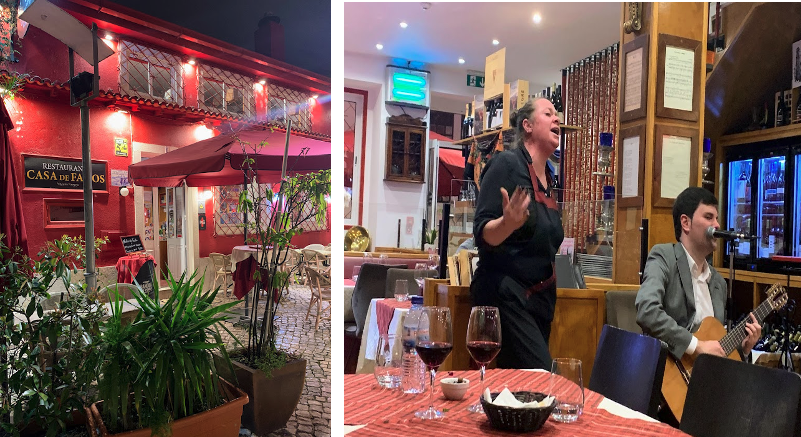 Casa de Fado                                                  Fado Musician & Eva