L'ISLE SUR LA SORGUE 2021
13 DUCKS!
In year 2020 we rented a Provençale apartment in the historic center of L'Isle sur la Sorgue for the month of May, only to learn that it was now being sold. After some thought we reached out to the owner and her real estate broker and began the process of purchasing this apartment. However, along came COVID-19 and France went into lockdown. So, we were unable to stay there. We continued anyway with the purchase and became owners in July 2020. After many lockdowns, travel restrictions and changing our flights four times we arrived on September 29, 2021. This Provençale apartment was everything we were expecting.
We landed in Marseille late afternoon and without our luggage we were smiling. Our property manager scheduled her driver to meet us and drive us north to the village which took about one hour. After opening the doors and seeing a potted plant of white roses on the table and a refrigerator with food and a bottle of rosé we couldn't have been happier. However, we were hungry, and we didn't have to walk very far when we discovered L'Alcyone, a lovely restaurant with outside seating by candlelight. It was our first of many delicious meals. Three days later our luggage arrived at 9:30 p.m.!
The old town of L'Isle sur la Sorgue is actually an island surrounded by the Sorgue River and canals throughout the village. The river is lined with many cafes and restaurants to enjoy lunch, dinner and people watching. Also, on the river and on the canals throughout the village are many operating waterwheels which once were the source for silk, wool, and paper manufacturing. Throughout winding roads, you will find small gift shops, art galleries and museums.
Each day we walk along different roads exploring a new site. We would also include time to stop for the Plat du Jour, the specialty meal of the day. Cocktail hour was time for people and dog watching. Eventually we returned to the same couple of spots the choices dependent on the weather. And the special people that worked there. One place was Café de France located in the center of the village across the Collegiale Notre Dame des Anges, a beautiful baroque style church. There we chatted with Tristan, Frank and others. Another one is Grand Café de la Sorgue, along the riverside. There we had fun with Marion and Lauriane and a few others. That was our time to relax with a Pastis or a glass of Rosé and at Grand Café we were always supplied with small bowls of cacahuetes (peanuts) – Thanks girls!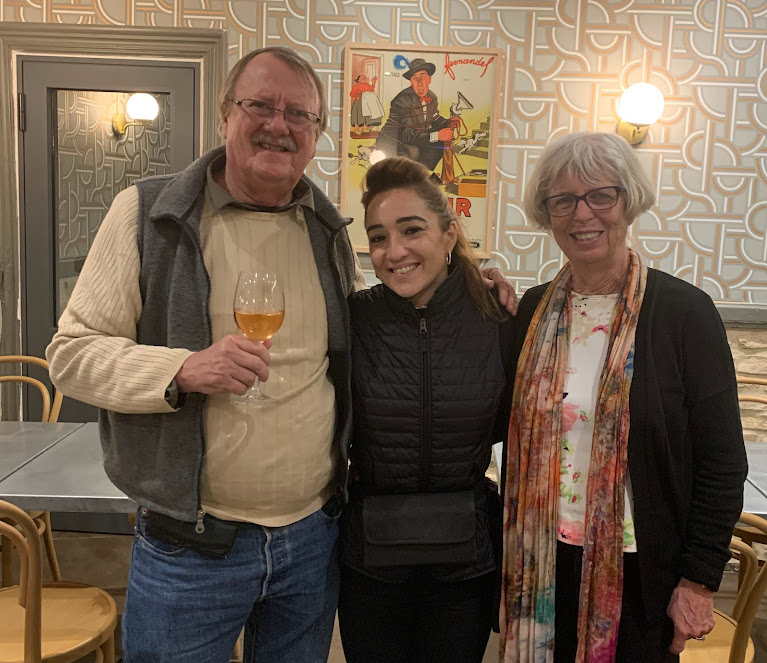 Each Sunday and Thursday throughout the town we would stop to buy fresh foods whether it be saucissons (sausages), fruits and vegetables, fish, cheeses or even barbequed chicken and paella. The Sunday market is well known for all that food plus clothing, flowers and especially antiques. On the other side if the river are outside stalls set up along with the arcade buildings. We strolled in and out of all of these buying a few small items and paintings to hang above our couch. There is also a twice-annual International Antiques Fair and Flea Market with over 500 vendors with about 50,000 visitors. We decided we needed a chair for our bedroom. And we found just what we wanted, a Louis XV style bedroom chair. Of course, that meant it was time for bargaining. Even with limited command of the French language Joanne had success!
That was one way to deliver the chair back to our apartment!
One of our earlier strolls was across the riverbank to Parc Gautier. It was a beautiful park for picnic with a skate park petanque court and children's playground. In the middle was the Gautier chateau, donated to the city, hosting many festivities. The Public Park is also beautiful.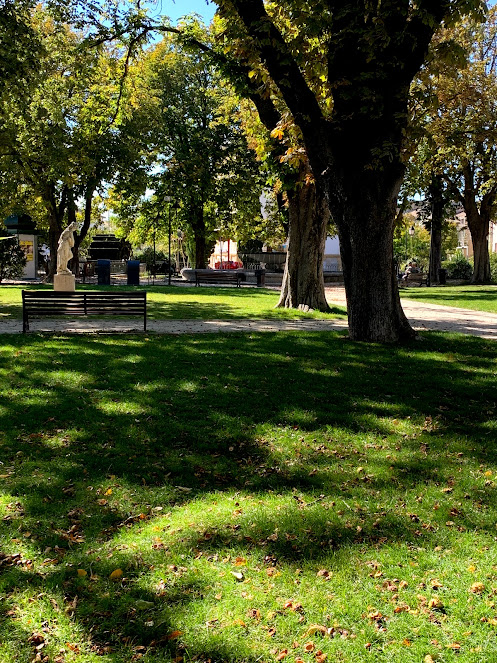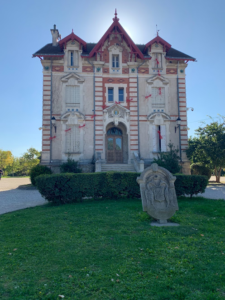 We stopped in the Tourist Office and got information about bus and train schedules and a pamphlet for getting our train tickets online which we used successfully. To familiar ourselves with the train station (Gare) we walked there which was a 10-minute walk. We also explored the surroundings and found a very nice restaurant. Le Terminus, a fitting name being across from the Gare. It was cozy and mostly patronized by locals. It became one of our favorite restaurants.
We still had tickets to fly to Bordeaux, which we had originally scheduled. So, on October 15 we flew into Bordeaux and took a taxi to the center of the city to stay at Brit Hotel des Grands Hommes. The hotel manager did not speak English, but he managed to understand that we wanted a nice restaurant to eat at. So, he beckoned to us to follow as we left the hotel unattended, and he led us down the street around the corner to a Bistro Montesquieu where we then sipped on a nice glass of red Bordeaux on the outdoor terrace until the restaurant opened for serving dinner. Their specialty of the day was Boeuf Bourguignon, and Frank ordered that. The meal was delicious but was not prepared the way we had ever seen in recipes. It was not a stew but a nice cut of beef on top of rice with a nice brown sauce. Joanne's chicken dish was fabulous. And of course, that meant a bottle of a red Bordeaux wine was needed for a wonderful dinner to start off our tour of the city of Bordeaux.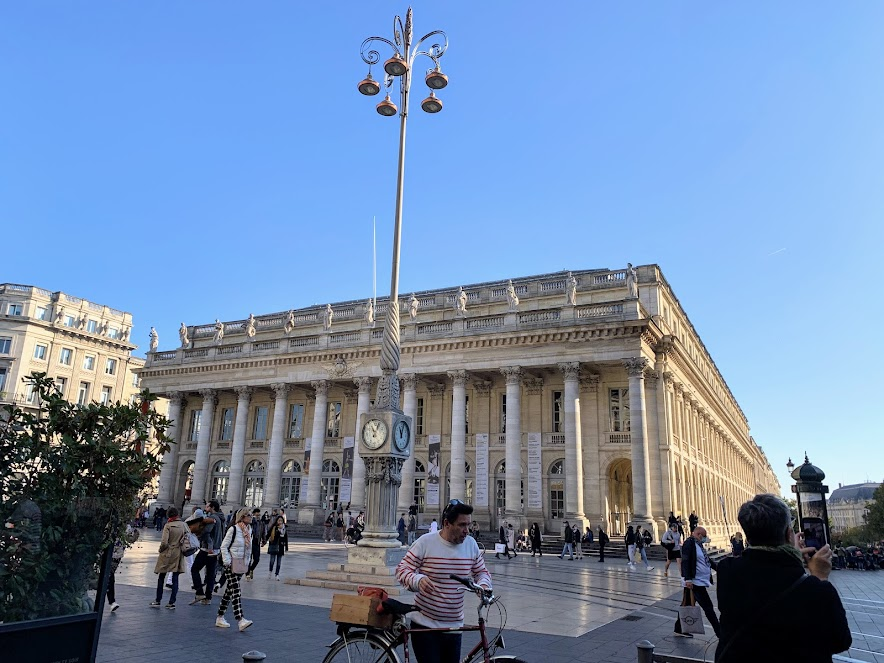 The hotel lobby had a map with a UNESCO Heritage Tour of 15 places to see that we decided to follow on foot. Our first stop was in front of the Grand-Theatre, an impressive architectural masterpiece built in 1780 with columns supporting a portico with twelve stone statues (nine muses accompanied by Minerva, Venus, Juno). It is an opera house located on the Place de la Comedie.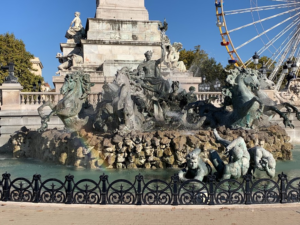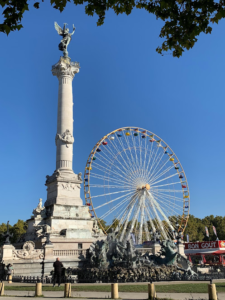 We continued walking to a tree-lined esplanade called Quinconces with two columns at the Riverside celebrating commerce and seafaring. At the other end is the Monument aux Girondins. This is a tall monument as a tribute to the inhabitants of Gironde lost during the FrenchRevolution, and on top stands the statue of Liberty Breaking its Chains. There are bronze
fountains at the bottom.
It borders the Garonne River and so we strolled along the Quays which include green spaces, boutiques, cafes and play areas for children. We stopped at the Place de la Bourse which is Bordeaux's opening onto the River Garonne. It is a city square comparable to Versailles. It is also called Stock Market Building as it was the place where trade prices were set in the 18th century. In the center of the square is the Fountain of the Three Graces. Of course, we found a small square just pass the Place du Parlement and stopped for lunch in the square facing Eglise Saint Pierre. This square and the streets surrounding it make up Bordeaux's old town. It is always time to sit outside and enjoy a plate of chacuterie and quiche with a glass of white Bordeaux wine. Walking a little further we stopped at Porte Cailhau to cool off with more great Bordeaux white wine. This Porte or Gate is the former defensive gate dedicated to King Charles VII, who won the Battle of Fornovo (Italy). Frank walked into the gate and climbed the stairs to the top for the view. When we returned to our hotel, we decided to pay a visit for a night cap at Bistro Montesquieu with a wonderful red Bordeaux..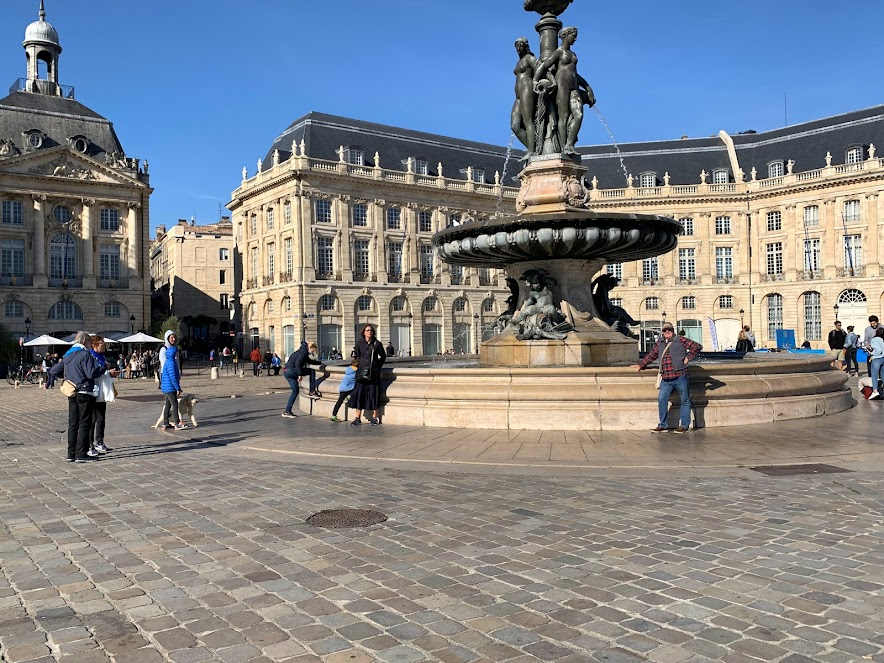 The next day we continued past Quinconces along Rue Notre Dame into the Chartrons area. We stopped in at the Musée du Vin et du Négoce. And took the self-directed tour in the former dwelling of a wine merchant which included walking through vaulted cellars. This is the area where many worked in the wine industry. We viewed a collection of past and current objects and documents tracing the wine trade to the present day. At the end of the tour there is a instructional area set up to taste and to learn the difference between the wines, the 1855 classification system and what makes Bordeaux wines so special. On our way back we stopped at Oncle (Uncle in French) Bob's for lunch which had an Asian influence. Asian food goes really well with Bordeaux Rosé wines. With only one more day here and there was still so much to see we decided to extend our visit for an extra day.
Today we headed in the opposite direction. We passed through Porte Dijeaux, the gateway into the city from the west. We had no set agenda and just strolled along sightseeing. We passed the Hotel de Ville, the Musée ds Beaux Arts and passed Cathédrale Saint-André & Tour Pay-Berland. This Gothic style cathedral hosted two royal marriages, that of Eleanor of Aquitaine and the future king Louis VII and that of Anne of Austria and Louis XII. The Pey Berland tower is a bell tower built in the 15th century separately from the cathedral. The Royal Door, constructed in the 13th century is decorated with remarkable sculptures. With all that walking one gets thirsty and hungry. We stopped across from the Theatre and split a croque monsieur, which is a big grilled ham and cheese sandwich, and listened to some lovely classical music piped in from the theatre. Up the street we found a very nice place for a glass of wine and some chacuterie called Bar à Vin which completed our day.
Our last day in Bordeaux we headed in the direction of the subbase. It was a hot day, so we stopped early for a nice light lunch at Le Mirroir. We realized that subbase was quite further than we thought, so when we saw Molly Malone's we thought it would be a good idea to have a Guinness and Irish Coffee to keep us going. We then decided that we would save this adventure for another visit and headed back to Bar à Vin for one more plate of chacuterie and wonderful Bordeaux wine.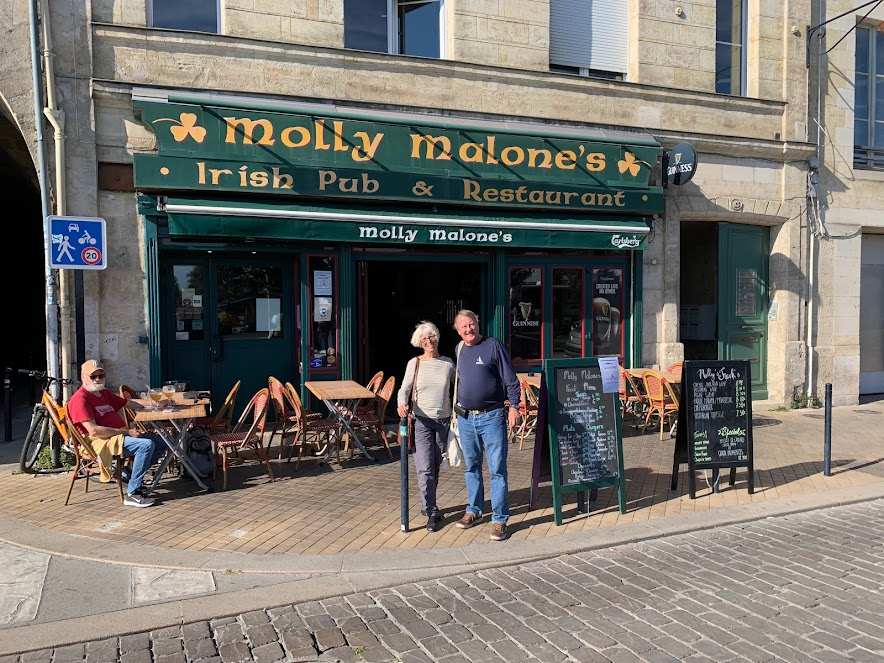 The only train to Avignon was the city train that took us down to the Mediterranean and back north to the station in Avignon. It was a 6.5-hour train ride that went by quickly. We enjoyed the changes in the countryside, seeing the sea, reading and having something to eat. Our reservations were at Hotel L'Horloge (the clock) in the center of the old part of the city. It helped coming into our room and seeing a nice bottle of Chateauneuf du Pape awaiting us. That primed us for exploring our surroundings, listening to the accordion playing, people singing and just watching the night life in the square.
Avignon is a walled in city. We walked out through the wall to the Rhone River in search of Pont D'Avignon, also known as Saint Bénezet Bridge. It is well known because of the children's song "Sur la Pont D'Avignon" and is also a UNESCO Heritage site. The story is that a young shepherd from Ardeche named Bénezet heard a voice telling him to go to Avignon and build this bridge, which was completed in 1185 and was the only connection between Lyon and the Mediterranean Sea. However, the flood waters washed out the bridge many times and after being rebuilt many times it was abandoned in the 17th century with only 4 out of 22 arches remaining. Tourists are allowed to walk on the bridge, for a small fee.
After a lovely lunch we visited the Palais des Papes. This Gothic Palace was completed in the 14th century, and it is the biggest one in all of Europe with 20 rooms. We took the self-guided tour through many rooms highlighting the historical events that took place, the paintings of Italian artists and the popes' private chambers.
Leaving there and heading back to our hotel we first stopped at Restaurant 46 Bar a Vin and enjoyed sharing escargot, cheeses, fresh bread and a nice bottle of Province rosé.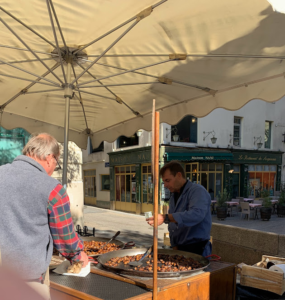 The next day Frank wanted to buy some supplies to make minor repairs to our apartment. Mr. Bricolage, a DIY hardware store, had just want he wanted. In the square, Place Pie, we saw a vegetal wall covered building. This is Les Halles, the covered market with 40 vendors, that is open every day from 6:00 a.m. to 1:30 p.m. This is where everyone, including restaurant chefs, come to buy their exceptional produce, specialty foods, eat oysters and stop at the bars. What fun and what great wine for 2 euros a glass! Next to our hotel was Brasserie Lou Mistrau, a wonderful restaurant where we dined twice, even had French Onion Soup, one of Joanne's favorites. Our last day in Avignon we just wandered around streets we hadn't seen and came across a vendor who was roasting chestnuts for sale at the intersection. We bought a small bag and they did not last too long, YUM!
It was time to return to L'Isle to our apartment. The train ride lasted 24 minutes and cost 7 euros for both of us, you can't beat that deal. It was market day and just about closing time but time enough time to buy a nice round of camembert. That was going to be part of our lunches at home and snacks. We usually ate out once a day, usually lunch. One of our stops was at Crok Isle which was a roadside stand that sold lunches for takeout such as quiches and a hot dog! It was a long hotdog stuffed in a baguette, toasted with cheese of course. While walking we always find a new place we should try. Troc Café is very small with a few outside tables, but they serve the best fish and chips, omelets and moules frites (mussels, French fries). Of course, we frequented Café de France since we enjoy speaking and joking with the staff, and we were given a diner's punch card. When we have a return trip, we will have to get our free meal. On one walk Joanne noticed the Plat du Jour was Lapin. Frank's Polish grandmother would make a rabbit dish that he has never been able to find anywhere. This was it and it was made by the chef who was from Poland!! Le Bellevue became another one of our favorite dining spots. Jerome spoke some English so that was a help. And, if you have a sweet tooth for some good chocolate there is a chocolatier around the corner from us. You can watch as the chocolates are being made. There are a variety of handmade chocolates, so it is difficult to decide what to choose and that also the salesgirls with make nice boxes of whatever you want making nice gifts for friends.
There are two small grocery stores that we frequented for buying wine, breakfast food and whatever Joanne decided she wanted to cook. One day she saw green lentils and so it was going to be lentil soup for dinner. She has never seen green lentils in the stores in St. Thomas and the soup recipe always recommends using green lentil. It was worth buying. We also discovered that nobody ever heard of meatloaf. The ground beef had absolutely no fat, so Joanne improvised and broke up some sausages and added to the mixture. It was delicious. Improvising was the key word when cooking without all the ingredients one is accustomed to having close by. Another time Frank thought he was getting a deal on a package of cheese called Raclette. Joanne looked it up on the internet and discovered a recipe she just had to try.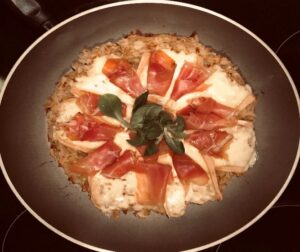 Raclette is a cheese you melt, often used in fondue. The recipe needed an oven, oops! How to use it, all being in symbols and Celsius! With that challenge overcome she made a recipe she found that is melted cheese scraped over boiled potatoes, topped with prosciutto served with water cress and serve alongside with olives and gherkins. It was as tasty as it was pretty to look at.
We began to think it would be nice to have a bigger piece of furniture to put our television on with all the cables and remotes on a separate shelf. Also, it would be nice to have a couple of closed storage doors below. So, on one of our walks we made a stop at a woodworker's shop. Frederic didn't speak any English, so this was a challenge. Eventually Joanne drew what we wanted for him and with some limited French we managed to settle on the type of wood, keys, etc. We then waited for an email with his estimate. In the meantime, Frank is doing touch up on some cracks in the walls in the apartment which needed paint to cover it. So we found the route to Mr. Bricolage in our village and off we went. It was about a mile away. Frank also needed to replace the plug on the Hoover (vacuum cleaner). After those items were purchased, we walked a little further on looking for the location of a car rental facility. On the way back we stopped at Pyramide and ordered an Italienne pizza. It had pesto on it and it was the best pizza. Continuing on we stopped at a Boulangerie and bought a round loaf of bread which the salesgirl sliced for us. We will definitely go back there. It is the flour that makes the difference. A short video of the cultivation of the wheat in L'Isle-sur-la-Sorgue used for the baguette flour will be produced soon. Visit the trailer @: https://youtu.be/MJoJs3QWOcU
One day when we were walking around the village, we followed a map from the Tourist Information Center showing the location of the remaining 15 out of 66 waterwheels. We still have a couple more to locate. One of the waterwheels was on the end of the Canal Arquet. It was cold and the Arquet Bar was just waiting for us to warm up. Another time when we were walking toward the Le Bassin we discovered an architectural dig in process. The workers were hard at work in the mud. We went by there are few days later and it had dried up and looked very different.   On almost all our walks as we are strolling along the riverbank, we are watching the ducks, either swimming, diving for food or sunning themselves on the concrete levees. Since the street number of our apartment is 13 we made a game to see if we could count 13 ducks in each section, not easy. And one day we watched a dog on a leash jump in. The dog enjoyed swimming around, but the owners had a bit of a time trying to get the dog out. That was when we walked away before the dog shook off the water, a smart move on our part. The public park is peaceful and with benches for resting and lots of chestnuts on the ground. At one end of the park is a restaurant called O & R (Olive et Raisin). It is a boutique selling exceptional products of the local artisans, i.e. tapenades, charcuterie, fine cheeses, olives, olive oils, artisanal beers, cookies and it provides baskets for picnics. There are menus for two people to share not only for a picnic but also to enjoy there. We liked to order and sit at a table by the window watching the ducks in the water.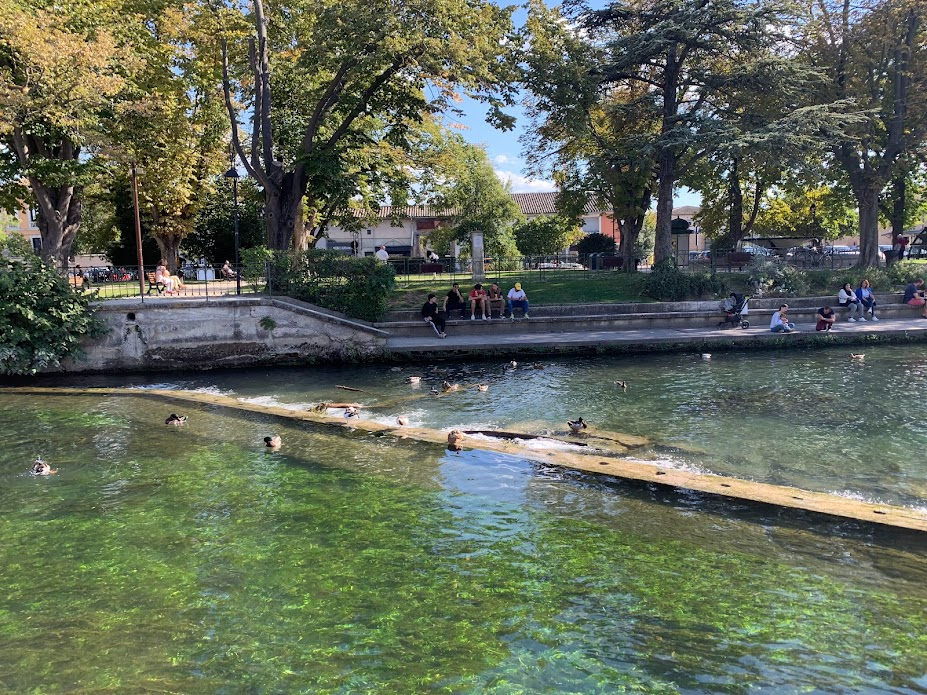 Halloween is a holiday never before celebrated in L'Isle sur la Sorgue. Paper pumpkins were attached high up in the trees, bollards were wrapped in black and orange, inside the back of the church children lined up to see the monster that stole all the candy, mocko jumbies were dressed up in scary costumes and even jumping rope, jugglers were performing their skills and the restaurants and bars were waiting for the children to give them some candy. We don't think the children understood what "trick or treat" meant, they were just having a lot of fun.
Another day we took a walk to the cemetery. The tombstones were big and decorated with real flowers but also attached were porcelain flowers. Many people were bringing baskets of flowers since Armistice Day was that week. We walked back for the 30-minute ceremony on November 11. There were speeches by elders and also by students. Then students brought up baskets of flowers to be placed at the memorial honoring all those that lost their lives in the wars. A small chorus of young children sang as the band played and it ended with the singing of the Marseillaise. Frank wore his combat aircrew wings on his blazer.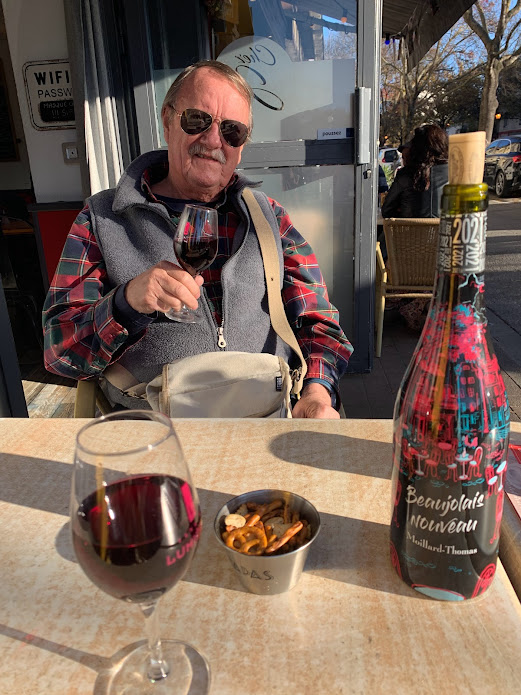 It was the third Thursday of November, the day that Beaujolais Nouveau is released. At lunch we asked where we might find a glass but we were not having any luck, so we headed back to our apartment and on the way just before leaving the waterfront there was a bottle of it on the table outside of Chez Ju, a restaurant we hadn't tried. We met Margot, who worked there, and she told us her mother lived in Martinique. Most people in France don't know where the U.S. Virgin Islands are located but she did. She had also lived in Tennessee for many years so spoke fluent English. Beaujolais Nouveau it was!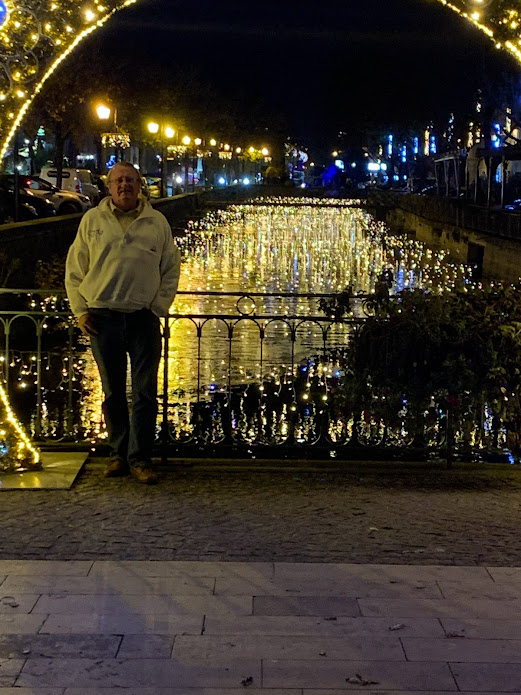 Our friends, Robert and Joanie who live in St. Thomas, took the train from Paris and came to stay in our village to visit with us for a couple of days before we left. Our property manager helped with finding for them one of her apartments that she also manages. They loved the apartment. It was fun meeting both at the train station, lunch at Terminus and then walking through the streets to their apartment. We met the next day at the Sunday Market and wandered all around the vendors' stalls. It was Frank's birthday, so we met up later at Chez Ju for a wonderful meal, followed by a drink at Café de la Sorgue and at Bar L'Arquet. It was wonderful seeing Robert and Joanie and sharing with them our village with the waterwheels and the ducks. The Christmas lights in the streets and across the river had been installed. The next night, our last night in L'Isle, we were drinking our last glass of rose with Marion at Café de la Sorgue when they came in to let us know the lights in the town were turned on. It felt like they were turned on just for us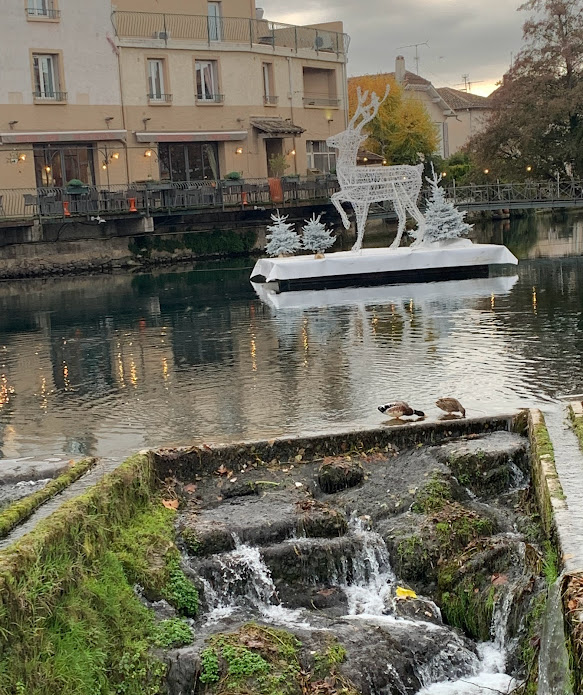 Elayne Murphy is our property manager. She was always ready to assist us with what we needed, such as a new name plate for our door, taking us to stores to look for the television stand, the Super U for super grocery shopping, and ordering us a new Nespresso coffee maker and blender. She also arranged for our 5G internet to be installed. The sign in number was much too long for guests to use so she arranged for Chris to come over to change that to something simpler using 13 Ducks in the password and to set it up for French speaking guest to watch French TV.
When we got the email with the estimate from Frederic, woodworker, it was astronomical, so we went online to find something suitable and for a tenth of the price. We were frequently back and forth to her apartment and this time it was so that she could place the order. We were leaving in a week, and it was delivered in just 5 days, two days before we left. We also have a beautiful armoire and decided we wanted to lock one side so that we could leave some of our personal belongings in it. Elayne managed to get the key man to come over to remove the old lock which no longer had a key, put in locks on our new television table doors and add an extra lock on our door for our use only.
We feel very fortunate to have Elayne working with us. The first week we were there she invited us to a lovely restaurant at one of the Antique buildings. Another time she invited us over for a typical French meal, with all the various courses and wine. One evening she invited a couple that had been living in the States to cocktail hour so we could meet them and hopefully get together in the future. They bought an apartment near to us three years ago and never left. They have made many friends and are willing to introduce us to them.
There are many museums in the village that we did not have time to visit. There is still more for us to see when we return.
We hope to return soon and reconnect with so many people that made living there an enjoyable experience. To those "À Bientot!"
AU REVOIR
You can view our little pied-a-terre by going on VRBO and putting in reference number 1938031 or 1938031 at the link below.
https://www.vrbo.com/1938031a?noDates=true