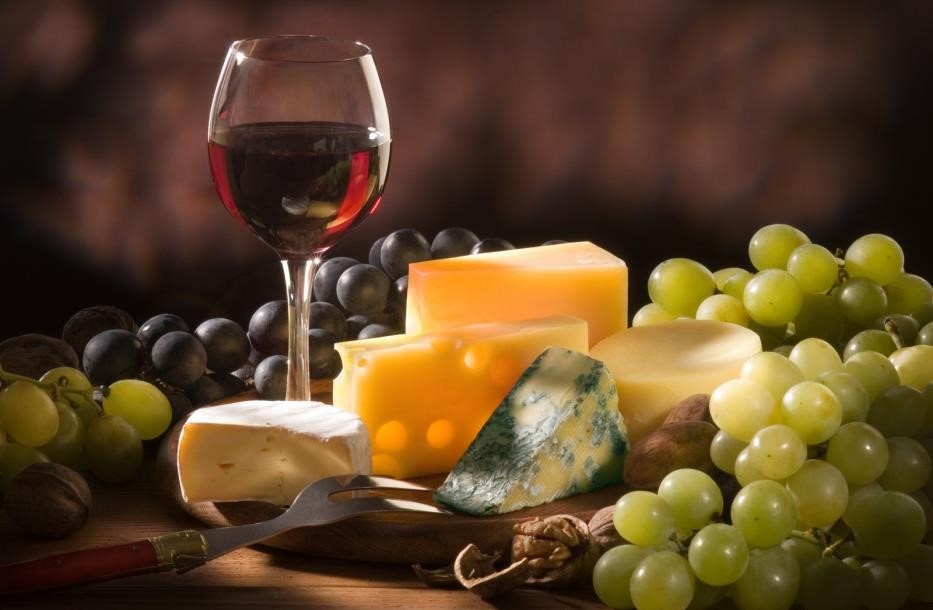 Some 40 years ago Joanne was at a weekly wine tasting and discovered the wine "Condrieu".  At that time it cost $30 USD but for her it was the best white wine she had ever sipped.  For some 40 years it remained her favorite white wine.  So, for her 70th birthday she celebrated by traveling to Condrieu to sip more of her favorite wine.  Condrieu is in the Rhone Valley in east central France.  Lyon is the one of the largest cities in France and is located in the Rhone-Alpes region. It is located between the Soane and Rhone Rivers.  In 2018 Lyon will be named the Gastronomic Capital of France.  We were looking not only for good Rhone Valley wines but also a gastronomic experience.
Lyon is divided into Vieux Lyon, the old city center, on the River Saone and the newer current city center on the peninsula (Presqu'ile) at the confluence of the Saone and Rhone rivers.  We had reservations in Vieux Lyon.  This area has a long and interesting history as it was the center of trading during the Renaissance ages and many of the buildings were constructed during the 16th century.
We flew into St. Exupéry Airport in Lyon and called an Uber driver who took us to Place du Change in Vieux Lyon. After sending a text message to Vincent at Mon Hotel Particuliere we were met by Sam and taken to our apartment on 20 Rue Juiverie, next to the famous watchmaker, Philippe Carry at L'Horloger de Saint Paul.  The apartment was on the fifth floor reached by passing through a beautiful entrance, through another door and up the elevator. It was a completely modernized apartment with full kitchen and even a washing machine.  And we felt quite secure with all the safety checks and the lock on our door. See the entrance, the locks on the door and the outside entrance, next door to the watchmaker.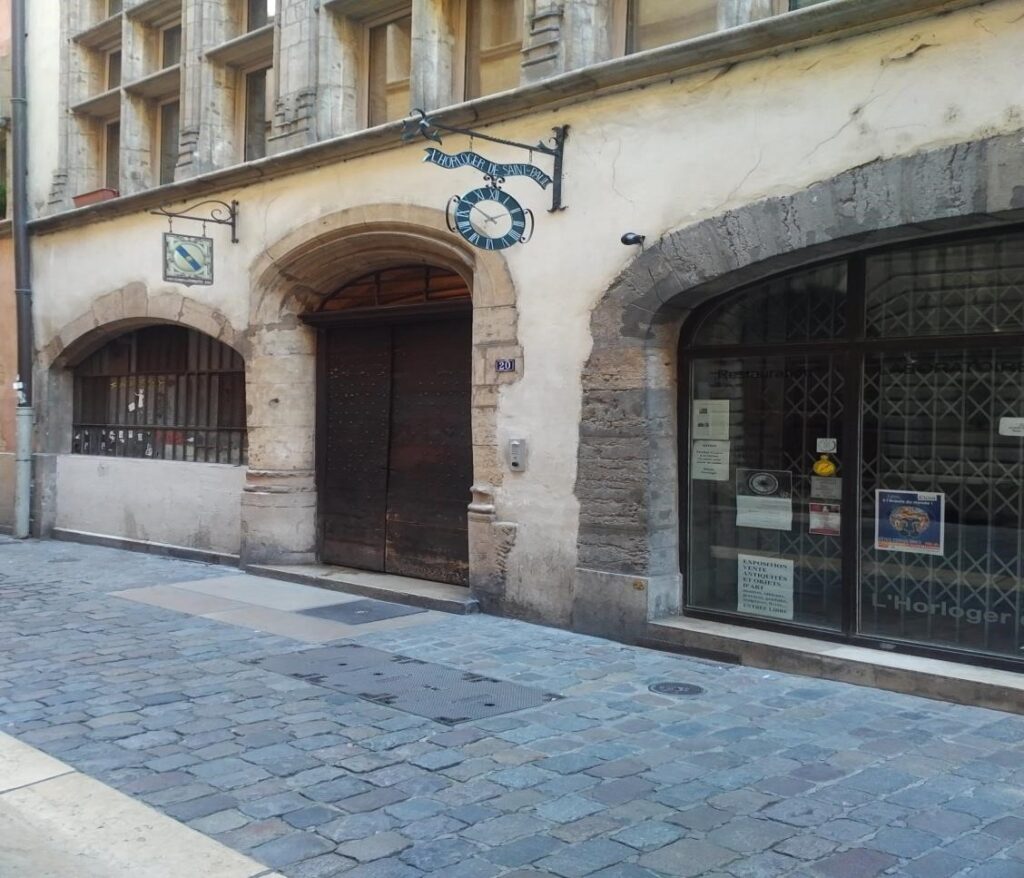 Sam gave us a map and explained about places to visit and where to dine.  As it was time for an early evening meal we walked the cobbled streets until we found Le Rocambole, recommended by Sam.  It was located on Quai Romain Rolland.  We enjoyed a meal of moules (mussels) and a cheese plate with mercellin cheese complemented by a lovely Rosé.  We continued to stroll along the narrow streets and stopped to buy some food and wine for our apartment.  We were surprised how inexpensive it was.  As it had been a long day of travel we went to bed early.
The next morning Sam had told us that there would be a market day on both sides of the Saone River.  So we headed out early to cross the bridge Pont de la Feuillée. We first visited some of the tables on our side of the river and then crossed over to the other side.  We browsed many tables selling books and there was interesting book store across the street with murals of books up the four floors of the outside wall.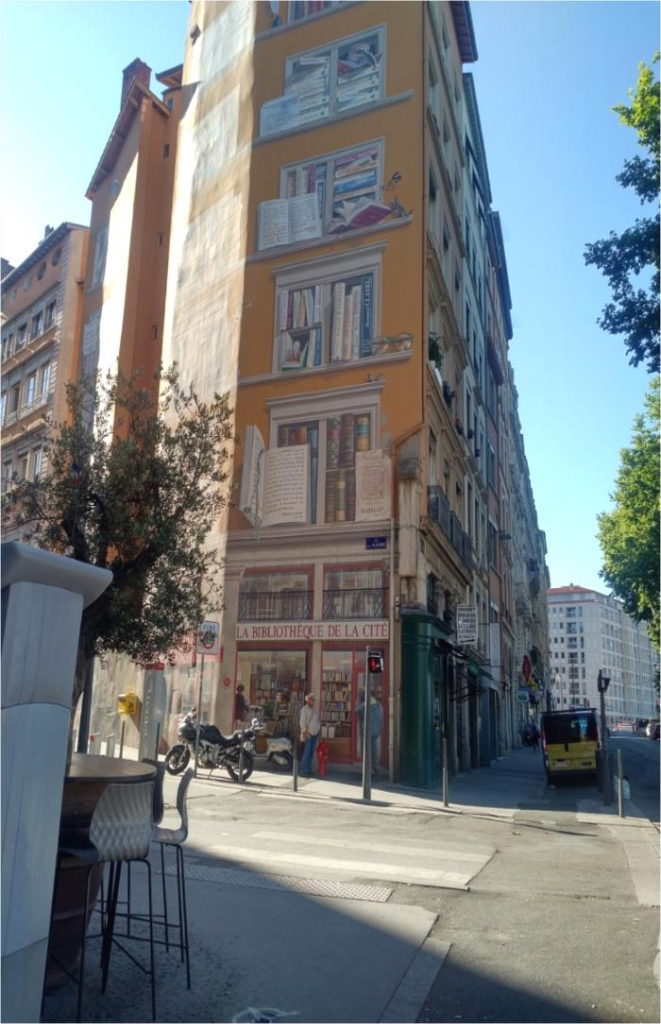 Find Frank?
We explored some of the streets in the neighborhood until we came to the Place des Terreaux, the main square of Lyon with the City Hall.  There was a big fountain installed on the terrace, but it was covered up for renovation.  We stopped in a patisserie and bought an éclair and croissant for our walk back.  After resting for a while, we stopped for a three course delicious lunch for two at La Chimere with a bottle of rosé for a total of 57 €. Then we walked to the Place Saint-Jean and stopped in front of the Saint Jean Cathedral to listen to some musicians. We were headed out to take the funicular up to Notre Dame but our plans changed and we crossed the Pont Bonaparte to Place Bellacour.  It is the third largest square in France.  Up further past this square was another square with an enormous sculpture of a tree of flowers.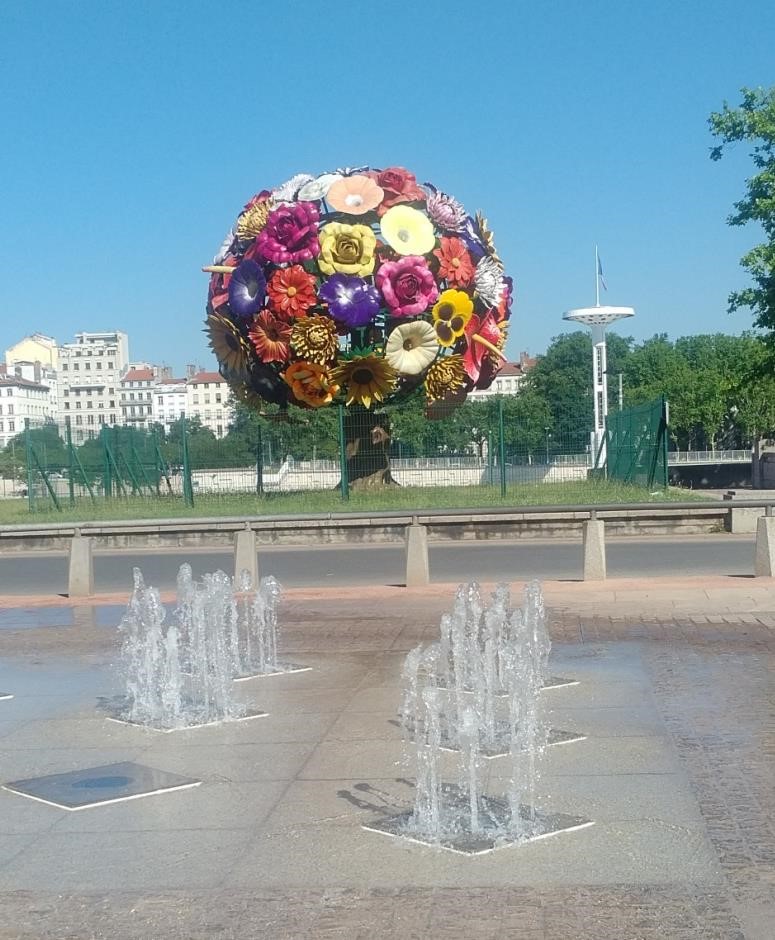 On the way back to our place we stopped for a refreshment and then back to our grocery store for something light to eat.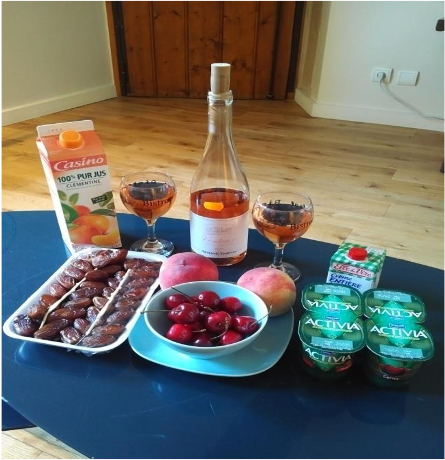 $20.00 for all this!!
Monday, we went back to the metro stop at Saint Jean and rode the Funicular up to Fourviere.  Here we visited the Basilica of Notre-Dame.  There is another basilica underneath reached by a door on the right side in the middle of the church.  It has often been referred to as the upside-down elephant. Because of the four towers on the top basilica represent the legs of an elephant.  Outside you get a stunning view of Vieux Lyon.  Down the road we also visited the remains of the Roman Amphitheatre built in the second century. See the link below:
https://en.wikipedia.org/wiki/Basilica_of_Notre–Dame_de_Fourvière  That afternoon we were scheduled to take a boat cruise which departs from the other side of the Saone on the Quai de Celestins.  We walked up the street from there and stopped at Le Bouchon Lustre.  Our waitress. Laura, just graduated from college in Marseilles and has an upcoming position as a translator in Bristol, England.  This is a bouchon, a family-run business specializing in Lyonnaise food. That means there are plenty of meats, salads, cheeses and desserts.  We ordered the plat du jour for each and a bottle of rosé for 33 € total !!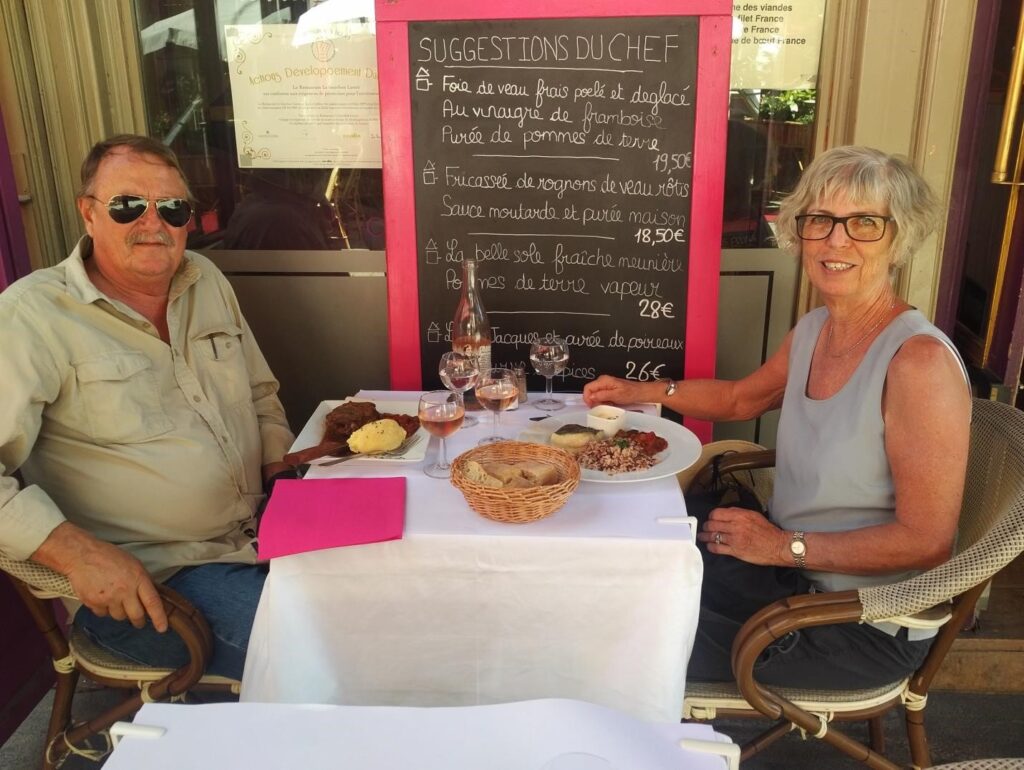 Our river cruise took us upriver to the Ile Barbe passing Vieux Lyon with view of the Basilique de Fourviere, L'Homme de la roche, and Fort Saint-Jean and back. We had a good time speaking with some of the people with a mix of Spanish and French.  We headed back towards our apartment walking the streets of Presqu'ile.  After crossing the bridge Pont de la Feuillee we stopped into an English bar. The bar was tended by English females which provided a lot of laughing and joking around.
The next day we planned on spending two hours with a Lyon Greeter that we had reserved before leaving home.  Lyon Greeters are volunteers that live in Lyon. We met her at the Tourism Office in Bellecour Plaza.  Her name was Michelle Rivot and she asked what we hadn't seen yet.  We told her we have read about the traboules but hadn't seen any. A traboule is a narrow passageway that connects two streets by crossing inside a block of houses.  That was fascinating and we could see how helpful it was for the Resistance during the wars.  She also brought us to Soierie Saint-Georges, a silk weaving workshop.  It is the last active one in Vieux Lyon.  There are others in Croix Rousse District which we were not going to have time to visit.  I did purchase two scarfs.
For more information and pictures click on the following link: https://www.yelp.com/biz/soierie–saint–georges–lyon
From there we walked along Rue St. Jean over to the Quai and stopped for an ice cream cone.  The outside temperature that day was 90+F.(32C.). degrees.  We continued across the Pont de la Veuillee and walked along the river to reach the Tete d'Or Park.  Michelle showed us to the rose, (not to be confused with Rosé) garden and then she was off on a bicycle to another meeting.  She has also lived in Australia and her English was very good so she liked the opportunity to use it.  The park covers 117 hectares consisting of many paths around the central lake.  There is also a zoo and a botanical garden.  We continued to walk around the lake and stopped at a small restaurant for a glass of rosé to cool down.  From there we called for Uber to take us to Les Halles Lyon also now known as Halles Paul Bocuse.  This is Lyon's famous indoor food market with 59 markets including bars, restaurants, chocolates, meats, cheeses, pastries and more.  This is named after Lyon's son and famous Chef Paul Bocuse.  It even sells the famous white Bresse chickens and they are sold with the heads and feathers attached. See this site and then click on The Park: http://www.loisirs–parcdelatetedor.com/en/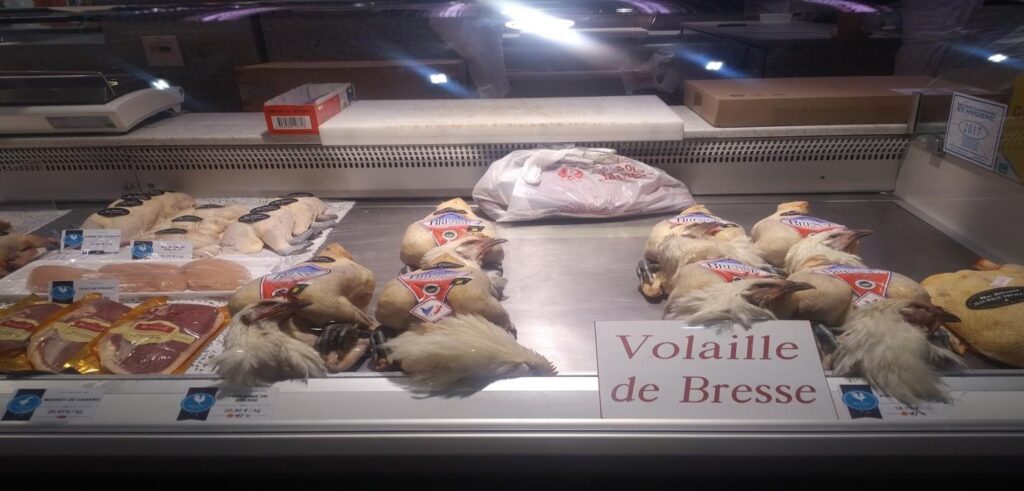 That evening we dined on canard (duck) for Frank and cod for Joanne.  A perfect ending to our stay in Lyon.
A bouchon is a type of restaurant found serving traditional Lyonnaise dishes such as andouillettes sausages, roast pork, chicken fricassee, St-Marcellin, a creamy and slightly tangy cow's-milk.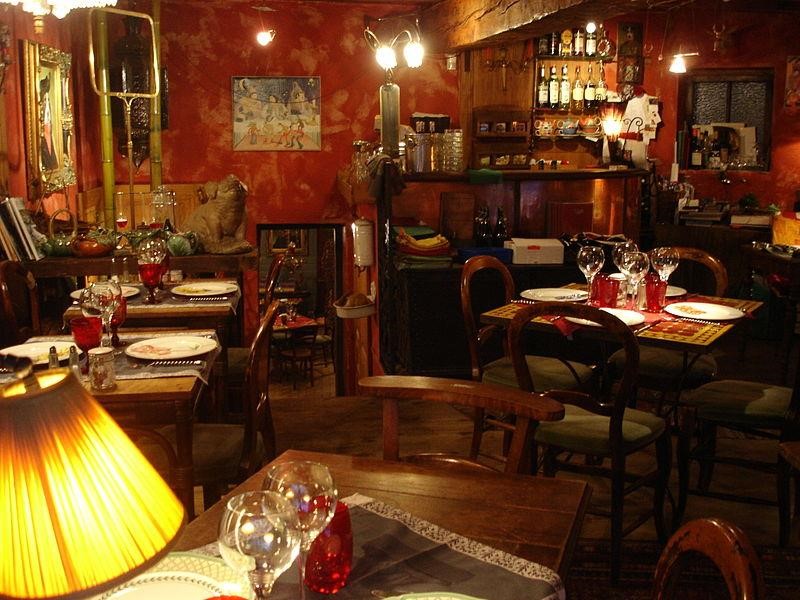 The next morning, we called on Uber and got the same driver as yesterday.  He had a difficult time finding Hertz rental at Gare de Parrache as it was underground where the GPS doesn't work.  We finally had to walk down the ramp where you would return the car. Then off we headed to the Southern Rhone in our new Citroen. Of course, if you are going to use a GPS you should remember to turn on the sound or you might travel a lot further than needed until realization hits you.  After half an hour Joanne said, "Why isn't she talking?" Then we turned on the volume and retraced our route. We stopped at a pizza restaurant that made delicious pizza and we were able to watch it being made. Since the owner of Wine Passion Panoramic would not be available to let us in until she returned from work, we first found it and then returned to the village of Charvanay and walked around.  We found a Tabac that also had a bar with draft beer, called Bar Tabac Presse du Centre, and stopped there to cool off and quench our thirst.  The weather was hot in the 90's.  We met Herve Bossy and continued to visit with him each afternoon.  A glass of wine was 1 euro and a biere was 1.3 euros.  There was another bar in town at the center called Bar Les Halles, but we preferred our friend Herve and his daughter.
For more information on the town Charvanay click on the link below and especially scroll down to the pictures.
https://www.theguardian.com/travel/2017/feb/17/10–best–restaurants–lyon–chosen–by–chefsexperts
Wine Passion Panoramic was a perfect name for this chambre d'hote.  It was at the top of a hill overlooking the town below and the surrounding vineyards. Visit the following website: http://www.wine–passion–panoramic.webself.net/  We met Veronique but never Yvan as he was in the south of France working on another place they have.
That first night we had difficulty finding a restaurant as restaurants are closed on Wednesdays. We finally stopped into a gas station with a bar and restaurant, Relais St. Michel.  We ate a wonderful steak and fries with great wine.  We stopped at the bar after dinner and mingled with the local people from the village.  We enjoyed the wandering through the village.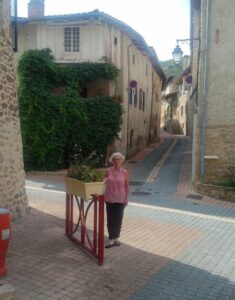 Where is everyone?
Thursday, we visited the winery Vignobles Versier and had a nice tasting in the cellar with Maxime Verzier.  We purchased a bottle of Viognier & St. Joseph for 13.5 € and La MadoveBohème for 10€.  Condrieu is a wine made from the Viognier grape. From there we headed for our next winery, Montez du Monteillet and enjoyed our tasting with Julie. Of course, we are drinking Condrieu.
Frank: "Sorry, It was 95 outside!"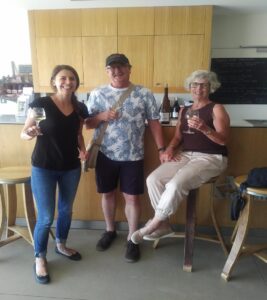 Visit our first winery at the following link and see the pictures of the second winery  http://en.condrieu–coterotie.com/vignobles–verzier–1.html
That same day we stopped at Relais du Pilat for a delightful and relaxing lunch of the plât du jour and a pichet of wine for 31.5€ again for both of us.  Our big meal of the day was always lunch.  We bought snacks of cheeses, a baguette, and fruits for the evenings.
Friday, we drove to Malleval, an attractive village in the Park naturel region of Pilat.  We drove a winding road to a village of stone buildings with a rail station and a stream.  The highest point was the church commanding a panoramic view of the area.  We tried to find the grenier à sel, the salt store but what we found was a deserted building for sale, a disappointment. In the photo beloe I am asking directions to the grenier.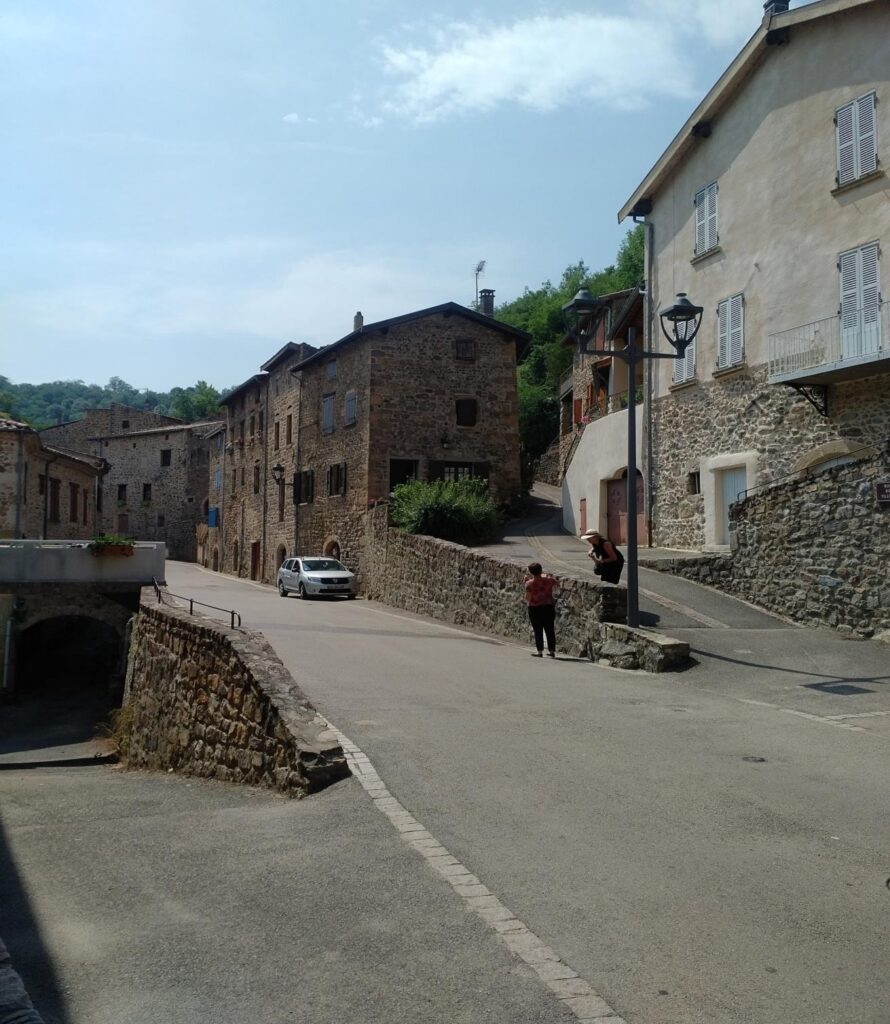 The "only" person, to whom to ask directions, with my increasing French language skills?1!
For a nice picture of this village see the following site: https://translate.google.com/translate?hl=en&sl=fr&u=http://www.pilat–patrimoines.fr/Communes/Malleval.html%3Fsubmited%3D1%253B&prev=search
We had a another delicious lunch this time at Le Péché du Pilat, probably our favorite lunch.  We ate the plât du jour with a pichet of vin pays and a glass of Syrah on the shady terrace.
The link will show pictures of this restaurant.
https://www.tripadvisor.fr/LocationPhotoDirectLink–g7092306–d4457733–i161592075Le_Peche_du_Pilat–Malleval_Loire_Auvergne_Rhone_Alpes.html
From there we drove on to Pelussin but was disappointed with that village.  I think we missed the Quartier de Virieu, which was the most interesting section, but we did not find it.  Shortly after we arrived back at Chavanay and stopped to see our friend Herve and his friends.
Our last day we first stopped to mail a package and post card at the post office.  It was exceptionally inexpensive.  Then we drove to the town of Condrieu.  On the way we passed many hillside vineyards with the names of the wine négociants (wine merchants who assemble the produce of smaller growers and winemakers and sells the result under its own name) such as E. Guigal, Paul Jaboulet and in such large stone signs.
We strolled through the town looking for a lunch restaurant. We stopped in a corner bar for a glass of wine and asked directions.  The restaurant recommended was closed, so we continued walking.  We stopped at the tourist office and was given the same name so we found our way back to the car and headed back to Chavanay.  We noticed the sign for Beau Rivage and turned in there.  This is a well known resort on the Rhone River and an exclusive restaurant.  We were seated to a four course lunch with white table cloths, various waiters, silver and crystal.  This was my birthday meal with Condrieu wine and it was worth the price of 108€.  Of course, on our way back we stopped to see Herve but it was his day off so his daughter ran it during the day and his wife at night.  Once we returned home we sent a postcard thanking them.
See the link for Beau Rivage:
http://www.hotel–beaurivage.com/
The next morning we were off to Exupery Airport Lyon.  We had reservations for Hotel Forum which we realized was too far from the airport.  The girl at the Hertz counter got us reservations at NH Hotels in the airport which was a great choice and very first class for an airport hotel and she canceled our other reservation.   That was a very smart move as we had no boarding passes and would have to be at our gate at 5:15 a.m.  We had a delightful lunch at the hotel and then wandered around the airport so we would know where to go in the morning.  Pizza was our final meal in the airport.
Our trip home was uneventful.  We flew into Madrid and that airport was very easy to navigate.  Then we flew into Miami which was nice as we had our global entry card.  We arrived in St. Thomas at 8:30 p.m.
All in all, the trip was a great and uncomplicated endeavor to pull off. The driving on the country's "D" routes was much less nerve wracking than say our "1200 miles powered by Guinness" Ireland trip of a couple years back.
It would have been nice to have a little more time to allow for hiking some trails but hopefully that future plan will not be too far off from now.
We may also mention how well Uber worked for us. St Thomas doesn't allow Uber because of the strong Taxi Association and they don't take credit cards. Modernization in St Thomas?? Ha! Their arrival time was usually inside a couple of minutes or so and very inexpensive compared to a taxi.
We carried our own GPS "Michelle" and we would highly recommend doing so if you are renting a car. Although the cars in Europe for the most part come equipped with one, we already had ours programed and did not have to figure out a system foreign to us.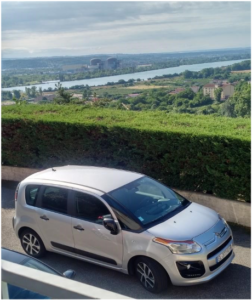 We hope you enjoyed the journey!
Joanne and Frank
OUR STEED