June 4-5, 2015 Boston to Dublin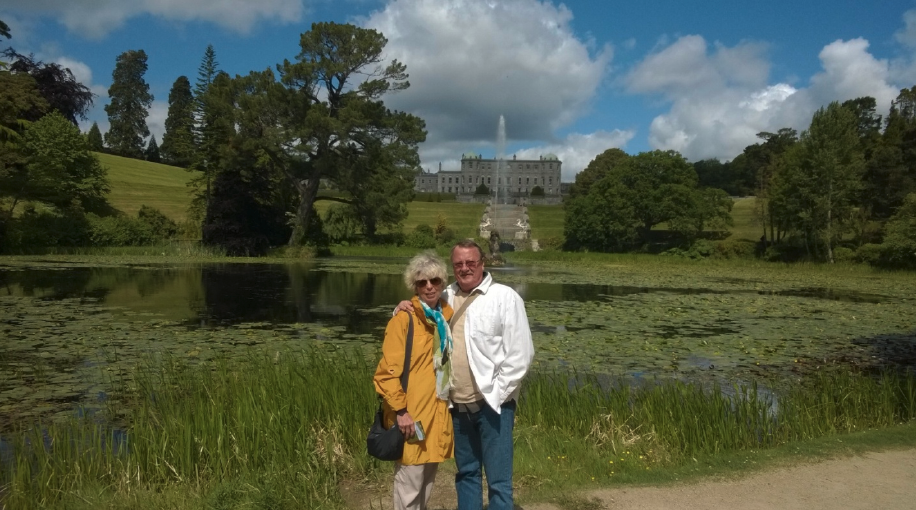 Getting There – June 4, 2015
After a busy day of doctor's appointments, mailing our box of purchases back to St. Thomas and of course lunch in between, we returned our car rental and proceeded to the terminal for Aer Lingus.  After getting through TSA we still had time before our 9:00 p.m. departure so stopped at Vino Volo for a glass of wine and a plate of three kinds of cheeses (Piedmont Brie, Drunken Goat cheese, Vermont Cheddar) with fig jam, almonds and olives. The flight was pleasant but Joanne only managed one to two hours of sleep.
Exploring Dublin – June 5, 2015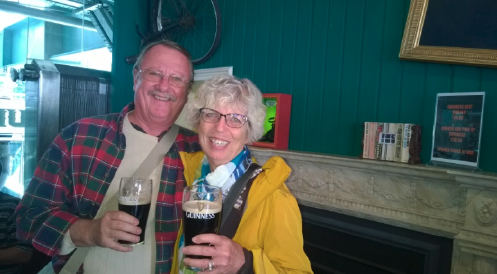 Our rental car from Europcar was a Renault.  We turned on our GPS "Nancy" and she almost got us to our hotel in Ballsbridge, Grand Canal Hotel.  She was within 14 meters, so it was easily found.  After putting our suitcases in our room we walked to Dublin and stopped to visit Trinity College.  We walked around the campus noting the library, which had a very long line of people waiting to get in so we by-passed that and unfortunately missed the Book of Kells, viewed the sphere within a sphere (bronze globe) and the Chapel.  From there we got turned around and ended up in the Powerscourt shopping centre.  Using Joanne's inner GPS talent we found our way to the Temple Bar district with its cobbled streets lined with shops, galleries and cafes.  We found a couple of stools at the Temple Bar and ordered an Irish Coffee and a Guinness.  http://www.thetemplebarpub.com/  We continued along the Liffey River and crossed the Ha'penny Bridge.  It is a high-arched cast-iron foot bridge officially called the Liffey Bridge.  It got its nickname from the halfpenny toll that was levied on it up until 1919.  We crossed back over it and ate lunch at Merchant's Arch.  Joanne had delicious fish chowder and Frank ordered the Auld Dublin Coddle stew which went very well with Guinness and Smithwick's beer.  Since we still hadn't any sleep and it was cold we headed back to our hotel.  Just before getting there we stopped into Becky Morgan's pub and enjoyed our conversation with John the bartender.  There Joanne discovered Smithwick's Blonde beer.   We closed out the night with a glass of red wine at our hotel bar and after that slept for nine and a half hours.
Exploring Dublin – June 6, 2015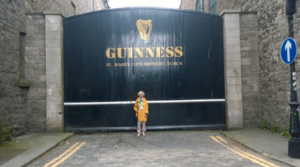 Heading back into Dublin we first walked along the canal for a way and then strolled through St. Stephen's Green.  This is an enclosed park landscaped with flowerbeds, trees, a fountain and memorials.  We continued on our journey to the Guinness Storehouse.  It was so cold we stopped into Bank Pub and drank a Bailey's coffee and Guinness.   After warming up and letting a small shower pass we continued walking through Dublin Castle and then passing Christ Church Cathedral, Ireland's oldest cathedral.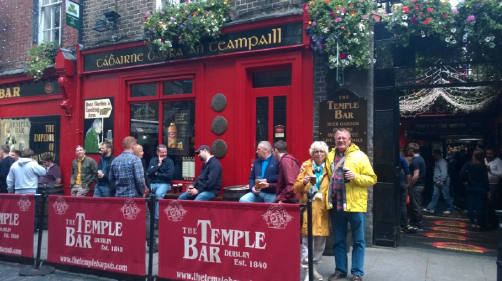 Guinness Storehouse is at St. James's Gate Brewery.  Thankfully we had previously purchased tickets online and were able to skip past the long lines waiting for tickets on the lower ground floor. The ground floor includes a retail store and an exhibit of the lease Arthur Guinness signed December 31, 1759.  The tour covers seven floors (which includes the lower ground and ground floors) built around a huge print glass atrium.  The self tour starts on the first floor showing the step by step brewing process and the cooperage exhibit.  The second floor is the tasting room with instructions as to how best to hone the senses to fully appreciate it.   The third floor is devoted to the various advertising campaigns.  The fourth floor shows how to correctly pour a pint.  There was also a room with Irish dancers teaching some of the dance steps to the tourists.  We did not take the pour experience since there was a long waiting period.  The sixth floor is a glassed in viewing area of Dublin.  Back to the fifth floor we enjoyed a pint of Guinness in the Brewer's Dining Hall. www.guinness-storehouse.com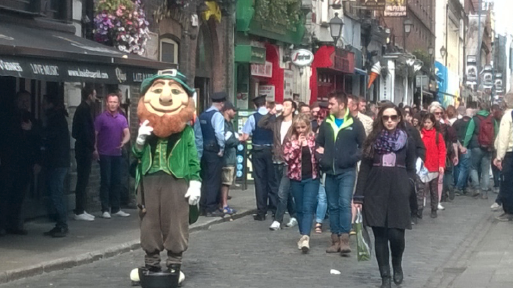 We neglected to take a picture at the Temple Bar so after a quick lunch in a small pub we headed back there and each ordered an Irish Coffee.  On the return to our hotel we strolled through Merrion Square, a peaceful park and garden surrounded by lovely Georgian town houses.  Once again we stopped in at Becky Morgan's to visit with John and Keith and watched a hurling game.  Unfortunately Dublin lost to Galway.  Harrumph!  Better have another Guinness.
June 7-8, 2015 – Kilkenny / June 7, 2015 On the road to Kilkenny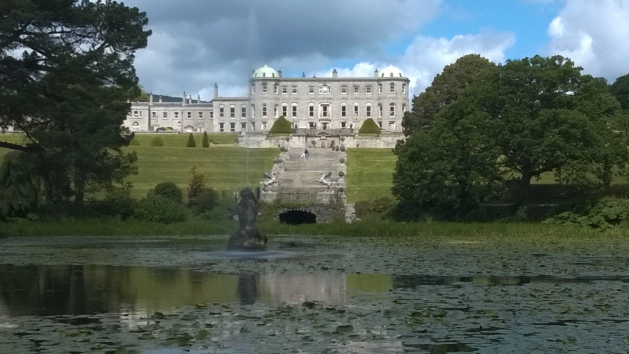 "Nancy" took us out of Dublin to the gardens at Powerscourt.  It was sunny and not quite as cold.  The original house was gutted by fire in 1974 but the ground floor has been beautifully renovated.  The gardens comprise a dramatic setting.  The Italian gardens are beautiful landscaped just steps down from the house.  We took the walking tour first to the Tower Valley surrounded by trees and plants of over 250 varieties.  The Pepper pot Tower was modeled on a pepper pot from Lord Powerscourt's dining table.  The Japanese Garden is a Victorian interpretation of a Japanese garden and was created in 1908.  The Grotto is one of the oldest features of Powerscourt Gardens.  The fountain in Triton Lake is based on the fountain in the Piazza Barberini in Rome.  It was interesting reading the amusing pet names in the Pet's Cemetery.  We passed the Dolphin Pond and admired the ironwork of The English Gate with its rose, thistle and shamrock motifs representing England, Scotland and Ireland.  The Walled Gardens has beautiful flowers with a reflective pond in honor of the 7th Viscount's mother. We passed through the Bamberg Gate which came from the Cathedral at Bamberg in Germany. http://powerscourt.com/gardens
Glendalough is the valley of two lakes.  It has a monastic site established by St. Kevin in the 6th century.  It was a center of learning devoted to the care of the sick and copying and illuminating manuscripts. After spending so much time at Powerscourt and seeing the long lines of cars and buses and it was getting late we decided we would have to pass on visiting the ruins.
Nancy took us through a lot of back roads. It was Sunday and it seemed like every small village was having a bicycle race.  When we arrived in Enniscorthy we had trouble finding a restaurant.  As usual we stopped in a pub to inquire and were shown how to get to Bailey's.  There we had the best salmon meal of the whole trip.
We finally arrived at Kilkenny at Breagagh B and B owned by Rosaleen and Larry.  We walked into town which took about 20 minute.  It is one of Ireland's loveliest inland cities.  We walked along High Street and turned into Kiernan's Street where we found Kytelers Inn Restaurant and Bar.  It was named after Dame Alice Kyteler, a 14th century witch who once lived in the building.  She poisoned all her husbands, made a lot of money from doing that, and after being sentenced escaped to Europe.  We had a pleasant time speaking with an elderly gentleman.  We also noticed an old sign on the wall "Will's Gold Flake Cigarettes 10 for 3d".  He said even he wasn't old enough to remember what 3d meant.  Since Kilkenny is the home of Smithwick's Beer we had to have that.  There was rock and roll music being played in the court yard by Trad Sessions.  Walking back to our room we stopped in at Christy's Bar.  Frank sat next to a young man named Dave who was reviewing pictures he had taken of skydivers at a grass strip nearby.  As usual he did not know where St. Thomas was and so he Googled it on his iPad.  There was free wi-fi, as in all restaurants and pubs we visited.  http://www.kytelersinn.com/
June 8, 2015 – Kilkenny Exploration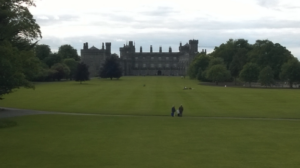 After a delightful breakfast in the sunlit room we walked back to town to Kilkenny Castle. We took the self-guided walking tour through this castle originally built during the first decade of the 13th century.  It later became the residence of the powerful Butler family until 1967 when it was presented to the people of Kilkenny for 50 pounds.  The family sold almost all the contents of the castle in a ten-day auction in 1935.  The buildings have been in the care and restoration of the Office of Public Works since 1969.  We walked through many corridors and at least 10 rooms tastefully restored.  Outside at one side is a beautiful manicured garden and on the other side is a green area of over an acre for the enjoyment of the public for picnics, playing ball with your dog, a place set aside with swings and slides for children, etc.   http://www.kilkennycastle.ie/  We then walked to Medieval Mile looking for a store called Winston's.  Joanne finally found the lace curtain she has been looking for to hang on our bedroom window.
One block away was the Smithwick's Brewery.  We took the tour and learned the adversities that were overcome over 300 years to perfect this ale.  We learned the history which started in 1231 at the Abbey of St. Francis where they learned to purify the water.  We then visited the living room of the Cole family where each person in each picture came alive through holograms to talk about how each generation perfected the ale. We then continued on and learned about the ingredients that are used.  Finally we ended up in the tasting room.  It was a fascinating tour with only six of us and our guide.
We then searched for St. Canice's Cathedral but got turned around and found St. Mary's Cathedral instead.  We found our way back to town and looked for a place for lunch.  There were so many pubs/restaurants but we settled on Kytelers.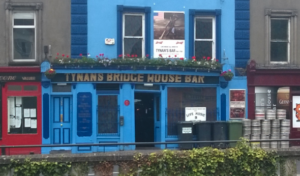 From there we headed for a walk along the River Nore.  We found Tynan's bar that we had to enter since it is the last name of the Irish man who renovated our kitchen and bathroom.  In fact his family is still living in Ireland but it was not owned by them.  From there we walked the grounds of Kilkenny Castle.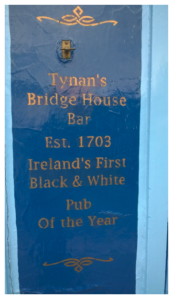 It was getting colder and so we headed back to cross the bridge to explore the other side.  We stopped in Killford Arms (formerly known as P.V.'s).  Joanne warmed up with an Irish Coffee and Frank drank a Smithwick's beer.  Returning towards town we stopped in Matt the Millers for dinner.  We ate stuffed mushrooms and rack of lamb.  Traditional ballad and folk music was being performed by a group called After Dark.  Since it was getting late we headed back across the bridge to our B and B, but first stopped again in at Christy's for a nightcap.
III. June 9-10, 2015 Kilkenny to Blarney
June 9, 2015 – On the road  Kilkenny to Blarney
We got an early start and drove to House of Waterford Crystal. Once again there were only six of us on our tour.  The first stop was the blowing room.  We watched the craftsmen as they transformed molten crystal into elegant shapes.  Next was the moulding room where we watched wooden moulds and hand tools being made from birch and pear wood. We continued on through the quality inspection rooms.  There are six inspections and at any one of them if the glass does not pass it is smashed and returned to the furnace for re-melting.  In the hand marking we watched temporary grid patterns and vertical lines being drawn for the cutters. There are two types of cutting, wedge and flat cutting.  The craftsmen are trained for a minimum of eight years.  In the sculpting department wheels are used instead of mallets and chisels.  The master sculptor works in three dimensional programming.  It could take days, weeks and even months to complete a sculptor.  The last stop was the engraving done with a copper wheel.  We were allowed to talk to the craftsmen as we passed each stop.  When we got back to our car we discovered we had a ticket.  We did not see the Meter Stand to get a ticket to put on our dashboard.  That fine was for 40 €.  www.waterfordvisitorcentre.com/  View the factory tour.
From there we stopped at Youghal, a small seaside town.  We ate at a little place called Treacy's and had soup and sandwich and sampled one of their local beers.
It was getting late so we did not spend any more time there but headed to the Jameson Experience at Midleton.  We just missed a tour and the next one would not be for another 45 minutes so we had to pass on taking the tour.  The old distillery in Midleton stopped production in 1975 after 150 years.  A new distillery was opened on an adjacent site.  The original distillery has been restored and is the only self-contained 18th century industrial complex of its kind in Britain or Ireland.  The complex consists of 11 acres of grounds and refurbished buildings.  We took the brochure which explained all 13 stages of distilling which we read while sampling of the Gold Reserve and the Family Jameson 12 Y.ear Old.  After the tour people were handed a glass of Jameson Ginger & Lime so we also split a glass of that.  Yummy!  www.jamesonwhiskey.com  If you don't have Facebook fill in country and birth date.
We finally made it to Glenmaroon B and B.  What a charming place this was with a lovely Atrium.  Ann Forgarty was a delight and welcomed us with a map and pointing places we could visit.  Since it was dinner time she suggested a couple of restaurants nearby in the village of Blarney.  We drove there and ate dinner at Muskerry Arms.  After dinner we strolled around the village (2 streets) and stopped in at the Blarney Castle Hotel.  We were sipping on our drinks at the bar and conversing with a couple of local people when they got up and sat at a table next to us and pulled out their instruments.  They were soon joined by others and we listened to them jam with flutes, Busker (similar to bag pipes), mandolin, guitars, violins and the spoons.  The elderly we had been speaking with even played the spoons on a young girl's head who was watching the scene.  What fun!!
June 10, 2015 – Cork County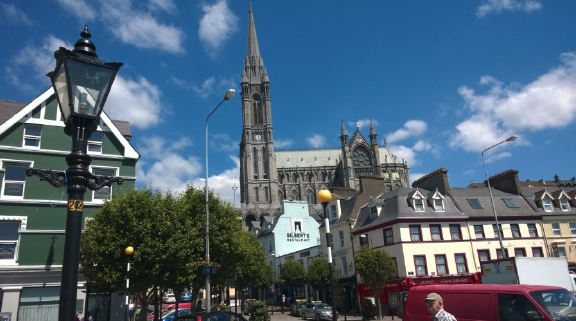 The next morning we drove into Cobh (Cove) a pretty seaside town.  Cobh was the departure point for 2.5 million of the six million Irish people who immigrated to North America between 1848 and 1950.  It included Annie Moore, the first to land at Ellis Island, NY.  We visited the Heritage Center and took the self-guided tour.  It showed the history of the emigration, the Titanic, which left its final port here and the Lusitania sunk by a German u-boat off of Kinsale. "The town's architecture and streetscape is distinctly Victorian. St. Colman's Cathedral dominates the town. its 49-bell Carillon  is the only such instrument in Ireland and is the largest in Ireland and Britain".  We stopped in at the Titanic Bar and sipped on a wonderful Irish coffee.  http://visitcobh.com/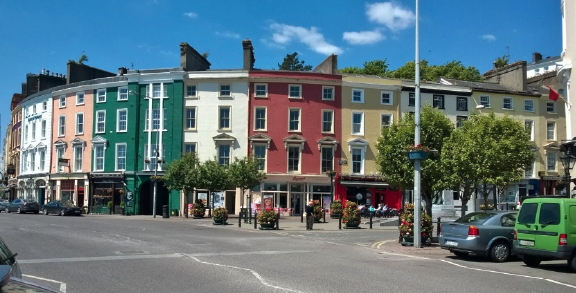 We then left for Kinsale by way of a ferry boat ride.  It cost 5€ for a five mile ride.  Kinsale (Head of the Sea) is a picturesque town known as Ireland's Find Food Capital. It has a yacht-filled harbor and narrow winding streets.  We wandered through the market and the streets and stopped at Lord Kingsdale for lunch, still on the search for the best seafood chowder and this one had large chunks of fish. www.kinsale.ie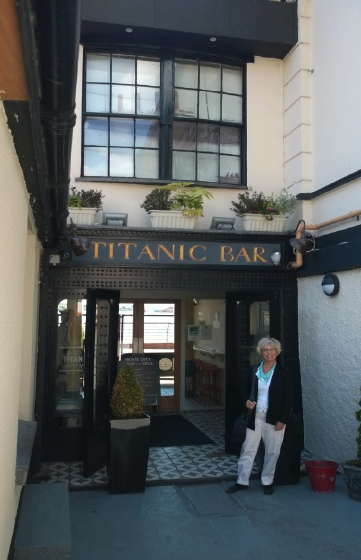 We headed back to Blarney and bought tickets for the Blarney Castle and Gardens.  Blarney Castle is the third structure to have been erected on this site built by Cormac MacCarthy in 1446.   It is a tower house.  We walked through the vaulted first floor which was once the Great Hall.  We continued up another flight of stairs but to get to the Blarney Stone was another 127 steps to the top of the keep.  We opted not to do that although the legend has it that if you kiss it you will have the gift of eloquence. I think Frank does just fine without having to do that.  We then explored the gardens covering over 60 acres of sprawling parklands including gardens, avenues, arboretums and waterways.  We walked through Ireland's only poison garden. Frank was able to spot a marijuana plant unmarked.  How did he do that??  All the plants are sign posted with information about their toxicity, traditional and modern day uses.  We passed a Western Red Cedar Tree and had to take a picture since it was something like we had never seen before.  We then followed a grassy path lined with flowers to the fern garden where a waterfall cascades down one side.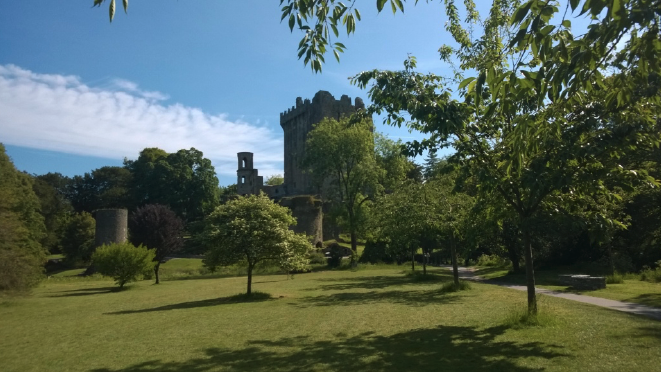 We passed walled kitchen garden and then came upon Blarney House, a Scottish baronial mansion, but we were too late in the day to enter it.  The Rock Close is a mystical place inhabited by fairies where you walk through a leafy canopy of ancient yew and oak trees and the Witches Stone.  It was getting late so we drove a short distance to Blarney village.   We stopped in Muskerry Arms for a Jameson, soda and lime.  Being refreshed we walked over to the Blarney Castle Hotel for dinner.  www.blarneycastle.ie  Click on the Gardens and then view the Fern Garden especially.
June 11, 2015 – Blarney to Tralee
Ring of Kerry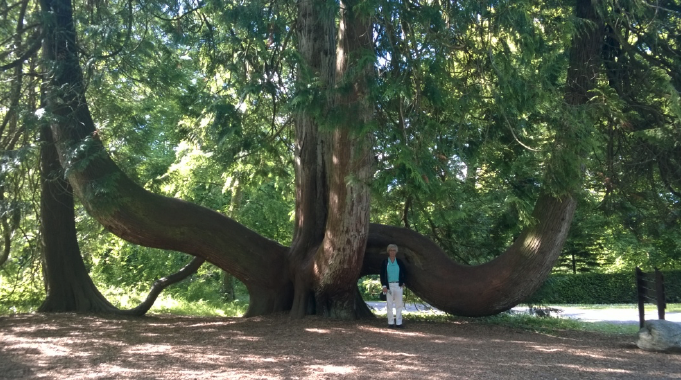 Driving on the left with the steering wheel on the right was nerve wracking on the many small roadways.  They are well paved but have no shoulders. This morning after already having bounced off a curb or two we headed to drive the Ring of Kerry.  We had gone about half way there when a good sized lorry came barreling towards us.  Frank swerved a little too much to the left and we had a blown out tire.  After changing the tire we headed into Killarney to the Tyre store.  There are Tyre stores in every good sized town.  We now know why.  After $136 dollars for a new tire we were on our way again.  It is a route around the peninsula where we took in captivating mountain and coastal scenery.  We stopped in Sneem, a charming town with brightly painted cottages.  There were a few tour buses there but it was just after lunch so we were able to find a spot (Blue Bull) for a Guinness, Smithwick's and of course seafood chowder.  Frank opted for a salad.  Leaving the Ring of Kerry we drove through Killarney where we decided that an Irish Coffee would perk us up.  We found parking and walked into Hannigan's Bar and Hotel.  It was a wonderful pick-me-up, done properly.
Tralee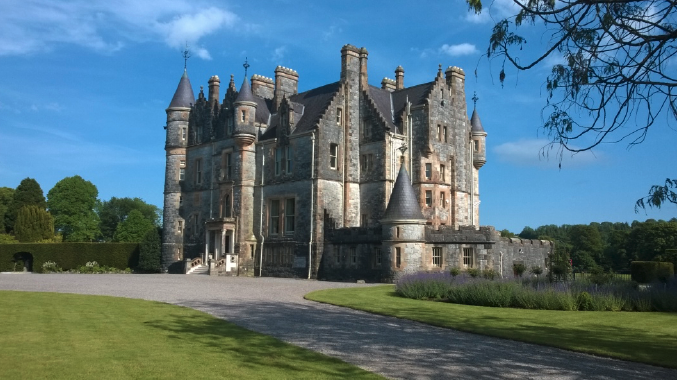 The Willow's at Tralee was our B and B for the night.  We were met by Tim and after showing up our room gave us a map of the town which was in walking distance.  Frank was wearing his shirt that had Alexander Hamilton (the schooner) on the back.  We were stopped by an elderly man who wanted to discuss the person Alexander Hamilton.  He was quite interesting and knew more U.S. history than we did.  After that we strolled through the Rose Garden.  This garden had 6,000 rose bushes.  It is host to the Rose of Tralee International Festival.  The park boasts leisure walks, rose gardens, garden of the senses, playground & a commemorative fountain.  The Rose Garden in the Tralee Town Park is a home to a life size bronze statue depicting the original Rose of Tralee Mary O'Connor and the author of the Rose of Tralee ballad William Pembroke Mulchinock sculpted by an Irish sculptor Jeanne Rynhart.  We ate dinner at the Grand Hotel at Samuel's Restaurant and after a Jameson, soda and lime we ordered prime rib and sea trout with a bottle of Cotes du Rhone Domaine des Espiers.  For a night cap we stopped in at Murphy's and talked with a couple of fishermen to learn about sea trout.  They are a trout that will go to sea to feed before returning to the river to spawn. This sounded like salmon to us. Blarney! www.irishcultureandcustoms.com/AWomen/RoseTralee.html  This is the story of the origin.
June 12, 2015 – Tralee to Adare
Dingle Peninsula
This morning we chose from a menu what we wanted for breakfast and decided to try something different, smoked salmon and eggs which was a nice change.  The Dingle Peninsula offers towering mountains and spectacular seascapes.  We stopped at Conor's Pass with parking and a viewing area.  Many went by foot to wander around the hilltops.  We next stopped at Slea Head where we could view the Blasket Islands.  There was a sculpture of a Crucifixion beside the road.  We passed museums of stone age forts and beehive huts.  At Skipper Restaurant we ate local oysters and split a bottle of Cúl Dorcha, a Kerry Brewery beer which was quite good. www.dingle–peninsula.ie  Click on Read More and then Attractions and Activities
Foynes Flying Boat Museum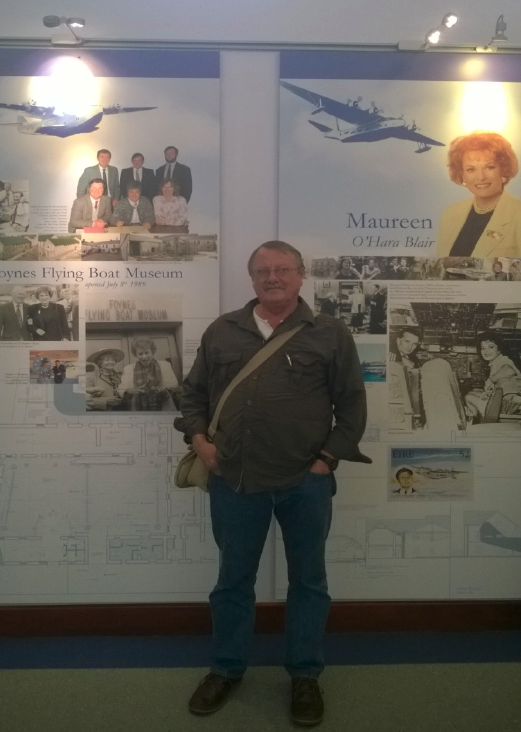 This museum was officially open in July 1989 by Maureen O'Hara Blair.  The museum presents detailed history of the seaplane service.  Displayed was Captain Charles F. Blair's personal aviation collection.  In 1940 he was named chief pilot of American Export Airlines, later known as American Overseas Airlines.  Capt. Blair was the husband of Maureen O'Hara.  September 2, 1978 Capt. Blair was piloting a Grumman Goose from St. Croix to St. Thomas when his plane developed engine trouble and crashed, killing him instantly.  When Frank came to St. Thomas he worked for them.  The museum consisted of a radio and weather room, a room showing how Foynes was at one time the center of the commercial aviation world with Pan Am Airways, British Overseas Airways and American Export Airlines, a B314 Replica which had ocean liner luxury, maritime museum floors dealing with the history of the River Shannon and the port.  We viewed a hologram which stepped back to 1943 to the night Chef Joe Sheridan invented Irish Coffee here in Foynes for some weary passengers returning to the airport restaurant after bad weather hampered their New York bound flight.  When the pilot declared how good it was and wanted to know if it was Brazilian, Chef Joe thought for a moment and then stated "No that was Irish Coffee!!"  www.flyingboatmuseum.com  Click on Irish Coffee for the story.
Adare
Our GPS "Nancy" got us to Adare but not where our B and B (Coatesland House) was located.  As usual we parked and stopped into Aunty Lena's and asked the bartender.  He knew the place and explained to us how to get there.  We called and were told not to worry and to enjoy something to eat which we did.  Frank ordered bacon (actually slabs of ham) and sausage and potatoes with a Guinness and Joanne ordered a chicken Caesar and a Sauvignon Blanc.  When we were shown our room we mentioned that we would have liked to have a bottle of wine.  Betty, the owner's friend, found us a bottle which was questionable but we drank a glass anyway.  Breakfast the next morning was quite the spread of cereals, juices, breads, meats, cheeses, yogurts, tomatoes and probably more.  We met Florence (owner) before we left and she was lovely.  See the following for the thatch roofed homes.
https://www.youtube.com/watch?v=4hNKRYRRQaU
June 13, 2015 – Adare to Ennis
Afternoon Exploration of Ennis
Our next stop was at Sanborn House B and B in Ennis.  Once again Nancy wasn't getting us to where we needed to be so we drove into town.  We stopped in at Kelly's for a beer and to be able to use the free wi-fi to find out where we should be. Just to make sure were in the right direction we stopped at a gas station.  It was just up the road and we were lucky to meet Teresa before she left for the afternoon.  It was a nice house in a quiet area but the room, especially the shower was very small.
We drove back to town with a map we found in the living room.  We roamed around and as it was getting late for lunch we stopped at Town Hall at the Grand Hotel.  The only drink we saw at the patron's tables was a glass of wine so we did the same which went quite well with a duck paté dish and a goat cheese and beet salad.  We wandered further to a church that was having a wedding.
Evening – Football Game, etc.
It got quite cold so we headed back to our car to put more money in the meter.  We found McGann's pub and stepped in.  John told us to wait by the meter and when it hit 5:30 to put in one coin which would be good for one hour.  After 6:30 parking was free.   The football (soccer) game between Ireland and Scotland was on the television.  Joanne enjoyed the game with Jameson and Frank with Guinness.  Unfortunately Ireland lost at the last minute.  We left there and stopped in at The Market Place for dinner.  It was an upscale place.  Frank ordered pepper steak and Joanne order Cajun salmon which went well with a glass of wine.
VII.   June 14-15 Ennis to Galway
Cliffs of Moher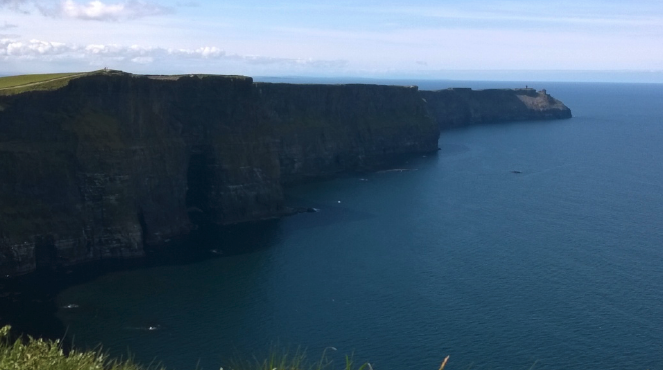 The Cliffs of Moher are breathtaking, rising 702 feet out of the sea for a distance of five miles.  It is home to Ireland's largest mainland seabird nesting colony.  From the cliff edge you can see the seabirds and especially Puffins, although we did not see them.  From that height they look like specks flying around. We first walked up to O'Brien's Tower, built n 1865 by Cornelius O'Brien as a viewing point for tourists.  Then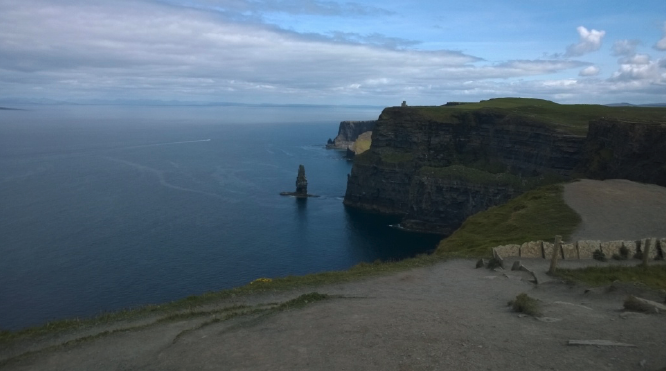 we headed back and went up the pathway to the other side.  There are flagstone blocks used as guard rails.  Some people preferred to walk on the open side but we were content to stay behind the barriers.  We were told there have been suicides over the sides.  Back at the Visitor Centre, a cave like structure, we took the self guided tour through the exhibition rooms.  There were short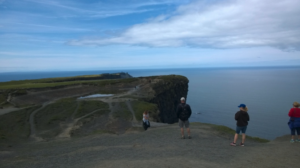 movies showing a bird's eye view of the cliffs.  www.cliffsofmoher.ie  We traveled to the coastal village called Doolin to quench our thirst at Gus O'Connor's Pub before driving through the Burren. The bartender stated that he would make us the best Irish Coffee and if it wasn't the best we would not have to pay for it.  We paid for it!
The Burren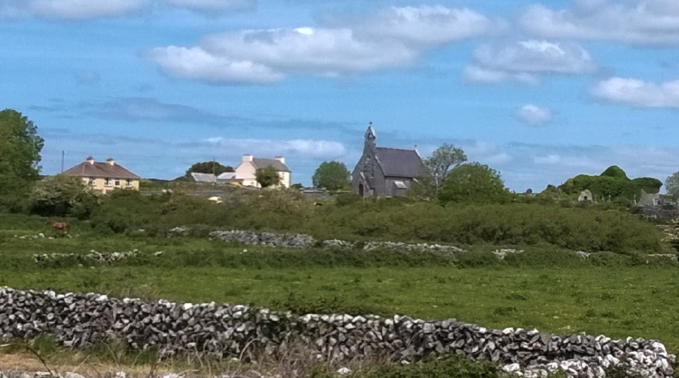 We then drove through The Burren which means "rocky land" in Gaelic.  It is a vast limestone plateau where few trees manage to grow, yet other Mediterranean and alpine plants thrive.  They grow around the shallow lakes and take root in the crevices of the limestone pavements.  These limestone slabs are used to build the stone fences criss-crossing the area.  They are not like the rock walls normally seen dividing properties.  The slabs are arranged vertically to make a fence.  We picked one up and they are heavy.  It was a long drive and we only saw two other cars.    We then continued on our way to Galway but first stopped at Moran's of the Weir.  It is a traditional thatched cottage that dates back over 250 years still being run by the Moran family. It is renowned the world over for its superb seafood and Galway oysters and we certainly enjoyed them along with seafood chowder and garlic crab claws.   The oysters were definitely the best.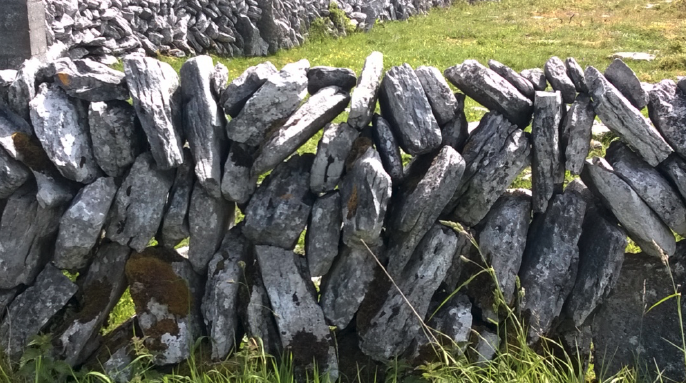 The Weir was named after an old wall constructed across the nearby tidal river to trap salmon. Local people also dredged for Galway Bay Oysters from the nearby Oyster Beds. Throughout the 1800′s large boats (Galway Bay Hookers) brought turf (Peat) from the bogs of Connemara and seaweed which was a natural soil fertilizer from the Aran Islands.  Local farmers would come with horse drawn carts to buy turf for winter fires and seaweed for their farms. This was thirsty work and could only be satisfied with a pint of Guinness or a glass of whiskey.  Three of the nine houses in The Weir acquired liquor licenses and a flourishing trade was done for years. However we chose a French J. Moreau Sauvignon Blanc.
Galway City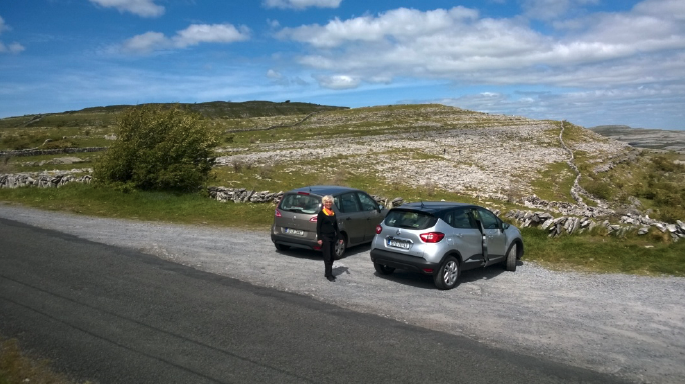 We found our B and B called Rock Lodge in Whitestrand, within walking distance to Galway center.  We checked in with Bridie and then walked into town.  Galway is the center for the Irish-speaking regions in the West and a lively university city. We walked along the docks on the banks of the River Corrib and up and down the winding narrow streets of the city center.  We stopped into The Front Door for Jameson and Guinness for a last drink before heading back to our B and B for the night.
VIII.   June 15, 2015 – Galway and Mayo Counties
Connemara and surroundings
We headed west to Connemara , a National Park area.  Our first stop was in the village of Clifden once a market town set between the Atlantic Ocean and the Twelve Bens mountain range.  We were early so most of the craft shops were just beginning to open.  We walked up the one of the two churches.  There was a railroad that once went to Galway but ceased after the famine and the emigration.  We visited the museum and were told that since tourism is slow there is some talk about  a bike route being  a possibility of bringing more tourists since the railroad would not be put back.   Before continuing on we stopped at Mannion's Bar for a Smithwick's regular and Blonde beer.
Kylemore Abbey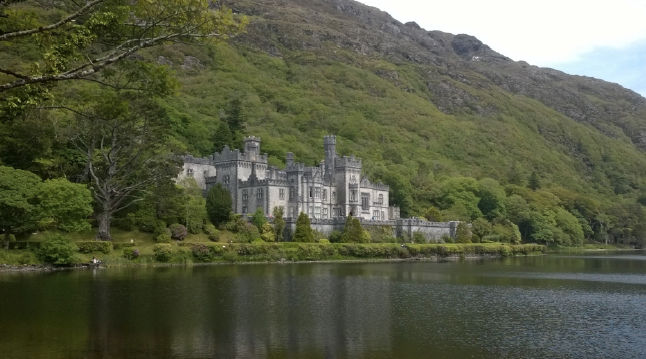 Kylemore Castle was built as a private home by  Mitchell Henry.  He and his wife Margaret purchased the property in 1850.  She fell ill with dysentery while on a holiday in Egypt and died shortly after.  Mitchell Henry had her body laid to rest in the mausoleum on the property.  He also built the Neo-Gothic church to the east of the Castle was built as a memorial chapel to his wife.  He also created a 6-acre Victorian Walled Garden with 21 glass houses which housed exotic fruits, Kitchen Gardens, Head Gardener's Cottage, Workers Bothy and Lime Kiln.  The plants and flowers were introduced to Ireland before 1901.  The castle changed hands a few times and since 1920 it has been the monastic home of the Benedictines.  The nuns arrived at Kylemore as refugees, having fled their monastery at Ypres during WWI.  When they settled in the nuns transformed the Abbey into an international girls boarding school from 1923-2010.  The nuns still reside there on the upper floors.   We visited the Castle's first floor rooms and then walked to the Neo Gothic Church.  The Walled Gardens were a mile away so we took the shuttle bus there and back.   www.kylemoreabbeytourism.ie  Go to the History Link
Cong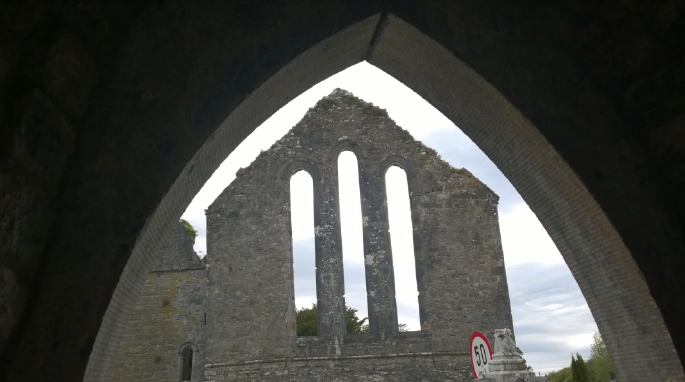 We continued on our way on the Wild Atlantic Way to Killary, Ireland's only Fjord.  We stopped there at Lenane Hotel for lunch of lamb shank and salmon with a glass of wine.  We then drove on to Cong passing beautiful lakes regions.   Cong is a lovely village and it was the location of the Quiet Man movie with John Wayne, Maureen O'Hara and Barry Fitzgerald.  We visited the ruins of the medieval Cong Abbey.  Across from that was a bronze statue of John Wayne with Maureen O'Hara held in his arms.   While strolling around the village we stopped at Crow's Nest for an Irish Coffee.
www.quietman-cong.com/
Salthill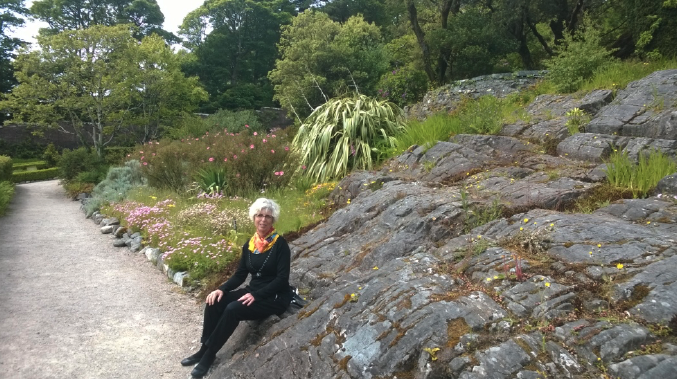 Back at Rock Lodge we learned another rule about parking.  There were no more spaces at the B and B and so we decided to park on the street.  We noticed that cars were parking there and also noticed not where there were two painted lines on the street.  We parked where there was only one line.  We then walked to Salthill an area on the ocean with pubs and casinos.  We stopped in at Famous O'Connors Pub.  This pub is the most decorated pub with astonishing things hanging from every possible space, such as old gas lights, crockery, farm implements, photos, weighing scales,  chamber pots hanging from the ceiling, bed warmers on the tables, laundry drying over the fireplace, etc.  Please look at
www.galwaycitypubguide.com/o-connors–famous-pub.html  to get the whole picture.  Of course it was the place to enjoy a Guinness and a Jameson or two.  We were also told by the bartender that we had parked correctly.
June 16, 2015 – Galway to Malahide
The Drive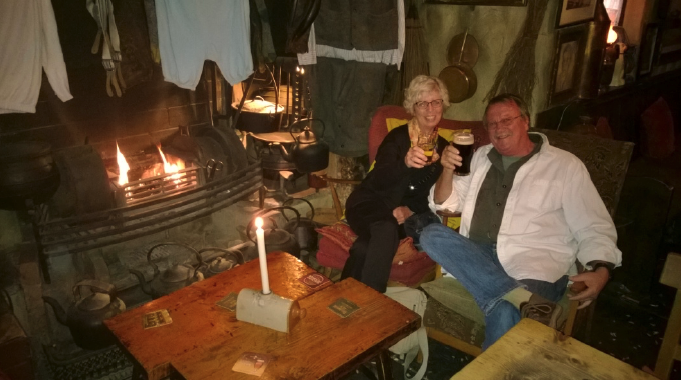 It was time to head back to Dublin.  Joanne kept wondering why "Nancy" kept telling us to get off the highway when we still had a ways to travel.  Finally Joanne agreed with Nancy but when we got off the ramp she had us heading south.  We thought maybe she had another direction but at a point when she wanted us to head back west it was time to stop.  And of course we did as usual and located a pub.  We were in a small town named Clane.  We had Smithwick's at Jones Bar and enjoyed our conversation with two of the bartenders regarding politics, a change in pensions.  Also on the television was the news about the Irish students at Berkeley in California who died when the fourth floor balcony collapsed.
Exploring Malahide
We easily found Biscayne House B and B in a residential area.  Malahide is a suburban seaside town close to Dublin and the airport.  Knowing the parking rules we put the correct amount in the meter and then walked towards the marina.  We then wandered back to town.  McGovern's Bar looked like a good place for lunch.  Joanne had seafood chowder and Frank had the seafood plate. It was a nice warm day so we chose a bottle of Rosé.   There is Malahide Castle close by but decided to skip that one and instead just explored all the side streets.  We passed a wine store and bought a bottle of red wine with a screw cap.  Next door was a pub called Gilbert & Wright's "The Living Room".  It consisted of several rooms set up with couches but we sat at a tall bar table.  We stopped in for a quick beer.   For dinner that night we ate at Island View Hotel at Oscar Taylor's. First we stepped into the pub on the first floor and ordered an Irish Coffee to help us decide what we wanted to do.  We could have eaten at the pub but decided to go upstairs to for dinner.  That was a good choice.  Frank enjoyed a lamb shank and Joanne had crab cakes.  We found that food at the hotels was a step above than the food in the pubs.
We ordered a South African Pinot Noir.
June 17, 2015 – Leaving
Flight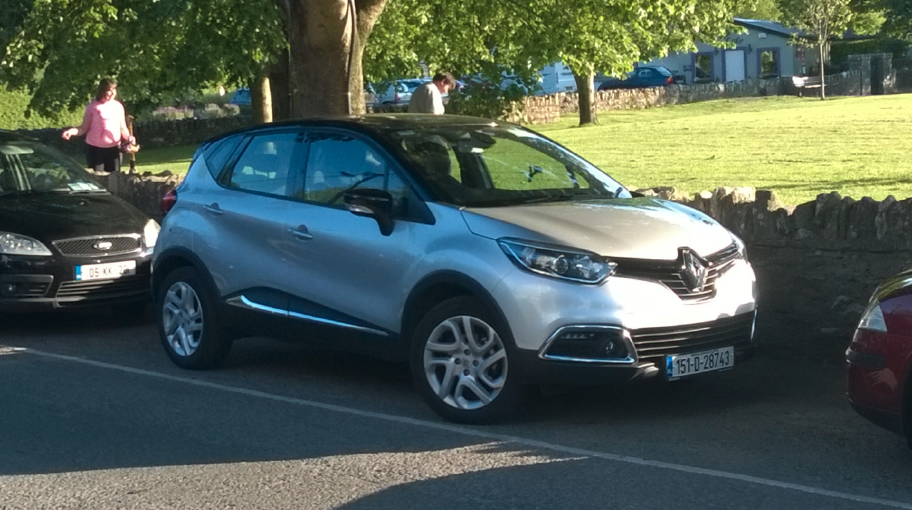 Returning the car at the airport went smoothly, except that Frank narrowly missing pulling into the left lane and a car was already there.  Dublin had TSA Pre-clearance.  It went very smoothly and quickly.  From the time we dropped off the car to the time we had cleared and were at our gate was only 5 minutes.  Our flight was on time and it was fairly smooth.  I even was able to point out Lynch Park in Beverly, Joanne's home town, when we flew over it.  It was so nice to get off the plane and just walk right out, no customs, nor hassles.
Boston –
We took the "T" to Marriott Boston Copley Place.  We weren't aware that Govt. Center was closed so we got off and went back and took another route.  After settling in, we stopped in at Legal Seafood and shared some oysters and mussels and of course a glass of Sauvignon Blanc.  Next we walked to Copley Square, down Dartmouth, along Newbury and then back up to Boylston Street.
It was time for one last Guinness and Jameson, soda and lime so w stopped at Abe and Louie's
"SLÁINTE"