ROMANCING THE STONE IN CARTEGNA, COLUMBIA – JANUARY 16-30, 2019
Play this as you look through the page!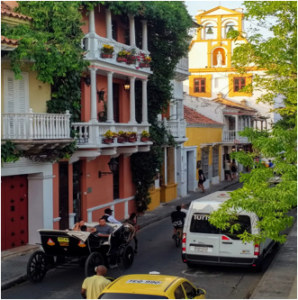 We have always enjoyed visiting historical cities throughout Europe, Quebec and Old San Juan and beyond. This time we headed south to Colombia to the colonial city of Cartagena. Cartagena is a city surrounded by thick stone walls built as protection from enemies. The walls were constructed during a 25-year period being completed in 1796. The city is divided into three sections: the historical districts of El Centro and San Diego, and the outer walled in town is Getsemani (Pronounced)… Get-Some-Money. El Centro was home to the upper classes and San Diego was home to the middle classes. We stayed around the corner from the church shown above in El Centro in an old colonial home turned into a hotel named "Hotel Puertas de Cartagena". The rooms were small, but the staff was wonderful as was the breakfast that was enjoyed in the inner courtyard. Instead of immediately looking for historic sites to visit we just strolled through the old town taking in the colonial architecture, the balconies covered with bougainvillea, the plazas, the massive churches, while stopping at some wonderful bars and restaurants serving delicious meals at a very low cost.   The first night we strolled around the block noting where a small grocery store was and then stopping for a mojito outside on Plaza Fernandez Madrid. The next day we took a walk to Getsemani passing through the gate of entrance to the inner walled city called Puerta del Reloj. It was used as an armory and chapel and in 1888 a four-sided clock was added to a tower. https://hicartagena.com/clocktower/   Right click and open hyperlink for a view and history. On our way back we walked through Plaza de la Aduana, the oldest and largest plaza in Cartagena. It once was used a parade ground, now it is the City Hall and has a statue of Christopher Columbus. https://hicartagena.com/plaza-de-la-aduana/ Click and open this hyperlink. A little further up the road was the Naval Museum which we decided to save for another day. But next to it was a wonderful restaurant. Frank at Pepper Steak and Joanne had a salmon meal with fruit topping, and of course it was time to cool off with a mojito and a rum and lime drink. Now it was time to walk some more so we walked up on the wall (Las Muralles) to the gate at Baluarte de Santo Domingo through the Square and back to our neighborhood plaza. Across the street was a bar called KGB.It was a cool place and we frequented it often on our way back before our evening meal. It has a Russian military theme with Russian memorabilia covering the walls and ceiling such as helmets, Soviet cartoons, guns, hats and the inside room is like the inside of a Russian submarine. The tables were sewing machines with portholes for the tabletop.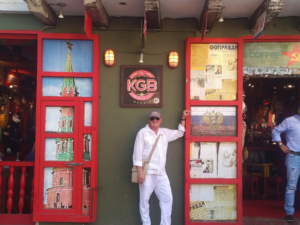 The KGB Bar and some high ranking officers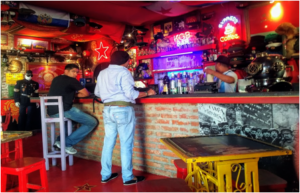 The owner, Gustavo, put those hats on us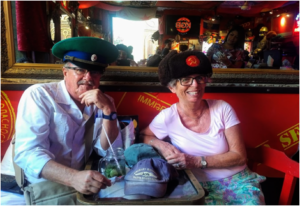 We told a friend that we would check out the marinas for him so the next day we took a taxi $1.50 USD to Club Nautico, located out of the city in Manga. We took some pictures and got some information regarding boat haul outs. Then we walked back to the City and passed Fort San Sebastian del Pastillilo, an angular fort to protect the bay. There was another marina called Club Pesca (Sport Fishing). We continued walking over the bridge back to Getsemani, passing all the book kiosks and the Obelisk in the Centennial Park, passing back through Plaza Aduana to Simon Boliver Park. Across the street was an upstairs restaurant called Montesucro with a balcony overlooking the park. It was expensive at $12.00 or so, but the fish was excellent, and the service was impeccable. We wandered back to Santo Domingo Square and stopped to enjoy and afternoon carafe of Tempranillo while listening to the musicians.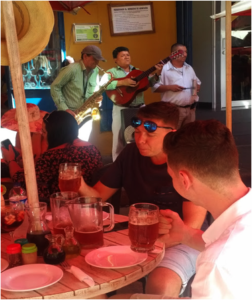 Returning to our room to change clothes for the evening we passed Beer Lover's Bar and Frank tried a pint of English tap. At 5:30 we walked up to the top of the wall at Baluarte de Santo Domingo at Café del Mar for a huge party to watch the sunset. There were hundreds of people. See it in the following link. https://www.ticartagena.com/things-to-do/bars-nightlife/cafe-del-mar/
Across the street from our hotel is a bar/restaurant called La. Estrella. We stopped for a glass of wine and watched the fireworks. We frequently stopped there at night for a nightcap and a few times for a local lunch. We became friends with Alex who now sends us pictures of he, his wife and new baby!
Sunday, we regrouped in the morning taking notes and then went across the street for a local roast pork and chicken lunch. For the afternoon we strolled along the streets looking to take photos of the architecture of the streets. We also stopped in at Las Hijas de la Tostadas to enjoy a caipirinha and mojito and listen to the beautiful voice of a female singer with a guitarist.   That became another of our favorite places, and we loved how the bartender, Raem, put together cocktails. We also loved our favorite waitresses, Louisa and Isabella. Louisa loved to sing along and dance. Louisa is on the right.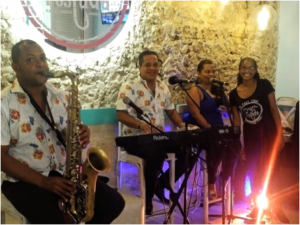 Her shirt reads No Fast Food Only Fresh Food!
That evening we took a taxi to Café Havana. We ate pizza upstairs at Bolero. And when Café Havana opened at 8:30 we went downstairs. https://www.cartagenaconnections.com/cafe-havana.html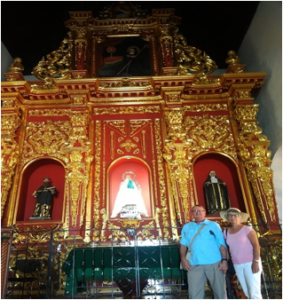 Monday we were picked up by Fabien Garcia and Jorge for a private tour. Our first stop was at Convento de la Popa. It is located on a 150m-high hill with tremendous views of all of Cartagena. La Virgen de la Candelaria is the patroness of the city and there is a beautiful image of her in the chapel. Also, there is a board with charms pinned on it for all those that have been healed by her. If it was a leg the charm is a leg, and so forth. There is a charming flower-filled patio outside of the chapel.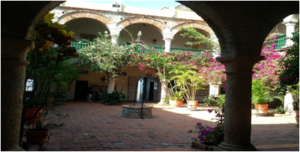 Driving back down the winding road we visited Castillo de San Felipe de Barajas. It is the greatest fortress ever built by the Spaniards and was never taken. We were led through some of the tunnels. They were built so that even a whisper could be heard, and one had to have a secret password which would be the click of your fingers, the stamping of the feet or a whisper. One of the stairways we went up you could not see anyone at the top but standing at the top at a certain distance you could see who was coming up the stairs from below. This fort was the backdrop for the 1984 filming of Romancing the Stone. So, use your imagination and pretend these next two characters are Michael Douglas and Kathleen Turner. (Of course, you might not be aware, but Turner was Joanne's maiden name)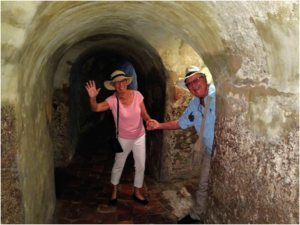 We returned to Plaza Aduana to visit a store selling emeralds. Because this store is affiliated with our tour company, we got a good discount on some raw emeralds embedded in rock. See photo at end of this journal.
We walked over to the Iglesia de San Pedro Claver in the Plaza de San Pedro. Pedro Claver was a Spanish monk who came to Cartagena and devoted himself to helping the enslaved people brought from Africa. He was called Apostle of the Blacks and canonized in 1888. There is a bronze statue out front of the convent with him and the slave that became his translator.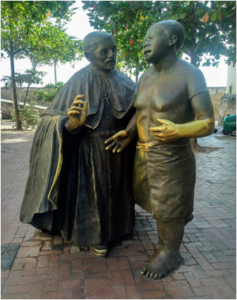 We were returned to our neighborhood to note the Teatro (Theater), now used for post graduates. The University is close by. Fabian pointed out the significance of the door knockers of many of the buildings:
Sea creatures = maritime or merchant business people lived in that house; Lizard = Royalty; Lion = army, military strength and power; and a Hand was for clergy.  The larger the door knocker the wealthier were the inhabitants. It was a very informative tour that we enjoyed.
After our evening cocktail at KGB we ate dinner at Marzola, which is the last name of Gustavo (KGB). Since he is from Argentina this restaurant serves Argentinian food. The Patagonian lamb chops were delicious as were the fries and salsas. The lamb chops were served on a board and there was enough for both of us with a bottle of wine cost us $33.00 USD. Tenderloin was being grilled outside the door beckoning us to enter. Along with a bottle of good Argentinian wine what more could you ask for.
That meal was $38.00 USD. The ambiance is as funky as KGB.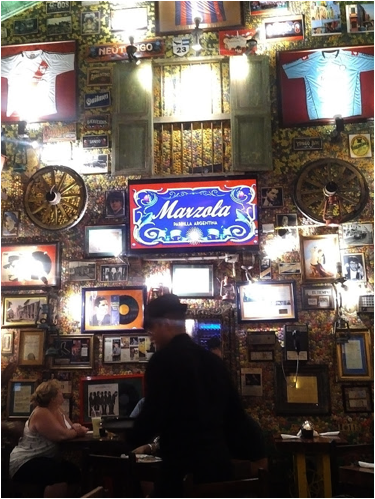 https://cartagenacolombiarentals.com/2016/06/marzola-parrilla-steakhouse/
The next day we tried lunch at Espiritu Santo a very popular local lunch spot. It is a huge cavernous restaurant with a huge turnover of clientele. Service is quick, efficient and enough food on the plate to share one entrée. Lunch for a meal for two each with a beer came to USD $7.50. From there we walked to Getsemani to locate Club Quienbra a good night spot to visit. We had a drink in the little bar downstairs and then strolled around the area. We took pictures of Café Havana and continued around a few blocks and stopped for a mango and strawberry daiquiri.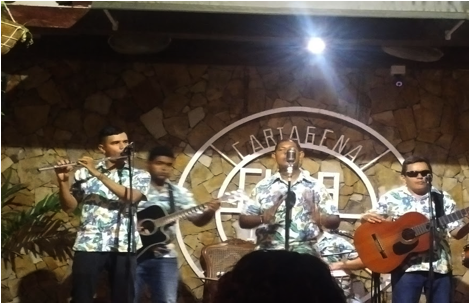 After dinner that night we stopped in at Cuba 1940 and listened to some real good music. See picture below. The man with the sunglasses is blind but had a great smile, which I didn't capture in this photo
Continuing to stroll around the streets we bought some postcards and then tried to find a post office for three days. There is no such thing. What we finally found was a multipurpose store where we could buy stamps at the cash register. At the entrance there was a box attached to the doorway with a slot to drop in the cards. No one has yet to receive the cards, so much for mail service there.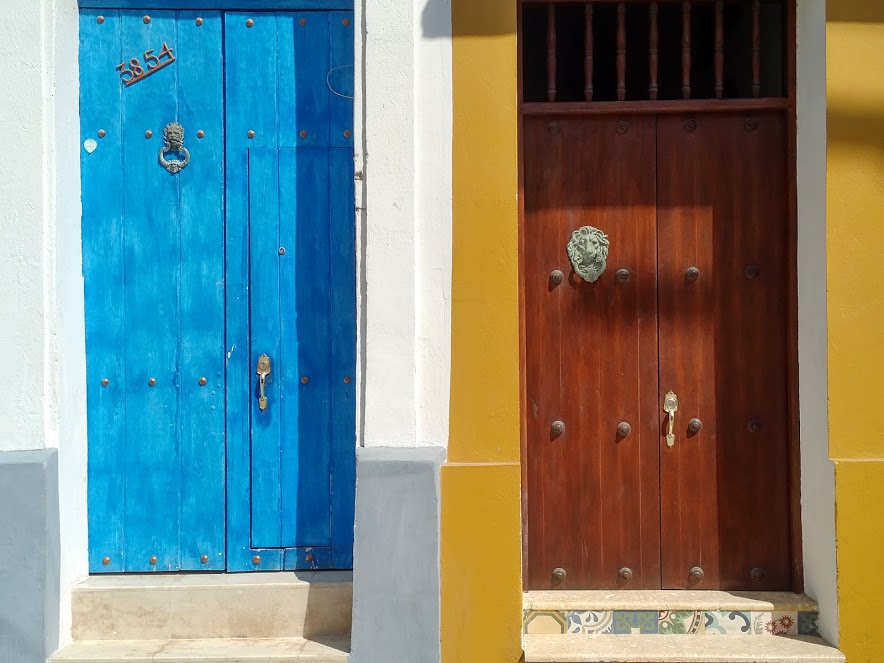 We also took various pictures of the door knockers.
Note that there is a smaller door as part of the larger door. This is used for leaving and coming in order not to let in too much heat from the outside.
And remember the size of the doorknocker represents the amount of wealth.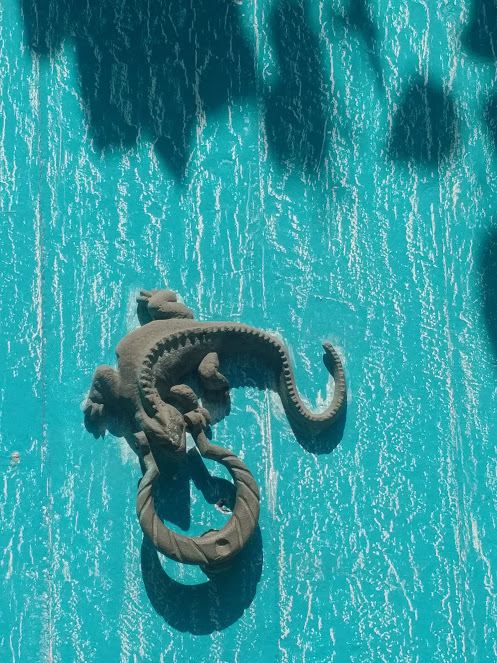 That evening we stopped as usual at KGB and then wandered down the street for dinner and drinks with our friends at Las Hijas de la Tostada.   We were always given nachos and salsa when we sat down. And as usual our favorite singer was performing, and we got hugs from Louisa and Isabella.
We decided to pay a visit to Museo de Petro Claver, savior of the slaves. The museum is in the convent, a three-story building surrounded by a tree filled courtyard. We spent an hour visiting all the rooms, some of which included the cell where Petro Claver lived and died. Also, inside are exhibits of religious art, pre-Colombian artifacts, Haitian paintings and African masks. The well in the courtyard is where he baptized the slaves. As you walk into the church next door one needs to notice the stained- glass windows, the Italian marble altar. His skull is visible in the glass coffin in the altar. Right click and open the following hyperlink for more information and photos. http://sanpedroclaver.co/home/sobre-el-museo/ Outside the church in San Pedro Claver Plaza re several metal sculptures. See the one below. There are also listening to a gramophone and card players, those photos shown at the end of this journal.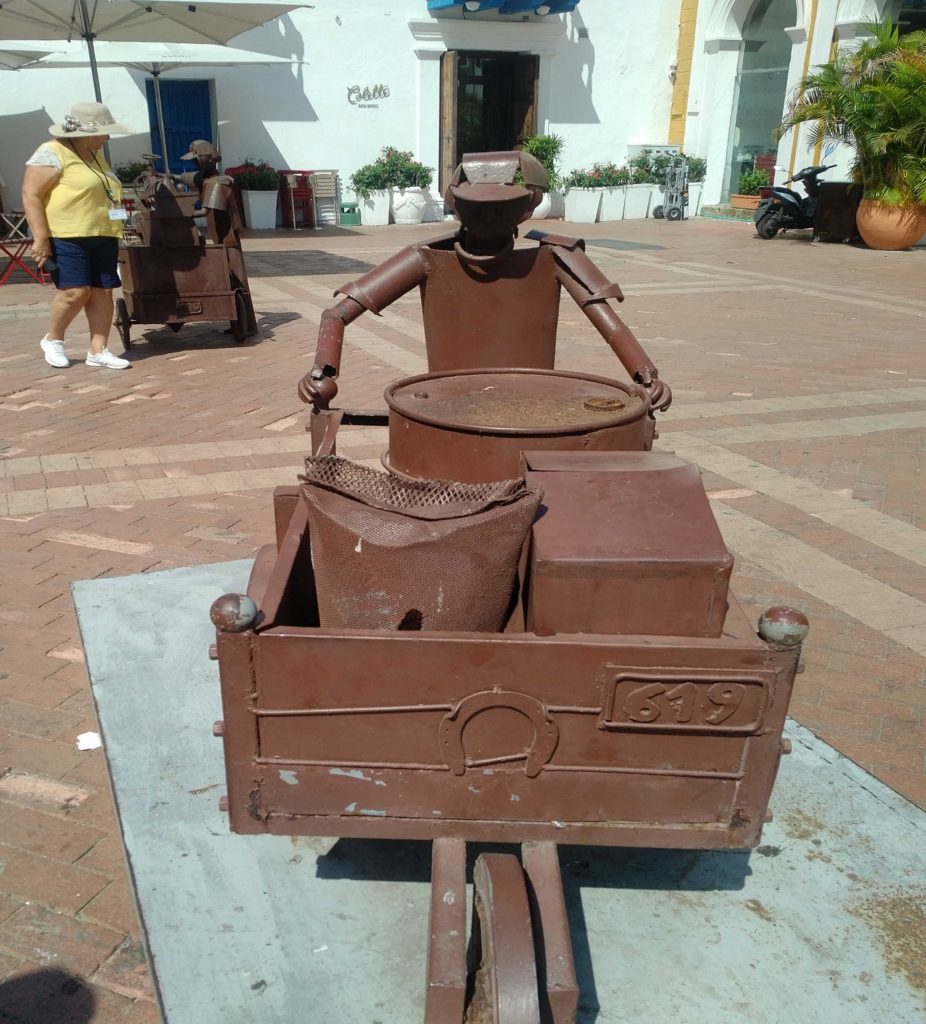 Being cocktail time, we stepped into "Zaitin" for some very special and refreshing cocktails. Joanne tried "Yoshi", a combination of gin, lychee, kiwi and lime. She also tried "Madonna" with gin, ginger, mint and tonic. Frank was more traditional with Margaritas. The Yoshi required picking up the top glass sitting on a saucer of crushed ice and slices of kiwi.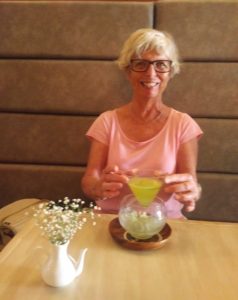 That night we ate Argentinian barbecued tenderloin slices at Marzola following by more music at club Cuba 1940.
Our last Friday we found a small local restaurant called Porton de San Sebastian. There were only five or six tables and always filled. Frank ate lomo de pimiento (pepper steak) and Joann ate sea bass enjoyed with a bottle of Vino Tinto. This restaurant was also doing a large take-out business. We stopped at our open-air bar in Santo Domingo plaza and Frank bought a Colombian hat and I purchased coffee bracelets for myself and as gifts. That night we walked back up to Café Del Mar for the sunset and stayed for sax music. On the way back to our hotel we stopped in the see Raem, Louisa and Isabella at Les Hijas de la Tostada.
Saturday, we ate tacos at Hijas, then strolled the streets to the Clock Tower. We found Tu Candela and stopped for gin and tonics while checking out the place. This is where Obama's secret service men were arrested with hooker's and piles of cocaine on the table. Shame on them!! The upstairs opened in the evening, so we went back to check out the evening scene, but as usual it is a LATE-night scene. See photo at end of journal.
Sunday, after lunch at our little bar/restaurant across the street we wandered further into the center looking for La Movida Nightclub. It was closed on Sunday, so we went to Santa Teresa plaza we stopped at Harry's Bar in Hotel Charleston Santa Teresa, an elegant ***** hotel. We left there and walked up the wall to Baluarte San Francisco Javier and then continued walking along the wall to Cafe del Mar.
Monday, we went back to Plaza Aduana and at lunch at the Bar de la Aduana connected to Sophia Hotel. Frank ordered a cazuela with shrimp, octopus, sausage and rice cooked and served in a cazuela bowl. Yum!! Joanne ordered vegetarian taco which came in diagonal slices. All was freshly prepared.
After lunch we visited the Naval Museum. It houses exhibits relating to the Naval Military and the Naval History of Cartagena. The building consists of two floors separated by two garden patios. The top floor also had exhibits and virtual interiors of patrol boats, anti-narco, and submarines.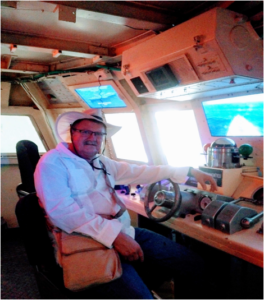 Looking for Drug Runners.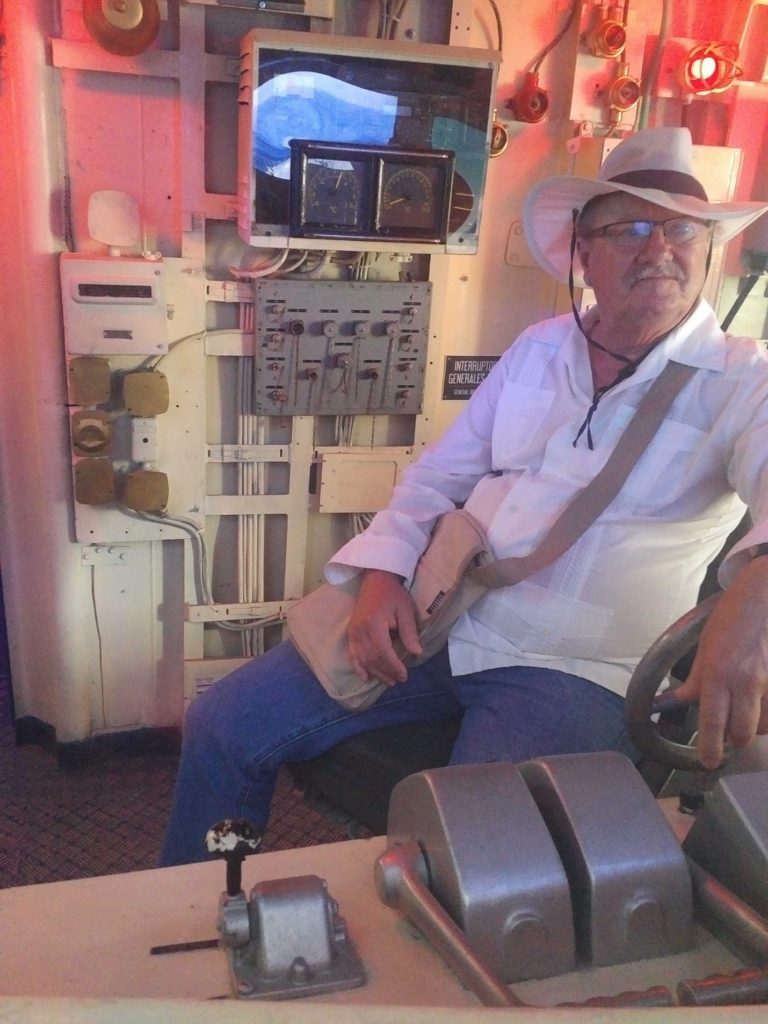 The remainder of the day was typical for us now, stop at KGB, pizza for dinner and visit with our friends at Hijas and Bar Estrella.
Tuesday January 29 was our last day in Cartagena. We ate a local lunch at Espiritu of fish filete de plancha with papas cocida (potato salad). Because we liked the upstairs at Mondesucro we stopped in for a cocktail. Our bartender, Carlos, concocted the most interesting drinks, one was in glass that looked like a lightbulb.   Then we took a quick tour of the gold museum showing Pre-Columbian land and culture. Before getting ready for dinner we said good-bye to our friends at KGB. That night we ate at a little elegant restaurant down one block away called Anacardas. Joanne ordered Banana Filete (fish) and Frank ordered Chuleta (pork chop), all enjoyed with a bottle of Spanish wine. Then we said our good-byes to our friends at Las Hijas.
Wednesday after our last breakfast in our patio we took a taxi back to the Airport and flew to Fort Lauderdale for the night to return to St. Thomas the following day.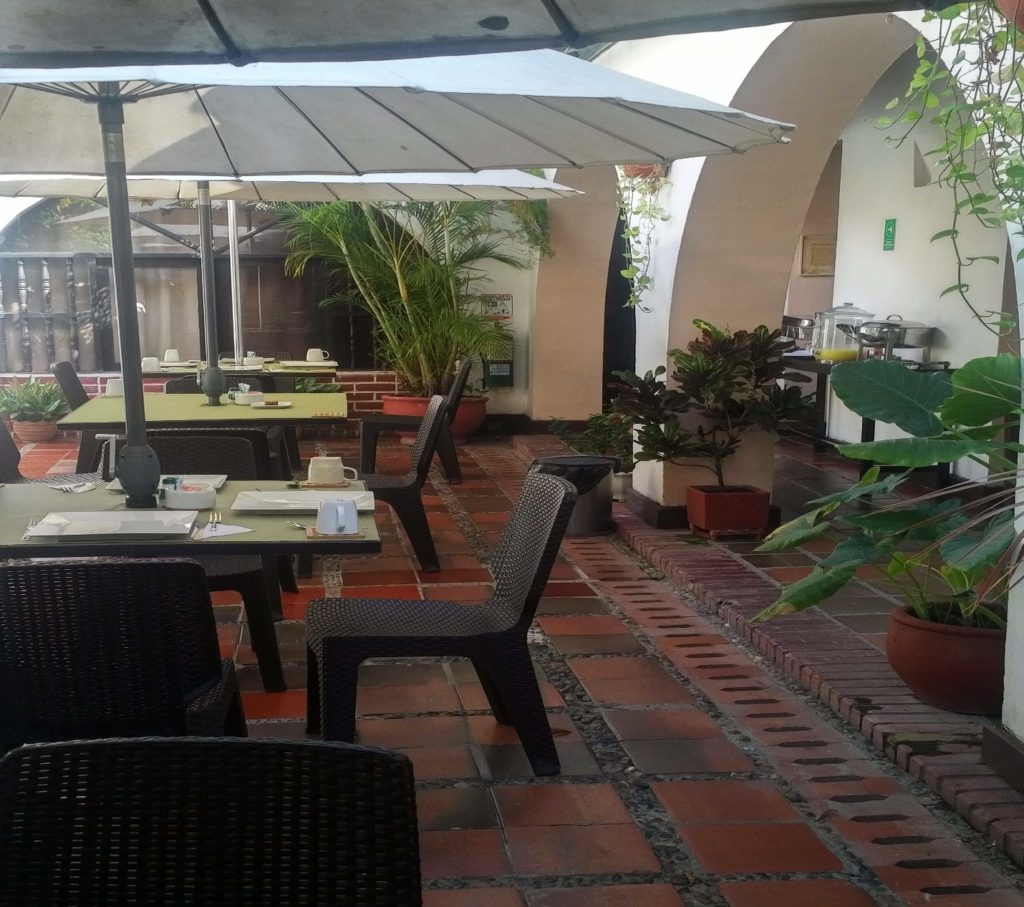 Our breakfast nook.
https://hotelpuertasdecartagena.com-colombia.com/
Following are various other photos.
The hats and bags are common sights all over the city
Listening to the Gramophone                        Card playing on old singer sewing machine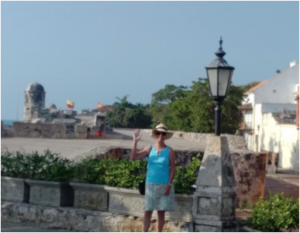 Baluarte San Francisco Javier with Baluarte de Santo Domingo in the background.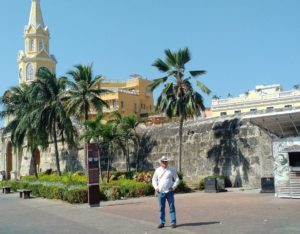 Entrance by Clock Tower
Typical street scene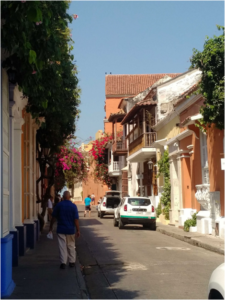 Purple door house with large doorknocker and beautiful flowers and palms on the balcony.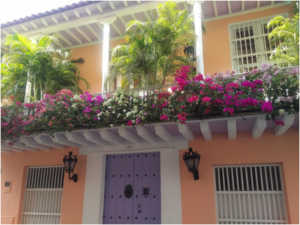 Emeralds in the rock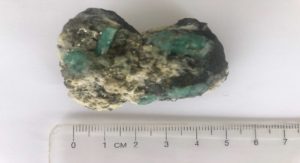 Club Nautico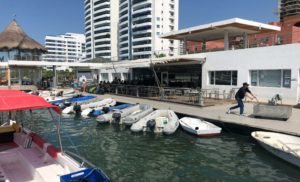 Club Pesca – Sport Fishing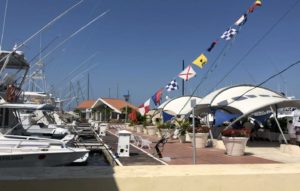 Just imagine this space full of secret service and hookers partying the night away.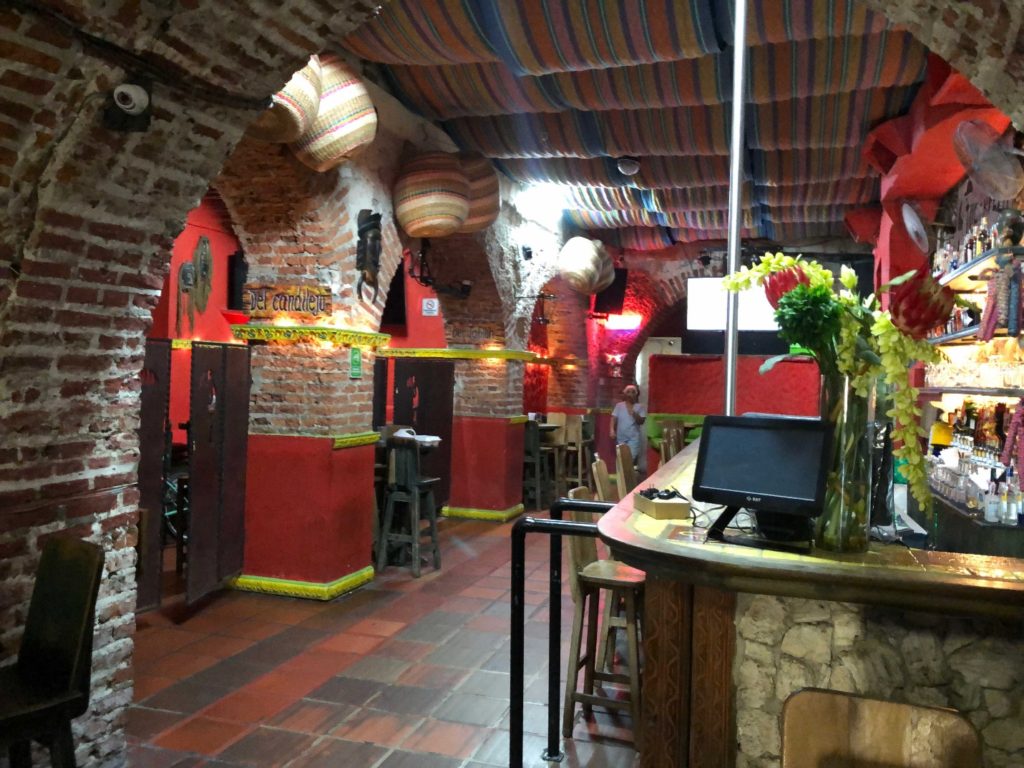 Cartagena References
KGB & Marzola – Gustavo Marzola +507 63222888
Restaurant/Bar La Estrella (Corner Bar) Alexa Ramos Galvas +573014389822
Las Hijas de la Tostada – Calle Curato
Hotel Puertas de Cartagena – Calle Sargento Mayor Calle 38 No. 6-5 (Corner)
57(5)6600961 , 57(5)6646030 Cell: 57-311-6519352
---
puertasdecartagena@gmail.com        www.hotelpuertasdecartagena.com
Front desk: Ely, Angel, Karina – Cook: Carmen – Others: Leider, Yeilis, Nelly
---
Laundry: 20,000 COP = $6.00 USD
Days Inn – 2601 N. 29th Avenue I-95 & Sheridan St. Hollywood, FL 33020
Fort Lauderdale/Hollywood Airport South – (954) 923-7300 – (800) 593-0104
www/the.daysinn.com/hotel/06117
---
Banco Popular – Travel with $200 USD
in COP = 1: 2,000, 2: 10,000, 25: 20,000
ATM
1/21/19        300,000 COP = $99 USD
01/27/19      600,000 COP = $202.18 USD @3,033.01
01/28/19      300,000 COP = $103.69 @ 3,020.57
01/29/19      200,000 COP = 70.67 @3016.84
---
Approximate Exchange Rate:   
COP 2,000 = 0.60 USD
COP 9,000 = 2.75
COP 10, 000 = 3.05
COP 15,000 = 4.50
COP 20, 000 = 6.00
---
Sample Grocery charges from small market within the wall
            Small bag of chips – 2,640
            Liter Red Wine       – 39,900 = 13.20 less discount on sale 7,980 = 10.55
            Sliced ham               – 16,30
            Cheese                      – 9,750
            Can of Nuts             – 28,000 Frank splurged on large can of mixed nuts
            Liter water               – 3.600
            Total:                         – 102,210 = $33.85 without nuts = $23.75
            Another day           -79,510 = $26.32
Postcards (3) Postage = 3 @ 2,000 and 6 @ 500 = 9,000 COP =$3.00 USD
            Postal box at doorway of Almacen (store)