December 6, 2019 – January 3, 2020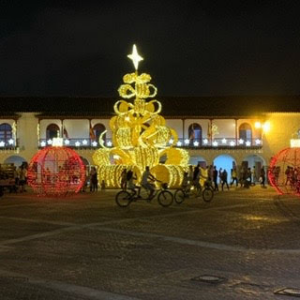 After landing in Cartagena Frank, Joanne and Kathie took a taxi to the apartment at Los Balcones in the San Diego area. We were met by the owner's parents who showed us around the apartment. Efraim walked us to the corner to see where a grocery market was and some good restaurants. Grocery shopping was first on our things to do. Since our friend Kathie had never been to Cartagena, we walked to San Diego Plaza and then further on to the corner bar/restaurant that we had frequented last time to meet our friend Alex. After lighting up our friend's face we continued to another corner bar called KGB, and as you can imagine it is a Russian themed bar. Gustavo, the owner, was not present so we got reunited with some of the employees we had met before. We did get to see Gustavo a few days later and we had smiles and hugs. Since this is not a restaurant and we were hungry it was time for a pizza.
The next day we walked to the other side of Cartagena called the Centro area. We passed by the Clock Tower, Plaza de la Aduana, and Plaza de San Pedro Claver, noting the amazing metal sculptures symbolizing everyday life, such as someone at the sewing machine, someone on a bicycle, men playing cards, etc. We were getting hot but knew a great restaurant called Santa Maria del Mar and stopped outside under an umbrella for some refreshing cocktails. The Museo Naval del Caribe, next door is a two storied colonial building portraying the history of the Colombian Navy. There we were treated to a dance group performing in the auditorium. Being hungry we headed back to Santa Maria del Mar for a delicious lunch inside. The waiter had to smile when he remembered us from before when he found us a corkscrew for our wines in our room. It was time to head back to our apartment for a nap. At the top of the wall there is an outside restaurant with seating for over a hundred revelers who go there to watch the sunset. Leaving there we walked back to the Clock Tower to view the lights at night.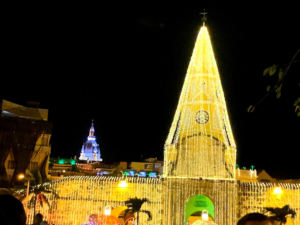 Behind the Clock Tower you can see the Catedral lit up also. And directly across the road are more lights leading to Getsemani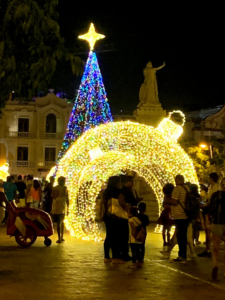 After getting lost in Getsemani we finally wandered up a street and found a restaurant we had read about called Lunatico. There was no lunacy in the restaurant, yum, yum.
Our usual day was walking around discovering various restaurants for lunch or an afternoon glass of wine to cool us down. There are so many places it is impossible to try them all. They range from upscale places to little local restaurants that only take cash and various styles of cooking. It might be an upscale restaurant such as Monte Sacro at Plaza Bolivar where a filet mignon will only cost $16USD, or as low as $4 USD at the lower end of the spectrum. No matter which you choose the meal always consists of a bowl of soup, the main dish with rice or potatoes and a frosty lemonade. At Única we met the owner who is Mexican. We were so impressed with Dino that we made reservations for New Year's Eve. Another wonderful place was Parilla Quebracho, an Argentinian restaurant. A whole pig was being roasted in a stand-up roaster, at least an eight-foot-tall spit where the pig rotates around the coals head down. Another Argentinian restaurant is Parilla Marzola. We also had a wonderful lunch at Espiritu Santo, a very popular spot that extends way to the back of the building with very tasty comida. Other places that we enjoyed were Bar Estrella where our friend Alex worked, Restaurant/Bar Totopo, Los Hijas de la Tostadas with live music, and El Bistro. For just drinking we chose Harry's Sasson Bar at Hotel Charleston and KGB. Most evenings we cooked at home.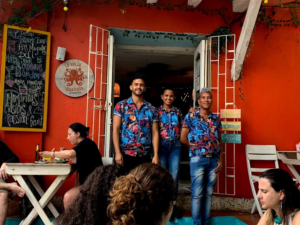 La Vieja Guardia became very special to us. It is a small restaurant attached to our building. We frequently ate lunch there and quite often stopped there on our way out or on our way home to enjoy a bottle of wine. The servers: Yurani (female), Elkn and Andres (Males) were so attentive and thoughtful. The place always lit up with their smiles.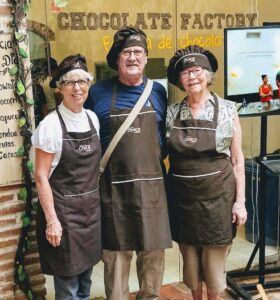 We signed up for a Chocolate Workshop at Choco Museo. Here we learned the history of chocolate production. We started by roasting the beans, skinning them and making chocolate tea and milk the way the Maya and Conquistadors did. After that we turned our beans into thick chocolate and with that made our own chocolates, customized by the addition of nuts, candies and even hot peppers. These we took back to our apartment and enjoyed, none left to take home.
Across from KGB is a beautiful church, Iglesia de Santo Toribio, where we watched three weddings, each having a different motif as seen when the bride and groom emerged from the doors. Sometimes there were musicians, lighted bushes and dancers. Some left in a "55 Chevy Ragtop or a horse drawn carriage.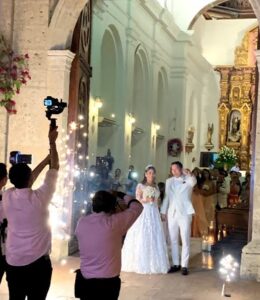 After this wedding we were treated to observe a horse parade with over a hundred Colombian Paso Fino horses that have a "four-beat lateral ambling gait" that made them look like they were dancing. This parade occurs only once every December.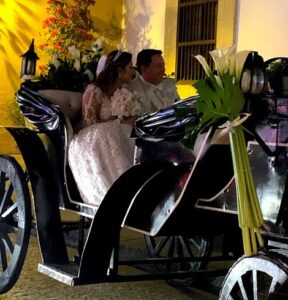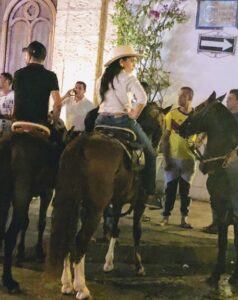 One of the things we liked doing at night was observing the holiday lights. They were so beautiful in Parque Fernandez de Madrid, a park across from the church in San Diego.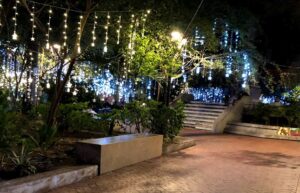 We decided to take a horse drawn carriage to see lights in the Centro.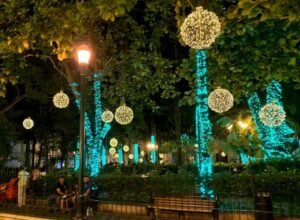 Plaza de Bolivar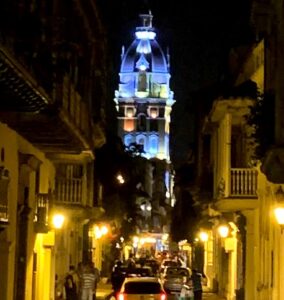 The Cathedral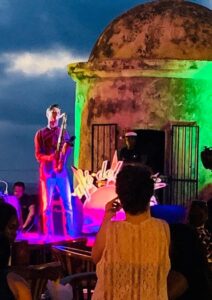 We preferred to stay in our area of San Diego. So, to watch the sunset we walked up to the top of the wall to the Restaurant Café del Mar. It is outdoor seating of heavy wooden couches, chairs and various wooden tables seating a couple hundred people. Once the sun sets the music begins.
For some fun and good Cuban music we stop in the corner restaurant, Cuba 1940.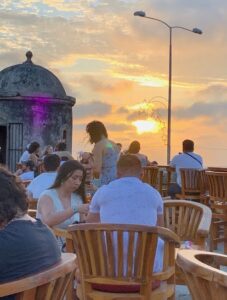 And at another corner bar named La Esquina Sandiegana we enjoyed salsa music and dancing.
The owner has an enormous collection of salsa CDs. We had our own salsa teacher.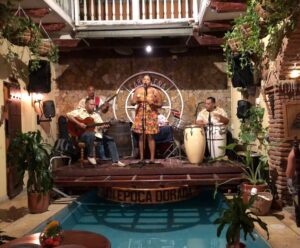 We love the architecture. You can see in this photo and the previous one the tiled roofs, flowers flowing over the balconies, and the streets are impeccably clean.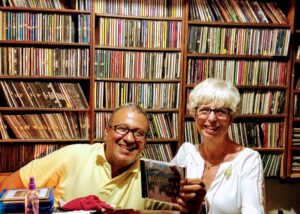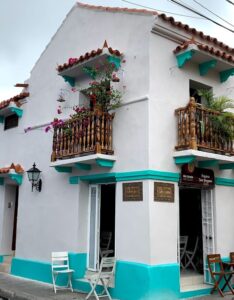 Another street scene involves the early morning fruit vendor. She would come down the street starting around 6:30 a.m. singing out the fruits of the day for sale. Frank would meet her outside our apartment and buy the best she had to offer, and the melons, papayas, avocados and passion fruit were delicious.
She was full of life and that is the way to light up your morning. One time she even knocked on our door to make sure we got something special that day. Hope you can listen to here singing about her wares.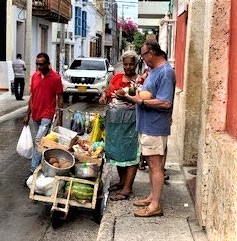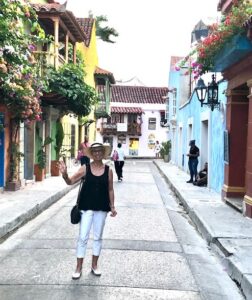 We also discovered on our walk along the wall is the renovated bull fighting ring. It is now a mall with upscale shops and restaurants. It was also named over the front entrance "Circle Theater".  A big New Year's Eve celebration took place there.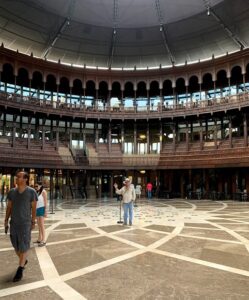 The two biggest celebrations for us was Christmas and New Year's Eve. For Christmas we had a wonderful Argentinian meal at Parilla Marzola. We dined on tri-tip roast, lamb and a variety of roasted peppers, onions and potatoes. Of course, a bottle of their wonderful red wine completed the dinner.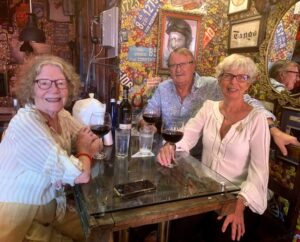 And because we did not receive any presents our server Yurani at La Viega Guardia gave us each a small bag with a Mexican style hat key chain and Kathie and I also got a small bracelet, mine with butterflies and Kathie's had shells. Frank got a bottle opener that was attached to the top of a miniature full mug of Club Colombia beer.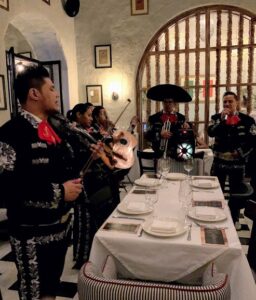 New Year's Eve was an extravaganza. Some of the streets were blocked off and tables and chairs were set up with white tablecloths and good china and glassware. There was music everywhere. Our Mexican dinner at Única include a Mariachi band. What fun!
Since the roofs are tile and therefore in no danger of catching on fire from fireworks they exploded in the air in all directions. AWESOME!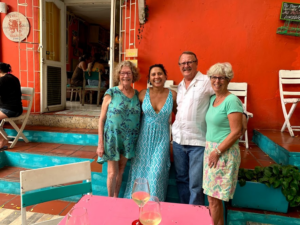 It was time to say good-bye to our friends at La Vieja Guardia. We had just recently met the
co-owner Néne. She is also a chef and we had some good laughs with her since she spoke good English. She operates a wonderful and friendly little place. Each table has dominoes and a deck of cards. You do not feel obliged to eat and run. Néne is a very busy person and has accomplished a lot and will continue to do so.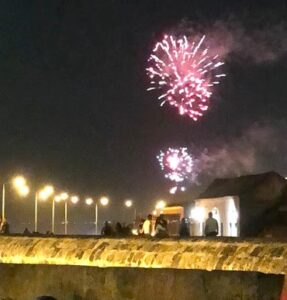 It was a wonderful 28 days. We were sorry to leave and hope to re-visit again to see old friends and new friends.