The Lot – 2014 France Travel • May 18, 2014 – June 1, 2014
Saturday May 18 we finished packing up the house in preparation for the bathroom and kitchen renovations. That night we stayed at Island View Guest House and had a wonderful dinner. Sunday morning we left St. Thomas behind and landed in Miami for a short layover giving us enough time to have a glass of wine with a light lunch. Since we had a four hour layover in Boston we decided to walk to terminal E which was a half mile on the inside to Air France.
It was a very cramped uncomfortable flight. Luckily since we were taking a domestic flight to Toulouse we did not have to suffer through the long lines at customs. It was a pleasant flight and we enjoyed seeing the countryside from the air. After renting our car from Hertz we drove to Valroufie to Maison Les Fraysses which is in the area called the Lot department of France. The directions from Booking.com took us right to our B&B. Since it had been 28 hours after leaving St. Thomas we were ready for a home cooked dinner. And it was wonderful. It was four courses consisting of fois gras, followed by white asparagus with Belgium version of mousseline sauce. By that time I was full but then came the main course of duck. The Malbec du Lot was a perfect match. The dessert was lemon custard with strawberries, which was thankfully put into the guest refrigerator to be eaten the next day.
When we arrived we were told that we had chosen the family room but since there were no other guests that week Yvette and Paul suggested that we might like the room below with its own private entrance and terrace. We took it. Everything had just been restored a few months earlier. And around the other side was an eat-in kitchen for guests only. It had everything you could want and we could have roasted a turkey if we felt like it.
Every morning Joanne would dial into work on the computer for an hour to answer emails and help with instructions as to what needed to be done. Then breakfast began at 8:00 a.m., not something to be missed. There were meats, fois gras, a variety of cheeses, fresh fruits, granola, and yogurt and of course, fresh that morning from the bakery, croissants and French bread. There were a variety of local jams and butter. The fresh squeezed orange juice came from Spanish oranges. With a couple cups of coffee we were set to plan our day. Paul and Yvette were very helpful in suggesting places to see and things to do. They even leant us their GPS and set it in English. That turned out to be very helpful and a lot of fun as we were led down small country roads past grazing sheep. In fact we had such fun going the way of the GPS route that we named it Annie. If she told us to take a left and we took the wrong turn she would tell us to turn around if there was not alternate route. However, she usually found an alternate route that took us past villages that most people never see.
Tuesday May 20 was our first venture. We drove into the town of Cahors. Lunch is only between noon and 2:00 p.m. and so since it was 1:30 we hurriedly found a restaurant that served the plat du jour, a large pork chop and winter squash with a bottle of rose. We had a visitor's map of the city and located a lot of the secret gardens (28 in all). At Lafayette Plaza we took a picture of a monument to those who died defending the nation from 1870-1871. It was a curious statue of a soldier partially lying on his side with his arm outstretched holding a sword. After that we stopped at DeGaulle Plaza and visited the Resistance and Liberation Museum. We found the Post Office where we used the ATM which does not charge large fees. We reached the river where the Valentre Bridge crossed over the Lot River. During the endless wars with the British this bridge was fortified with three towers. There is a legend that states the architect sold his soul in return for Old Nick to bring him all the materials he needed. When the bridge was almost completed (taking 70 years from 1308-1378) he tricked the devil by asking him to bring him some water in a sieve. The devil got his revenge by pulling out a stone and no matter how many times it was replaced it would be gone by morning. The men who restored the bridge in 1879 added the little devil high up on the middle tower with his fingertips trapped forever between the stones. It was not easy but we found the devil. That deserved a glass of wine. Across the street from the bridge was a small restaurant and the owner was quite pleased to pour us a glass of wine. And that cost $.75 (in Euros about $1.00) per glass. We continued to walk back through the center of the city through Gambretta Plaza over the Amphitheater. Gambretta helped found the Third Republic in the 1870s and fought for fair elections and free universal educations. Cahors is a university town and also capital of The Lot. Finding a nice wine store, we purchased a nice bottle of Malbec and the owner suggested the best little place to buy a baguette sandwich. That made for a delightful small dinner back at our place.

Wednesday May 21 we headed east to the town of Figeac. This is the journey that took us through all the country roads. At one time the road being only meant for one car each car ended up having to drive part way up the side to get by. We stopped at the visitor center and got a map of the town with "keys" on the buildings for identification. Since it was starting to rain we popped into a delightful little restaurant. Joanne had moussaka and Frank had Quercynoise salad. Of course a pichet of rose went perfectly well with both meals and the French bread. That lunch was just long enough for the rain to pass by. We strolled up and down the winding roads admiring the architecture which was very much like in Tuscany. We visited Musee Champollion,a tribute to Jean-Francois Champollion who deciphered the Rosetta Stone. It is a four storied building dedicated to his life and works with a piece of the Rosetta stone and a section on the history of writing with artifacts from all over the world. There was also a museum of propellers but that was closed. We did some grocery shopping and stopped for a Pastis. On the way back we stopped at an out of the way restaurant and bar. Frank refreshed with a beer and of course I had a glass of wine. We even heard some English from a few Brits in there doing the same thing.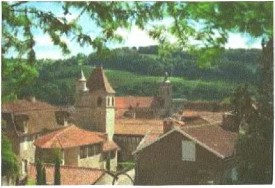 Yesterday Paul made reservations for us to visit Gouffre de Padirac, a chasm with an underground river. Viewed from above we see a huge opening in the earth forming the entrance to the underground caverns.
There are elevators that take you down 103 meters, however we missed the second two and walked down the metal stairs. From there we took a boat ride on the subterranean river. There are thirty boats and each boat carries 11 passengers and a guide (in French). We glide slowly over a distance of 500 meters beneath the high walls and arches. We notice some ferns growing here and there. There are some snails but they are totally blind and their colors make them invisible to our eyes. We then reach the Lake of Rain, and fortunately for us it was not heavily raining.
When the boat stops we walk along a path noticing the enormous stalagmites. Further on we come to an area with a lower ceiling but the river widens and the pools form dams from calcite deposits. We then retrace our steps by walking up a staircase until we reach a small lake in the Great Dome chamber, whose impressive ceiling rises up 94 meters above the level of the river. The scalloped edges of the lake are formed by falling drops of water laden with calcium carbonate. We continue up the path passing enormous stalactites and stalagmites on all sides. Footbridges bring us back to the level of the underground river and we are ferried back to the elevators. This time we took all of them up. Being lunch time we stopped at Les Visiteurs Restaurant and enjoyed duck confit and salad with, of course, a pichet of rose. From there we drove to Rocamadour. We visited the caves with drawing of hands, horses and elk on the walls. Rocamadour is a nearly vertical village built into the cliffside. It includes seven churches and chapels. We just walked around at the top and enjoyed the view. It was getting late so we had Annie (GPS) take us back.
We enjoyed a lovely Friday morning breakfast with Yvette and Paul. Then we took Annie and headed east to the picturesque village of Saint­ Cirq-Lapopie. It rises up a limestone cliff-face. We parked below and walked up to the village through the winding narrow roads. We passed half-timbered buildings, along narrow cobblestone passageways and up to the fortified Church at the top. There were many small restaurants to choose from and we walked up stairs to L'Oustal. That was probably Joanne's favorite meal, a delicious trout. And they served our pichet of rose in an ice bag. It was a pretty pink plastic container with a handle and filled partially with ice in which the wine rested. The wine stayed cold and it did not drip. We wandered around the village and Joanne bought a blue hat. On the way back down to our, car we stopped in a little place for a hot chocolate.
We continued on to Chateau de Cenevieres. Paul had told us about the 94 year old gentleman, Mr. Guy de Braquilanges, who owns the castle. He opened the door after we rang the bell and "exuberantly" welcomed us in.
In fact Frank thought that he might have been left outside. Mr. Guy de Braquilanges pointed out the courtyard and explained the Renaissance architecture. This chateau is also built above a cliff. More tourists arrived and we were welcomed to join the tour. One of the most interesting rooms was the Cabinet d'Alchemie, painted with pictures of gods and mythological heroes, such as Artemis, Orpheus, Atlas, Achilles, and Hercules. We also saw the torture chamber and next to that a secret Protestant chapel. We spoke with his son who will continue to run this chateau. Not only do they give tours but also host events and dress in the fashion of the century. This chateau has been in the family since 1793. We left and stopped in St. Gery for a glass of wine on our way back.

Today is Saturday and we thought that since we have been visiting sites to the east we would go west through the vineyards famous for Malbec wines. Our first stop was at Chateau de Mercues overlooking the Lot Valley. We walked around the gardens and took in the fabulous view. Then we entered the winery and was given a tour in English. We tasted some delicious wines both white and red and of course bought a bottle.
Joanne also found her wine Ice Bag and bought one as a present for a close friend who enjoys white wine. We stopped at the Danish Prince winery at Chateau de Cayx but they were closed since it was lunch time so we stopped nearby in Luzech and ate an enjoyable lunch of steak pomme trites. We continued along the river and drove up to Balaye for a panoramic view of the Lot vignerons. We had been driving along the Lot River on the south side of the river stopping at various wineries but they were all closed on the weekend so we headed back on the north side of the river. We stopped in the lovely town of Puy l'Eveque where we passed an old train tunnel. It was now a store selling wines. We had fun trying to communicate with an elderly lady who spoke no English. We finally figured it out after a lot of laughs that if we had our own jug she could have filled it up like at a gas station. She gave us a tasting glass of Malbec and then sold us that bottle at a discounted amount. It was 6.70 Euros and she sold it to us for 5.00 Euros. We stopped in Cahors at Cocoon, near one of the secret gardens, and relaxed with a glass of pastis. It was getting cool and near the time when they start cooking so we moved inside for a pichet of vin rouge and an appetizer. A young man arrived and sat at the piano next to our table and started playing old Elton John music. It was then time to head back to our home.


Sunday we let Annie take us to Pech Merle. "In the lower third of France is a southern Latin culture called langue d'oc or occitan. Pech is the French writing of the occitan word pueg which means: a hill." The Pech Merle cave is a large cave with wall drawings of animals, such as horses, bison and mammoths dating back possibly 20,000 years. The red color was iron oxide and the black was manganese oxide. There were also footprints of a young lad going in different directions, a stenciled hand print in red, a dotted horse and cave pearls. The water falls from an opening in the ceiling during heavy rainfalls. This intermittent waterfall carries with it sand and gravels. When these are trapped in small cavities in the pool, they are coated with calcite while they are polished by the action of the running water. The tours consist of no more than twenty visitors at a time. We are guided through seven halls where the lights are turned on and off as we enter and exit each area. We got there a little bit early and so bought a light lunch at the concession stand. After the tour we visited the museum.
Since it was still early we decided to continue in this easterly direction along the Cele river. There was a crazy museum that we had to stop at. The owner collects junk and makes some very bizarre objects from them. We stopped at the lovely village of Marcilhac-sur- Cele and walked past the ruins of the Abbey which was built in the 10th century and thrived until the Hundred Years War in 1356. We also strolled up and down the narrow roads. Seeing a restaurant called Bar Restaurant Des Tourists we had to stop in at the outdoor cafe. We sipped on a nice rose and asked the owner if she knew the name of the flowers on our table, they looked like large blue bells. It wasn't that important but she asked everyone around what it
could be. One lady spoke English and she was possibly the daughter, but it was never identified. Annie led us home and we ate a light meal in the guest kitchen.

Monday morning was cold and rainy. We decided to head southwest and set Annie to take us to Castlenau Montratier. In the central plaza we found a couple of restaurants and stopped in at Le Bardouquet. Frank tried the Grimbergen Red beer which was red and tasted like there might have been a little red wine mixed in. For the wine with dinner we selected Hautmontlong which was a delightful white wine and it went very nicely with my hake and even with Frank's lamb chops. When we left the restaurant it had stopped raining so we walked up to the church that had domes instead of spires. On the way home we stopped in at Cahors where our new Belgian tour director acquaintance was every afternoon. We had fun looking up the Virgin Islands on the internet. Paul and Yvette asked if we would like to have dinner at Les Maison Fraysses that evening. There was a couple from Montreal arriving and thought we might all have an enjoyable meal together. And we did.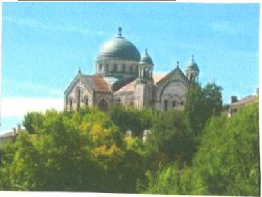 Tuesday we drove again west along the Lot River. We stopped for lunch at Puy l'Eveque. Frank ate ham and lentil stew and I ate a zucchini quiche and of course our pichet of rose complimented both meals. After we finished our meal we walked up to the central plaza. It had been market day but all the stalls were being taken down so we just roamed around the village. After wandering up and down this hilly village we drove on to visit Chateau de Bonaquil. This chateau was a fortified castle built in the 13th century on a steep rocky promontory. Berenger de Roquefeuil (1448-1530) spent thirty years equipping it with a barbican (thick walled main entrance), several towers, a chicane (passage and trap between terrace and tower), seven drawbridges, a casemate (long underground corridor), cannon ports and caponiere (defense work) with loopholes which provided a more incisive defense than the moats. The castle was altered again in the second half of the 18th century by Marguerite de Fumel. She created an esplanade, got rid of the drawbridges and fitted out the lord's apartments according to the style of the times. She died just before the French Revolution. Then a law of 1793 ordered the leveling of the dwellings down to the heights of the main buildings and the dismantlement of the towers.
The place was ransacked and left to ruin. We spent about an hour walking through the barbican, the main entrance, with a map showing us the pigeon house, the lower courtyard, the bakery, the spiral vault, the long underground corridor, the great tower, the kitchens, the Great Hall and other rooms and terraces. There was a little bar and restaurant located on our way back down to the car and so we stopped in for wine for Joanne and a Leffe beer for Frank.
We slowly drove back stopping to walk around the towns of Frayssinet-de­ galat and Thedirac. It was like these towns were deserted, lovely but we never saw any people. Once again we stopped in Cahors at Vin Bar for a glass of wine. We purchased a bottle of Malbec and a sandwich to take back to our place for a light meal in our guest kitchen.

On Wednesday we had enjoyable company for breakfast, friends of Paul and Yvette from Belgium. They were going biking along the vineyards and we decided to head southeast. We stopped in Aujols where we discovered the lavoirs around a pond. These were slanting v-shaped stone structures where each woman would stand on the higher end facing each other so they could converse while scrubbing the clothes. The next stop was in Laburgade where we came across a field with about ten stone wells very close to each other. Each one had a stone cover and a door with a lock on it. We stopped in Lalbenque for lunch at Le Bistronome and ate a fabulous veal stew with carrots and of course a pichet of rose.
Next we visited Phosphatiere du Cloup D'Aural. There was a farmer who had better crops than his neighbors. It was discovered that his farm was built over caves of phosphate. The caves were then mined. We took a guided tour past the area where the mines were set up with the rail tracks for transporting the phosphate. We descended into the caves and noted the tropical flora and fossil bones. We continued east until we reached Limogne-en-Quercy where we took a rest at a cafe in the center of town and sipped on a Pastis. Since it was getting late we headed back to Cahors to buy a bottle of Malbec and a sandwich for our picnic at home.
Today we headed out of The Lot northwest to Dordogne. Still in The Lot we stopped at Gourdon, a pleasant little village set on a hill that can be seen from miles around. It was Ascension Day and people were just leaving St. Pierre's Church. We wandered through some of the narrow streets with medieval houses and shops below the church and then stopped for a glass of Malbec before continuing. The bathroom was down a set of rickety wooden stairs in a dirt floored basement! It was very clean however.
Crossing into the Dordogne department we stopped at Sarlat-la-Caneda and got lucky with finding a place to park on one of the side streets. Being a holiday there was a big exposition in the central plaza with wandering musicians. There were very many restaurants to choose from and we found one with an empty table outside. Joanne had a yummy fish and Frank had duck confit and of course a pichet of wine and each dinner was only 11Euros which included the wine. We finally met some Americans at the table next to us. They were from New Jersey. We joined the crowds and walked down the Rue de la Republic through the center admiring all the fresh foods, meats, cheeses, fois gras, nuts, etc.
We did not have time to do any sightseeing of this beautiful town, so we found our car and headed back over the Dordogne River and stopped at the village of Domme. The town is a bastide (fortified town laid out according to law) with honey colored stone and brown roof tiled buildings high up on a hill with fortified walls and gateways into the town. We were again lucky with finding a parking place and then walked up the hill and the stairs into the main square. We stopped at Bar le Medieval and Frank had a beer and of course Joanne had a glass of rose while watching the tourist train and many motorcycles passing through. We walked up the main street, found a wine shop and bought a bottle of Chateau Court-Les-Muts 2011. At the top of the town is a park area with a panoramic view of the Dordogne Valley. We stopped at Cahors to have a drink with the Belgian tour guide and to purchase some cheese at Les Halles.

Being our last day at Maison Les Fraysses we took it easy. After breakfast we strolled around the neighborhood streets. We made ourselves a picnic lunch with our bottle of white wine, our Pyrenee Vache cheese and fresh bread on our terrace under the open umbrella. It was a very enjoyable warm sunny day. At 5:30 we drove into Cahors. We met the Belgian tour guide in Bar du Centre, stopped at the bar where the young men are always playing cards for a wine and then went to our favorite bar/restaurant Vin Bar D'Ousil. Joanne ordered coq au vin and Frank ordered canard with cepes. They were both delicious and were complimented by a bottle of Cahors Malbec.
Today is Saturday and we are leaving our new friends Yvette and Paul and driving to Toulouse. Some buildings in the city reminded us of the buildings in Paris but otherwise it was not a pretty city. The Saint Sernin Basilica was majestic, an impressive sight. We walked around a little and stopped in at Taverna Bavaroise for lunch. We each ordered the plat du jour of fish, rose and coffee with dessert for a total of 29.20 Euros. Toulouse is a very confusing town to navigate. The airport is called Bagnac but there is also a town called Bagnac and the directions did not say whether we were headed to the airport or not but we finally found it.
What we did not find was a gas station so we brought the car back nearly empty. We had reservations at Radisson Blu and it was in walking distance. After a brief rest we went to the bar and had some white wine for Joanne and draft beer for Frank and ordered some appetizers and went to bed early.
Sunday morning we awoke at 3:00 a.m. and took a shuttle to the airport for a 6:00 a.m. flight to Amsterdam on KLM. Schiphol airport was very confusing. There was no sign to tell you what gate we needed to get to. We finally found an information booth to help us. Inside our terminal the airport is like a big shopping mall. And it was crowded. We finally found an Irish pub for a beer and a Bloody Mary while waiting to board. We took Delta to Boston. That was the most pleasant flight. The food and drinks were good and the seats were comfortable. We arrived in Boston at 12:30.
WHAT AN UNFORGETABLE TWO WEEKS IN FRANCE!!
Paul and Yvette Geerts-Baeten Maison Les Fraysses
Les Fraysses Constans 46090 Valroufie