May 25-June 8, 2019
Frank and I flew into Marseille Airport and headed off to our apartment in La Ciotat in Provence on the Mediterranean. Entering our apartment, we knew we were going to enjoy our two week stay. Michelle, the resident on the first floor, was delightful and we had many chats and laughs together during our two weeks. But now we are hungry and in search for a bite to eat. While exploring the many narrow streets we stopped at Plaza Carnot to watch a fashion show with moms and daughters wearing the outfits from a store in this plaza. We took a table at La Palette and enjoyed the Planche du Sud, a chacuterie platter. After eating we stopped in at Hemingway's and the girls fixed us a customized chacuterie platter and sold us bottle of Bandol Rose to sip along with it later on back in our apartment.
Since we had not stopped for groceries, the next day we were in search of a Patisserie for breakfast. We found Maison Lêvêque just up the street. We sat at a little table and were served our choices of vanilla éclair and pain chocolate (chocolate croissant) along with a great cup of coffee. This became our go to place for breakfast every other day.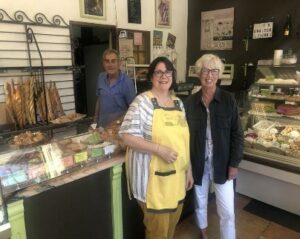 Joanne with Madame
Yes, we are back in France and back in Provence. We weren't sure where in France we wanted to go this year. We had been on the east side of Provence, Marseilles and the surrounding well- known villages such as Nimes, Arles, Aix en Provence, on the northern part from Avignon to Gordes across the gorges and back down to Nice. The part of Provence we overlooked was the villages on the Mediterranean between St. Tropez and Marseilles. Since 2007 I have been reading a blog three times a week called "French Word a Day", written by Kristin Espinesse.
She has also written four books which I have purchased. She writes wonderful stories about living in France, after leaving Arizona, marrying her French husband and bringing up her son and daughter. They are stories of her everyday life, it's ups and downs, but always with a positive slant. I felt like I knew them personally and then she wrote that they were moving to La Ciotat, one of the towns we had overlooked on the Mediterranean coast. That was the deciding factor and I hoped to be able to meet her. And we did. Kristin met us at L'Indiana, a beachside restaurant, close to where she is living, and we spent over an hour chatting about our lives. I brought along one of her books and she graciously autographed it for me.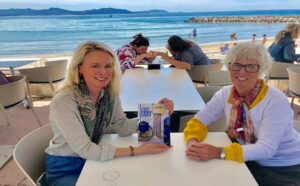 Kristin & Joanne – Book: FIRST FRENCH ESSAIS Venturing into Writing, Marriage & France
In this book, as in all her other books and blogs, she slips in French words with the translations at the end. The book cover partially shows one of the precious friends she has made. In a year's time he shared with her his knowledge of the plants of Provence. There is a special chapter at the end explaining how that friendship developed.
Yesterday was the Sunday market and a good time to buy some fresh produce. I bought some beautiful leeks and then at the marche (grocery store) purchased what else we needed to make vichyssoise; our first home made meal in the apartment, which I put in the refrigerator for our evening meal. Later that day we strolled along the Vieux Port and stopped to enjoy an outside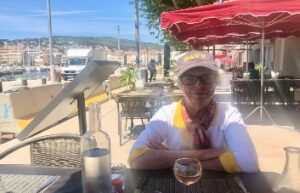 lunch of andouillette, a Classique omelet and a pichet (carafe) of cold rosé. We also stopped into a cinema to see what was playing and if it would fit into our schedule. We decided each day we would eat our lunch (Plat du Jour) in town, and of course, that always included a pichet of cold rosé (2 glasses each), typical cost for two was $32 USD. Our evening meal we ate at home.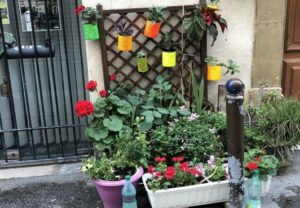 We loved walking around all the winding streets and discovering a variety of stores, restaurants while noticing the architecture of the buildings. We loved seeing these cans filled with flowering plants.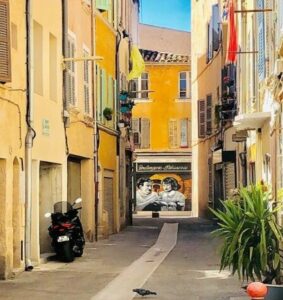 At cocktail time we discovered a little bar/restaurant called L'appart Café around the corner from our apartment. After going there most evenings we felt like we made some friends, especially with the owner, Laurent, on the right.
"I prefer to drink with my friends than to drink with moderation" (Translation of below
Across the street is a walkway to the Cinema. The architecture is like that used on the Eiffel Tower.
After a delicious lunch of lamb chops and chicken with mushrooms at a Bar Tabac named La Petite Mousse we wandered around the quay, noting the Church, Église Notre-Dame de-l'Assomption, on the left side of the harbor with the museum at the end. When the Museum opened, we spent some time inside with the ancient history of La Ciotat on display. The boats in the photo are called pointus. The shipyard caters to mega yachts and that is on the right side of the harbor.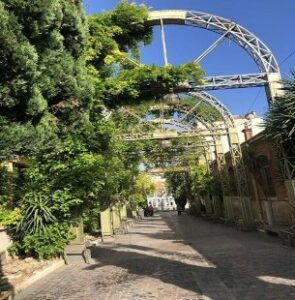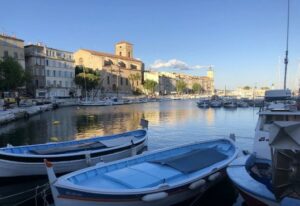 Church and Naval Museum in the distance.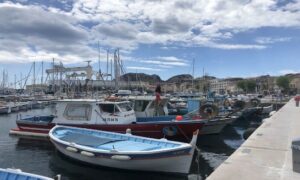 Right side of harbor with shipyard in the distance. for more images: https://www.laciotat-shipyards.com/fr/
Musée Ciotaden after several wines.
The next day we planned a visit to Parc du Mugel, so we needed picnic food and found what we wanted at our patisserie along with some Compte cheese, olives, bottle of rosé and bottles of water. Off we trotted but quickly slowed down as we continued going uphill. Once there, WHEW! we followed a trail to a fountain which seemed a good place for our picnic. Then we hiked up to the top to the dome for a good view.
The following link will show more pictures and description of this pretty park in the Calanques.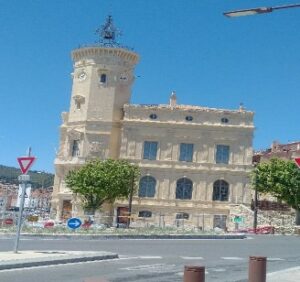 The next day an Uber driver named Christophe drove us in his black Mercedes along the scenic Route de Cretes to Cassis. We stopped to view the awesome maritime cliffs of the Calanques. We stopped for coffee on the beach and then strolled around the village.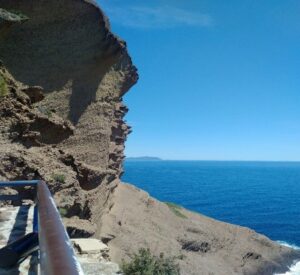 It is a beautiful village! We ate a delicious pizza at La Girandole enjoyed with a bottle of Cassis white wine from the Bodin Vineyard, as recommended by Kristin's husband. It was market day with very busy vendors.
More pics of the area:
http://www.calanques13.com/en/mugel-park.html
Flowers for Sale at the Market
Sunday was another market day and on our way there we stopped at Eden Theatre. This is the world's oldest operating movie theater where the Lumière Brothers screened L'Arrivée d'un Train en Gare de la Ciotat in 1895. It showed a steam train pulling into the station at La Ciotat. It was so realistic that it has been said that some viewers were so scared that they ran out of the hall.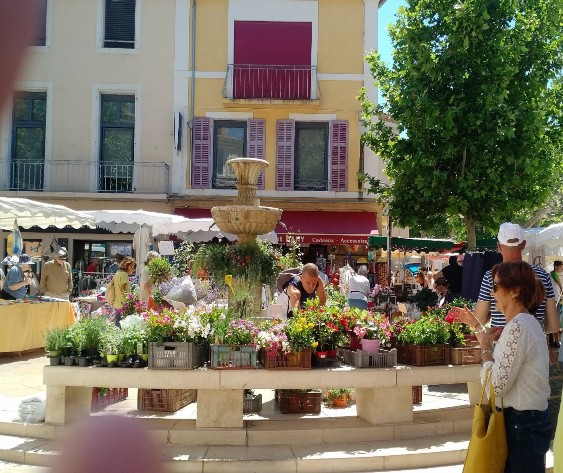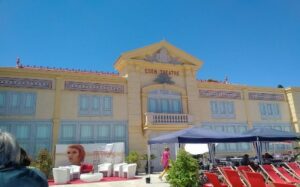 "Eden" World's First Movie Theatre
On Set – WHEW! Just missed me. A little further on we stopped at the Chapelle des Pénitents Bleus. The beautiful chapel was built in 1626. Inside were many photographs from local artists.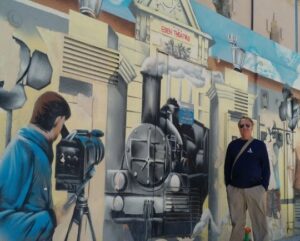 Chapelle des Pénitents Bleus
Today was less windy so we took a fifteen-minute bateau ride to Lile Verte, this is part of the Calanque national park. We hiked up the trail to the top to Fort Saint-Pierre. This is the highest point of the island and taken over and strengthened by the Germans in World War II. It was later heavily bombed, and you can see the craters in the ground and some of the remains of the buildings. Also, from these trails you can see the Cap d'Aigle (Eagle's beak) opposite in the national park.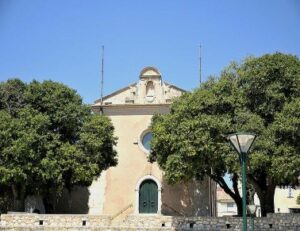 Back at the Vieux Port we stopped to refresh with a glass of wine at Le Bar Crystal. We struck up a conversation with the bartender/sommelier whose name was Vino. He looked familiar to us and we then learned he once bartended in St. Martin in the Caribbean back in the earlier years. We would fly there frequently in those earlier years and stay at a little place next door to L'Amandier where he was working. All three of us had a lot of a laughs as we recalled some of the same places we visited and some of the same characters in St. Martin that we knew.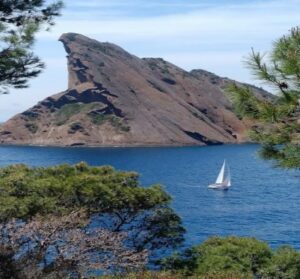 Frank Vino Joanne
The next day we strolled around the town. It was market day in our neighborhood, which was disassembled by noon. We ate lunch at L'appart Café. After lunch we walked to Grand Plage walking along the park-like promenade Voie Douce, tracing the old railroad, allowing passage of the village. On the way back to our apartment we stopped to listen to some local musicians in the plaza in front of our patisserie and the cinema.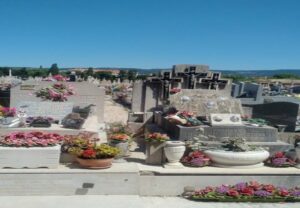 Another interesting stop that day was the Cemetery. The tombs had photos of the deceased encased in glass.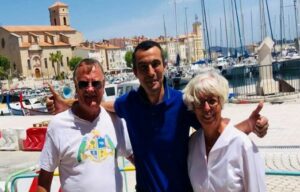 Wednesday, we walked back to L'Indiana to visit again with Kristin Espinesse. We wanted to see her again and let he know we really enjoyed La Ciotat. We promised we would keep in touch.
On our way back to our apartment we were in amazed to see that the trash collectors were young females. Just imagine this ever happening in St. Thomas!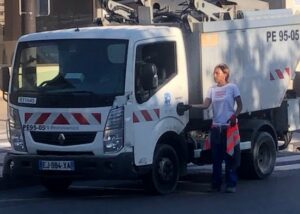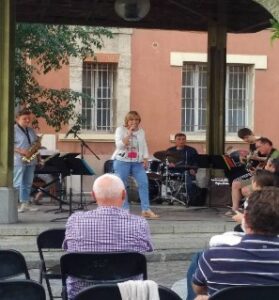 Our last day in La Ciotat we revisited some of our familiar places: breakfast at Maison Lêvêque, lunch at Le Petite Mousse, wine at Le Bar Crystal to see Vino who told us where to buy a bottle of Condrieu (my favorite white wine), visit L'appart café to see Laurent, the restaurant was closed but we knew he would be across the street at Cercle de la Renaissance bar with other friends.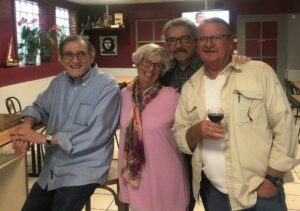 Frank and Tracy
The next day was Sunday and Tracy drove us to Concorneau, a seaside resort village. There we walked across the bridge connecting the mainland to the walled in town. We entered the Musée de la Pêche, a museum where we learned about the history of the fishing industry in this village. A tuna cannery was started here. At one time it was the arsenal and it also served as barracks. We also learned about the fishing techniques, shipbuilding, navigation and rescue operations. We boarded the M/V Hémérica, a fishing trawler in use until 1981. We wandered along the narrow streets with many shops and restaurants where we stopped for lunch at a creperie. Afterwards we walked along the wall to get a good view of the mainland. Tracy also drove along the seashore or our way back to La Chaland. We walked on the bridge over the canal. Click on the following link to learn more about this village and see some nice photos.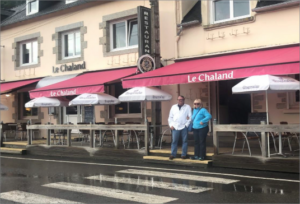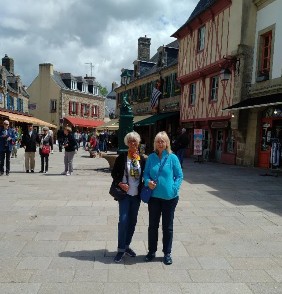 Joanne and Tracy
View of Concarneau mainland from walled in village
Monday Tracy drove us to the village of Huelgoat (pronounced Wellgwat). The village square is
surrounded by shops and restaurants. We couldn't resist stopping in at a patisserie for a delicious pastry. Further on is a watermill and which leads into trails among moss covered boulders along the stream. There is even a one called Trembling Boulder and supposedly if your find the right spot you can make it tremble. It started to rain so we headed back into town and stopped at Creperie Des Myrtilles, a nice cozy spot for lunch. See more in the following link, and the following photos of Huelgoat boulders with Tracy and Frank.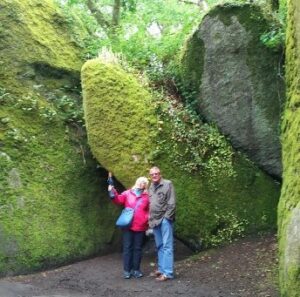 Our next village we visited was Playben well known for the church Eglise St. Germain. The church was surrounded with scaffolding so we could not go inside. It is also well known for the elaborately carved Calvary in front of the church. It depicts the story of Easter.
The Calvary
This was our last night with Tracy. The next day she drove us back to Brest where we had rented a lovely room at Abalys Hotel. After checking in we all went to a restaurant on the next corner called Relais D'Alsace. We ate a wonderful meal of hake and chicken, Plat du Jour specials, and Frank had his favorite, Magret Canard (duck breast). With a Badoit Rouge (special water), a pichet of rosé, two coffees the meal for three of us came to USD $56.40. It was the best meal we had eaten, and the restaurant was elegant.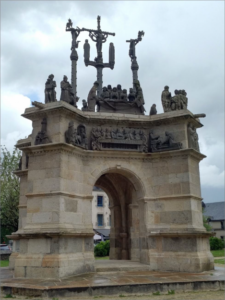 Nearby was the office of tourism. It was suggested that we stop to see Les Ateliers des Capucins. This place was once the naval dockyard where the ships were manufactured and repaired. It has since closed and restored as a cultural place. Inside are displays of some of the machinery that was used in the manufacturing of ships, parquet flooring for dancing, a media library and restaurants. You can also access it by cable car across the Penfeld River. We chose to walk the distance by strolling down the Rue de Siam, the commercial thoroughfare and walking across the vertical-lift bridge over the River.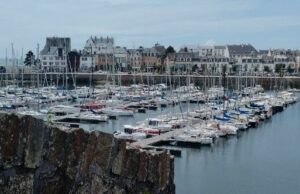 We bought tickets for vising the Naval Museum. Retracing our steps, we stopped to visit the Tanguy Tower. It had just closed for lunch, so we looked for a restaurant nearby. Just below the Tower was a restaurant called L'abordage at the docks. It surely was a bar/restaurant for the pirates of years gone by; In fact, it probably still is. Once seated we were shown an assortment of salads buffet style. We tried everything and thought that was the meal of the day. However, we were then presented a plate of pork in onion sauce with small roasted potatoes. On the table was already a carafe of red wine and were told to help ourselves. That wasn't all, because we were then offered our choice of chocolate cream parfait or chocolate mousse cake. The tower was still not ready to re-open, so we ordered another carafe of wine. All of that for the two of us came to 37.5 €!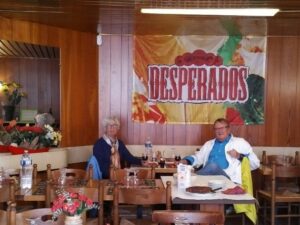 Frank and Joanne at L'abordage Bar and Restaurante
Tour Tanguy is a museum of old Brest shown using dioramas and photos. The first floor has exhibits of major events and the second floor shows the streets and people in the area called Quartier de Recouvrance, just as it was in the past. This used to be a run-down district of families of fishermen and naval dockyard workers.
Across the river is the Naval Museum. You can see if from the Tour Tanguy. We had purchased tickets to tour this museum but when we got there it was closed, because it was Wednesday. We were refunded the purchase. This was a great disappointment for Frank.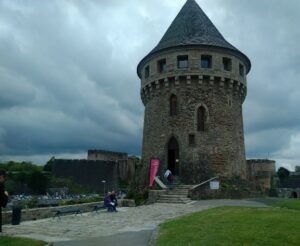 On our way back to our hotel we walked along the promenade named Cours Dajot. It was built on a cliff and is nearly 500 meters long bordered with elm trees. From there you can view the commercial port. Along the walk we came across the American Monument, also known as the Rose Tower, commemorating the reception of the Americans in World War I.
After our big lunch we settled for just some snacks at a bar close to our hotel. In this photo you can see Frank with a locally made beer and wild boar sausage. That was just perfect for him.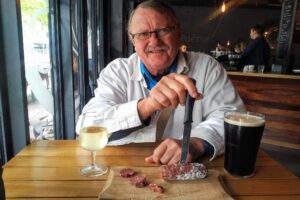 Frank, beer and wild boar sausage
Tracy's House: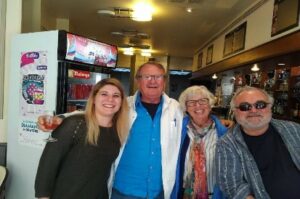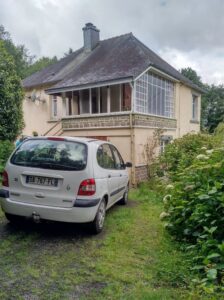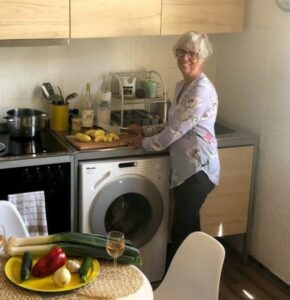 Joanne preparing the potatoes and leeks for vichyssoise
In 1910 the game of boules was developed in the town of La Ciotat. It is a type of lawn bowling also called pétanque. We walked pass many people playing this game and Frank was invited to play.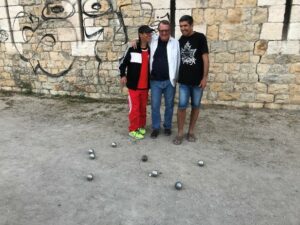 Attached is the photo where Frank not only played but won.